By Andrew Osmond.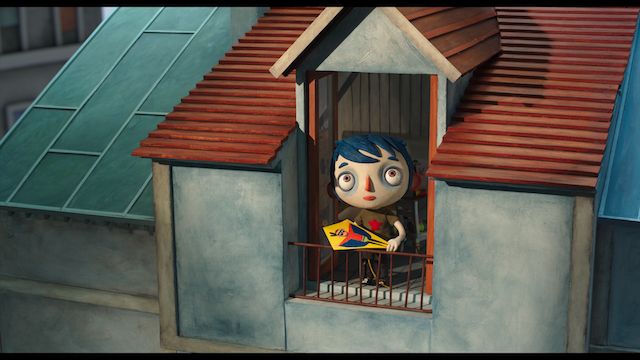 The stop-motion My Life as a Courgette is not an anime film, but has one of the chief fascinations of an anime like A Silent Voice. It tells a story in animation that you couldn't imagine coming from one of the big Hollywood studios. Also like Silent Voice, the story acknowledges the dark sides of childhood – even darker, in fact, than Kyoto Animation's film. But its purpose is the same; to make the joys of childhood shine all the brighter.
If you're peering at the film stills and wondering why Courgette's stop-motion characters look so odd, there seems to be an elegantly unspoken rationale in the opening moments. Before we see any puppet characters, we're presented with children's drawings on a wall, figures drawn in the cutely rounded style of a primary schooler. When the main character Courgette is shown a moment later, with his blue hair, spiny red nose, and jug ears, the implication seems clear – this is the world as he would depict it.
Courgette is an abused child; a nine-year old boy who lives in a pigsty of a house with his alcoholic, sometimes vicious mother. In the opening moments, we see how children are children even in such dire situations; Courgette collects beer cans and builds them into a pile. Then her mum comes upstairs to beat him; there's an accident; and then Courgette's mum is dead, and he's being sent to a foster home.
The film is the story of how Courgette fares at the home, and his relationship with other kids. They all have different heart-breaking stories, but as kids they're essentially the same; they long to have people who love them. In one scene, they stare together silently at an exquisite, agonising sight; a happy child and mother. There's also a running thread where one of the kids races to the front door whenever there's a visitor, thinking it's his (deported) mum. The other children find this amusing; the audience, maybe not.
The most precocious boy at the home, Simon, points out the odds are against them. Most prospective foster parents are looking for infants, not kids approaching their teens. In the meantime, the characters are stuck in a holding pen, forced to learn to live with each other. The set-up feels comparable to a 2011 Spanish cartoon, Wrinkles, about characters at the other end of life – the elderly inmates of a care home.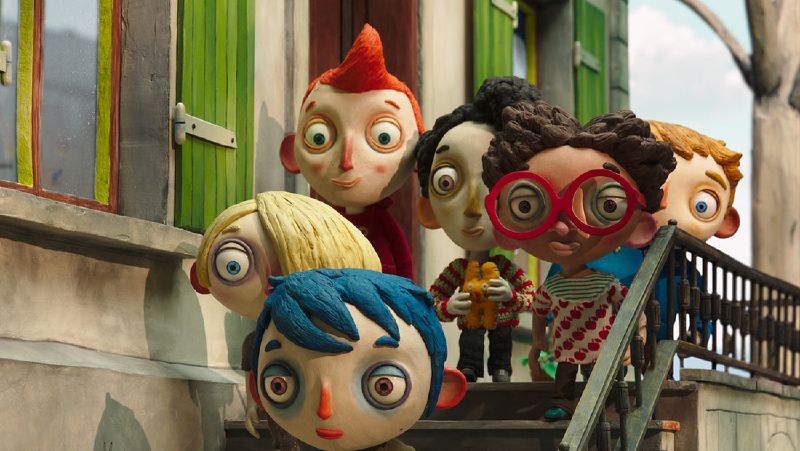 The kids can be cruel, but not for long; in this place, solidarity is stronger than tyranny. Simon bullies Courgette for a few scenes – what's with the funny name, and the big head? ("Courgette" was the mum's nickname for the boy, but it's the only name he'll answer to.) But after one bad fight, Simon and Courgette are on speaking terms, and then they're best mates. Then a girl arrives at the home called Camille, and she's unlike anyone Courgette's seen before…
Based on a book by Gilles Paris, Courgette is an absorbing, child's-view story with dark undertones, of the type only rarely attempted in film. (A recent case was A Monster Calls, but that relied on a child's fantasies.) A few stylised exteriors are reminiscent of the mannered imagery of Wes Anderson, who tried stop-motion himself in Fantastic Mr Fox (2009), but Courgette's drama is far more poignant. The kids' white golf-ball eyes shift, dart and quiver. The effect is slightly pantomime, like the articulated binocular head of Pixar's Wall-E, but it works.
The film was given a PG by the BBFC for "mild sex references" and "references to traumatic childhood experiences." Both turn out to be much stronger than Hollywood toon fare, and might startle a few parents. The children in the film are old enough to be curious about the mechanics of making babies, and Simon is well-informed. Expect talk of "exploding willys" (the kids are concerned by the prospect), and why adults doing strange things say such strange things as well. Still, the BBFC found it all milder than the naughty gropings in Your Name… (Silent Voice was rated 12A for quite different reasons.)
My main gripe with Courgette was with some story choices that may go back to the source book. It's the kind of drama that's hard to round out in a film, and the end has been rightly praised for giving the story a partial resolution, making clear not everything is solved. But I was disappointed that the later scenes brought in an "ogre" grown-up to add conflict, after carefully establishing that the adults at the foster home are good people with limited powers. Of course, there are adult ogres in the world – the children know that well – but the villain feels like a Roald Dahl caricature, jarring with everyone else in the film.
Incidentally, the villain plans to foster a child for money – an issue that coincidentally came up in Ghibli's When Marnie Was There. There, a child fears that her adoptive parents are just fostering her as a job. Given how Courgette highlights a child's perspective, perhaps the film could have hinted that the "real" villain might differ from the monster the kids see… but there's no such hint in how the story plays out.
The film is released both in dubbed and subtitled versions – I saw the English dub, which was excellent throughout (as one might expect from NYAV Post, who coincidentally also dubbed Your Name). For anyone wondering, My Life as a Courgette is the same film that was released in America as My Life as a Zucchini, and was an Oscar nominee this year. It's the feature debut for its Swiss director, Claude Barras; the French woman scriptwriter is Céline Sciamma, who directed the acclaimed live-action Girlhood.
My Life as a Courgette is out now in UK cinemas.