When Marnie Was There
June 8, 2016 · 0 comments
By Andrew Osmond.
When Marnie Was There, released in cinemas on 10th June through Studio Canal, may be the last feature film made at the world's most famous anime studio, Ghibli. Marnie tells the story of a solitary, withdrawn, rather boyish-looking girl called Anna. As the film opens, she's sent away to a coastal town for recuperation – both for her asthma, and because of her foster mum's concerns that she never seems happy. In the new surroundings, Anna finds a friend; a jovial, beautiful girl called Marnie, who lives in a fine house amid marsh and mist.
There's just one thing. Is Marnie actually real?
Marnie sees Studio Ghibli working in miniature. This is a small film, closer to Arrietty (by Marnie director Hiromasa Yonebayashi) or Poppy Hill than to Princess Mononoke or Spirited Away. Accept it on those terms, and it's wonderful. From the girls' first meeting at a moonlit mansion, when Marnie smiles down on an awed Anna like an angel in white, their friendship is charming, joyful and mysterious. It's like they've known each other forever…
As a film, Marnie has suggestions of a ghost story and a time-slip tale, though it may be both or neither. It has echoes of the films of Satoshi Kon (Perfect Blue), with scene transitions which leave you wondering if you're watching reality, a dream, or reality viewed by a dreamer. Some reviewers found this approach muddled, as if there's no place for ambiguity in a family film! It's intriguing to watch Marnie in tandem with Inside Out, Pixar's treatment of a girl's mind. In Marnie, there's little Disgust or Fear, a passionate yet muted Anger, a great deal of Sadness, and – occasionally – intense Joy.
If you want to put Marnie into a Ghibli context, you could see it as expanding the scenes in Kiki's Delivery Service with two more girlfriends, Kiki and Ursula. Like Kiki, Marnie shatters the Bechdel test; most of Marnie's characters are female. But whereas the cheery, outdoing, can-do-anything Kiki stood for twentieth-century Ghibli, the troubled Anna in Marnie is nearer sulky Chihiro in Spirited Away. As with Pixar, Ghibli's protagonists get sadder and more reluctant as the studio grows older.
This blog has already highlighted one of Marnie's artists, Masashi Ando, who specialises in creating troubled girls. Before Marnie, he was a supervising animator on Spirited Away, and later animation director and character designer on A Letter to Momo (by Production I.G). On Marnie, he took those roles again, as well as co-writing the script. Marnie's director Hiromasa Yonebayashi praised Ando's depiction of girls with "murky, painful" emotions. Not surprisingly, Anna is Marnie's best character, with many subtle changes and nuances in expression – for example, when she blurts an insult at another girl, then realises what she's done.
Not that Ando was responsible for Anna's animation alone. Marnie's artists include old hands like Shinji Otsuka, who animated such memorable scenes as this one from Tokyo Godfathers; Megumi Kagawa, who was Ando's fellow supervising animator on Spirited Away; and legendary woman animator Atsuko Tanaka, whose career goes back to Castle of Cagliostro. It's hard to attribute shots to artists with certainty, but the Sakugabooru blog attributes this Marnie shot to Tanaka, this shot to Letter to Momo director Hiroyuki Okiura and this sensitive moment to Takeshi Inamura, who was Associate Supervising Animator on Marnie.
If you watch the English-dubbed film, then you're in for a treat. Created by GKIDS, it's one of the very best Ghibli dubs, featuring Hailee Steinfeld from the Coen Western True Grit as Anna, and Kiernan Shipka, Sally in Mad Men, as Marnie. In the Japanese version, the roles were taken by Sara Takatsuki and Kasumi Arimura, both actresses from live-action. Arimura can be seen in the recent live-action version of Erased, a time-travel thriller.
Takatsugu Muramatsu is another outsider to anime. He supplies Marnie's beautiful, sensitive music, quite in keeping with Ghibli's style, if more Western-sounding than usual. The score is complemented by "Fine On The Outside," sung by Georgia singer Priscilla Ahn in English on both Japanese and dubbed versions. Ahn explained on her blog that she wrote the song long before, inspired by her feelings as a teenager. "I would sit on my bed and look out the window at the moon, and wonder if I was loved."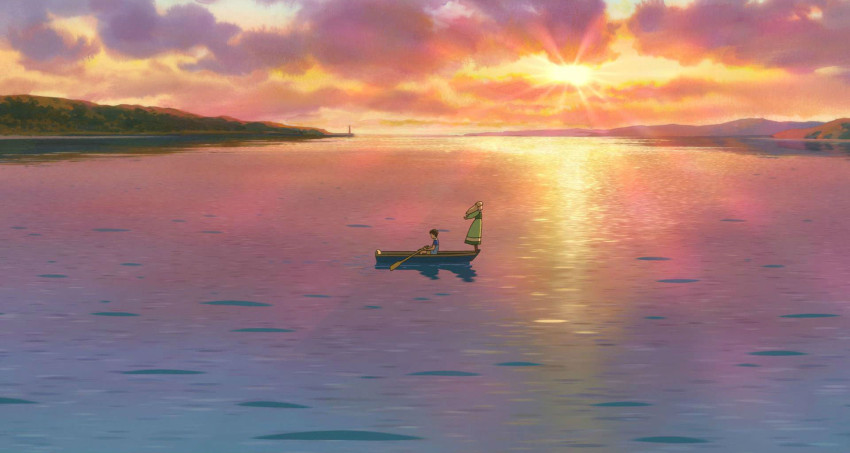 Marnie also reflects the feelings of its original author, Britain's Joan G. Robinson. When Marnie Was There began as a children's novel in 1967; according to Robinson's daughter, its character Anna was "very much drawn" from Robinson's childhood. Marnie also may have been influenced by Philippa Pearce's book Tom's Midnight Garden, to which it has several resemblances. The Marnie book is rather forgotten these days, though it was shortlisted for the Carnegie Medal. It was also serialised on Jackanory, a famous BBC children's series where celebrities read books to the audience. Curious readers can get a taste of Jackanory here.
Interestingly, whereas Jackanory mostly used illustrations, when it serialised Marnie, a BBC film crew went to Norfolk – where the original book is set – to take photographs. In effect, they were creating stills for a live-action Marnie that was never filmed. One of the photos was later used on a reprint of the book. Marnie was also published in Japan, where it seems to made an impact. Ghibli's Hayao Miyazaki listed it as one of his top fifty children's books, while Robinson's daughter described a Japanese man (apparently not Miyazaki) who loved the book, journeying into the Norfolk wilds to see where it was set. While the town in the book is called Little Overton, it's based on Burnham Overy Staithe on Norfolk's north coast.
I read the Robinson book when the Ghibli film was announced, and was impressed – I wrote up my thoughts on the MangaUK blog. The most obvious change by Ghibli is to transpose Marnie from Norfolk to Japan, and specifically to the coast of Hokkaido, Japan's north island. The film Anna is from Sapporo, Hokkaido's capital, though Marnie is a "foreigner" with blond hair and blue eyes. This is true to Robinson, who described Marnie as "like a character out of some fairy story." Rebecca Silverman of Anime News Network points out Marnie's clothes look too old-fashioned in the film, given that the story (from Anna's viewpoint) is framed in 2014, not 1969. But it may be possible to rationalise this, given the Kon-style shifting between subjective and objective perceptions.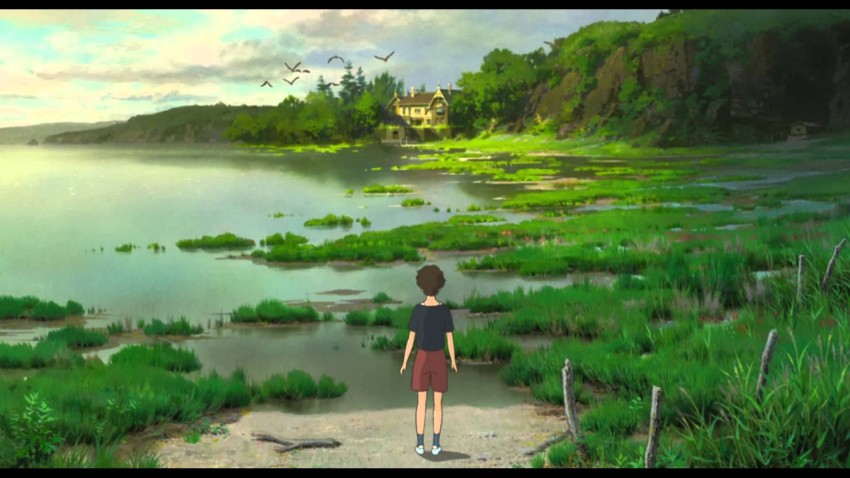 A deeper issue, pointed out by some reviewers, is that it seems unlikely that Marnie's family of well-to-do Westerners would have chosen to settle in the wilds of Hokkaido (and have an expensive mansion built there). Notably, there's no reason in the film why Marnie should be Western; the story would work equally well if she and her family were Japanese. However, director Yonebayashi told Neo magazine, "When I saw the original illustrations in the novel, that gave me a striking impression of Marnie with her blond hair and blue eyes, so I left her as she was." Arguably, the heroine's fairy-tale "foreign" appearance – in line with the early Miyazaki princesses Clarisse and Nausicaa – trumped Marnie's story plausibility, in an especially strange inversion of common or garden racebending.
In general, Marnie is one of Ghibli's most faithful adaptations. Many of the details and lines in the film are from the book, and there are few big divergences. A Norfolk windmill becomes a food silo, once used for storing feed for livestock. As I predicted on reading the book, the last chapters are telescoped; they're also moved to earlier in the story. A family of support characters is reduced to a perky girl and her barely-seen brother. And a dramatic flood – the kind of thing that's Ghibli's forte – really happens in the book, but becomes a dream in the film.
One line that's kept from book to film is Marnie's declaration to Anna: "I love you more than any girl I've ever known." Of course, this would have had a different reception in 1969 than in the 2010s, when Frozen's Princess Elsa is an LGBT heroine. However, Marnie's pre-release Japanese trailer (available here with translated text) seems to deliberately push a lesbian reading; my Japanese acquaintances certainly thought so! A New York Times review complained Marnie only "flirts" with the subject, with the director "perhaps mindful of appealing to younger children." There's seemingly no room for an ambiguous family film; certainly not with some online fans, who were incensed that the film kept the book's answer to who Marnie is.
In Japan, Marnie opened in summer 2014 and took around $30 million. It wasn't a terrible take for Japan, but Frozen took a quarter-billion dollars in Japan that year, toppling even Ghibli's box-office champ Spirited Away. Compared to other anime, Marnie earned little more than half the takings of Ghibli's previous "small" film, From Up On Poppy Hill. Marnie was also beaten by The Wolf Children, Stand By Me Doraemon and Yokai Watch The Movie. It was small consolation to Ghibli that Marnie did beat the studio's Oscar-nominated Princess Kaguya.
Shortly after Marnie was released, Ghibli halted feature film production. While its co-founder Toshio Suzuki spoke of "overhauling" the studio, it seems increasingly plausible that Marnie will be Ghibli's final feature. Jonathan Clements, co-author of the Anime Encyclopedia, claimed "It really is over" for the studio, given Ghibli's falling returns. Many obituaries have already been written. One of the best is the "Goodbye, Ghibli" cartoon tribute by Fox's Animation Domination.
There are still hints of life. One is Hayao Miyazaki's much-publicised new CG film – but this will reportedly be just a ten-minute short about a caterpillar for the Ghibli museum. Ghibli also has a "Production Cooperation" credit on Ronja The Robber's Daughter, an Emmy-winning CG series by Goro Miyazaki, but it was animated by Polygon Pictures (Knights of Sidonia). More hopeful, perhaps, is a recent remark by Marnie director Hiromasa Yonebayashi, who's one of the few people who could plausibly carry on Ghibli's tradition. He left Ghibli at the end of 2014, but this February he reportedly said his next work might be at Ghibli. However, he gave no clue what kind of work this would be.
Ghibli is co-producing a new cartoon feature, The Red Turtle, which will be shown at Cannes this May and released in Japan this September. However, it's only tangentially a Ghibli film. Co-produced with France's The Wild Bunch, the film is directed by a Dutch-born animator, Michael Dudok de Wit. He's a respected, Oscar-winning animator with his own strong style, established through shorts like The Monk and the Fish and Father and Daughter. The Red Turtle (trailer here) is his first feature, and reportedly has no dialogue.
Ghibli director Isao Takahata checked Red Turtle's storyboard and scenario, which de Wit created in Tokyo. However, the actual animation is by a French studio, Prima Linea. In Clements' view, the Ghibli brand is being used to help Red Turtle's box-office – hardly a big step for Ghibli, which already distributes animation by world artists. Maybe Ghibli's name will help Red Turtle; but then it may have a substantially lower budget than Ghibli films.
If When Marnie Was There is indeed Ghibli's last film, then it's a diminuendo. This is, after all, the studio that once topped Japan's box-office, and made Totoro, Grave of the Fireflies and Spirited Away. Yet Marnie deserves to be seen apart from that. It's a fascinating, intelligent blend of mystery and character drama, drawing on sources as diverse as British children's lit, gothic romance and Satoshi Kon. It may be the end of Ghibli, but in subtle, indirect ways, Marnie could influence the post-Ghibli world.
When Marnie Was There is released on 10th June in British cinemas. Andrew Osmond is the author of 100 Animated Feature Films.