We have officially reached the month April and we kick off the month with two very different releases that are available to add to your collection.
Read on below for the details.
---
NEW RELEASES FOR WEEK COMMENCING:
2nd APRIL 2018
THE TESTAMENT OF SISTER NEW DEVIL:
SEASON 1
FORMAT: Ltd. Collector's Ed. Blu-ray, standard DVD
BBFC CERT.: 18
SRP: Ltd Collector's Ed. Blu-ray – £59.99 | Standard DVD – £34.99
Language: English, Japanese with English subtitles
Synopsis: From the studio that brought you Castle Town Dandelion and Gonna Be The Twin-Tail!!
When a pair of sexy girls, Maria and Mio, come to live with high school student Basara Tojo, his life changes forever. The two girls have a secret that they don't keep for long – Maria is a succubus, and Mio is a future Demon Lord. But Basara has a secret of his own – he's the last descendant from a clan of demon-fighting heroes.
To make things even more complicated, the girls force Basara into a master-servant contract, and Basara ends up becoming their master!
What happens when you put a succubus, a demoness, and a demon-fighting hero under the same roof? They form a bond that will help them to take on anything!
You can watch the trailer for this below
ADDITIONAL NOTES
— See a full unboxing of this product HERE
— Want to know more about the series? Have a read of the piece at our blog HERE
---
MOMOTARO, SACRED SAILORS
FORMAT: Ltd. Collector's Ed. Blu-ray+DVD
BBFC CERT.: 15
SRP: £39.99
Language: Japanese with English subtitles
Synopsis: Momotaro, Sacred Sailors played a major role in setting the stage fo the rise of anime and was Japan's first feature-length animated film. A notable accomplishment for its time, the project was funded by the Navy Ministry of Japan during World War II.
This infamous 1945 black-and-white propaganda film that saw Japanese fairy tale hero Momotaro leads a squad of heroic animal soldiers against evil British demons, was funded to promote recruitment and Japan's military agenda in the South Seas. Believed destroyed after Japan's surrender, the film was rediscovered in a warehouse in 1983 and digitally restored from the sole surviving negative.
Along with another early masterpiece, Spider and Tulip, these films have been restored into HD so a whole new audience can see the milestones of the industry and historical artifacts from World War II.
Our release also includes the 128-page book "Sacred Sailors: The Life and Work of Seo Mitsuyo" written by Dr. Jonathan Clements (Author of Anime: A History, co-author of the Anime Encyclopedia)
You can watch a preview for the film below

ADDITIONAL NOTES
— See a full unboxing of this release HERE
— Want to know more about this? Read the piece at our blog by Jasper Sharp HERE
---
SPECIAL SCREENINGS OF MAQUIA FEAT. DIRECTOR MARI OKADA Q&A SESSION THIS MONTH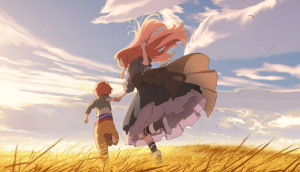 In case you missed it late last week, there are going to be two special screenings of Maquia: When the Promised Flower Blooms this month! They're special as the director of the film, Mari Okada will be in attendance to take part in a Q&A session!
First of all for anime fans in Ireland we're happy to say that the Irish Premiere of the film will be taking place at the Lighthouse Cinema in Dublin on Saturday 14th April at 6pm as part the annual Japan Film Festival!
Then a few days later Monday 16th April, we bring the film to England for the first time as there will be a special screening of the film at the Prince Charles Cinema in the heart of London at 6pm that evening.
Book your tickets for both events featuring a Q&A with director Mari Okada now:
TICKETS TO JFF SCREENING+Q&A IN DUBLIN
TICKETS TO PCC SCREENING+Q&A IN LONDON
---
And that concludes this post! We hope you're excited to add these releases to your collection, for the special screenings of Maquia this month!
Signing out~!
Jeremy