Newswire #17.5 (BONUS) – 2nd May 2015
May 2, 2015 · 0 comments
Today Anime Limited's Andrew Partridge and Jeremy Graves ventured to Northern Ireland and specifically to the MCM Belfast Comic Con event. One of the main points on the agenda for the day was the Anime Limited Panel and stemming from said panel there is some news we can share with you!
~ First of all we are happy to announce that Anime Limited will be bringing the series Plastic Memories to the UK on both Blu-ray and DVD formats in 2016. (Yes we're already looking ahead to next year.) We can't share any other details than that at this time but once we can we'll be sure to do so.
Don't forget that the series is currently being simulcast at both Viewster.com an Crunchyroll.com
~ We can also confirm some details in relation to our upcoming release of 009 Re:Cyborg. Tentatively scheduled for release in July (exact date is still TBC at this time) it will be available as a Collector's Edition Blu-ray/DVD combi package and as a Standard Edition DVD. Each version will include the film with an English dub and the original Japanese audio with English subtitles.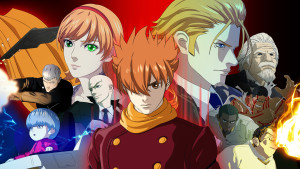 The Collector's Edition package will come with a booklet containing information relating to the not only the film itself but the 009 franchise a whole. The package will also have 3 discs total.
– Disc 1 (Blu-ray) containing the film both in 2D and 3D.
– Disc 2 (DVD) will contain the film along with the following extras: 2 x Film Teasers, 2 x Trailers, Promo Video and the Special Prologue. [NOTE: This is also the same disc that will be included in the Standard Edition DVD version.]
– and Disc 3 "Bonus Disc" (DVD*) will contain lots of bonus material. These being 5 special featurettes RE: Animation, RE: Sound, an interview with Director Kenji Kamiyama, 3D Preview At Ishinomaki and Premium Screening at Shinjuku Wald 9.
(Approximate run time of all extras on the DVD discs combined: 107 minutes.)
*The reason the third disc is a DVD is because the bitrate of the two films on the Blu-ray means there isn't enough space to include the extras as well as the two versions of the film on that disc.
~ And finally for those of you looking forward to our release of Tokyo Ghoul we can confirm that we have tentatively scheduled our Blu-ray and DVD release of the series for October this year. (No more details other than that are available at this time.)
That's it for this bonus edition of the Newswire. Andrew and I want to extend a big thank you to everyone who came to the panel! It's was a great turnout and we had some great questions from the audience too.
Signing out~!
Jeremy
Follow Anime Limited on Facebook | Twitter | Instagram | Tumblr | YouTube