NEWSWIRE – Your Name 4K News + April 2021 Releases
February 26, 2021 · 0 comments
We've reached the end of February and that means it's time to look ahead for what's coming in the way of upcoming releases!
Today the primary focus will be titles coming in April but before we actually want to begin by focusing on something coming in May that we know a lot of you will be excited about…
---
YOUR NAME 4K
We mentioned at the start of the month you could expect some news to share and we weren't joking!
YOUR NAME 4K is set to arrive on 24th May 2021
Pre-orders will be launching on Friday 5th March (next week!) exclusively at our AllTheAnime.com shop and Zavvi.com
More details to follow next week, but we wanted to make this known so that you all had at least a week to plan accordingly.
---
ADDITIONAL NOTES
Now that we've got that exciting news out in the open, some additional notes before we proceed –
Some of will likely have noticed that as 5th March is when pre-orders launch for Your Name 4K, wasn't that also the day we originally said Persona5 Pre-orders were due to begin?

That's correct, and that's why

we've decided that we will be moving the pre-order launch date for Persona5 The Animation to Friday 26th March

in light of this news.

However please note the release dates of Persona5 remains unchanged. It's just simply a case the pre-order launch date at our AllTheAnime.com shop that's changed.

There have been a few date adjustments on products originally slated for release in late/February early March that have now shifted into April.
---
What is "SRP" ?
The SRP (*Suggested retail price) listed is the maximum price a retailer could charge for the product. However, once retailers factor in their own discounts – including our own shop (see the listing links below) – the regular price will be cheaper.
---
First of all a quick reminder of what's coming your way in March –
MARCH 2021 RELEASES
Attack on Titan: Season 2 – Soundtrack Vinyl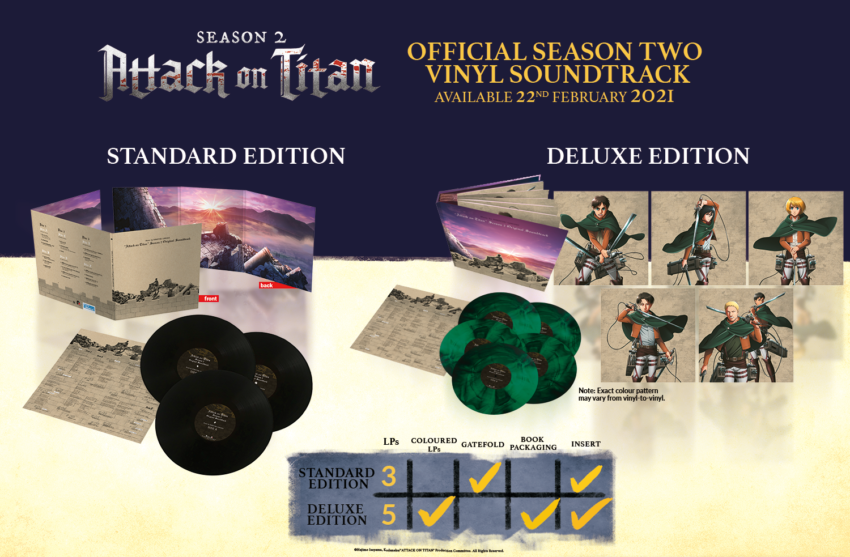 Product: Attack on Titan: Season 2 soundtrack
Format: 5 x Coloured LP Deluxe Ed. vinyl; 3 x LP Standard Ed. vinyl; CD.
Release date: March 2021
Availability: Exclusive to AllTheAnime in the UK; available in North America at RightStufAnime.com
Cat. No.Deluxe Ed. ANIM0009 | Standard Ed ANIM0010 | CD ANIM0008
SRP*: Deluxe Ed. £99.99 | Standard Ed. £39.99 | CD £14.99
---
CHILDREN WHO CHASE LOST VOICES – BLU-RAY + CD SOUNDTRACK STEELBOOK
---
KONOSUBA SEASON 2 – BLU-RAY COLLECTOR'S EDITION
---
Eureka Seven: Hi-Evolution #1 – Blu-ray
---
Children of The Sea
---
---
APRIL 2021 RELEASES
And now it's time to move onto what's coming your way in April…
Children Who Chase Lost Voices – Blu-ray
---
5 Centimeters Per Second – Blu-ray
---
Violet Evergarden
*Additional note that anyone who has already pre-ordered this from our AllTheAnime.com online shop can expect an email update about the date confirmation in the coming week or so.
---
Persona5 The Animation: Part 1
NOTE: In case you missed it you can more about our plans for Persona5 The Animation – including details a special bundle offer for both parts of the series – HERE.
---
Charlotte – Complete Series Collection
---
KONOSUBA: Season 2 – Blu-ray
---
PLANETES
*NOTE: A second-chance pre-order offer on this launches later today (Friday 26th February) at 5pm for a limited time!
---
Mobile Suit Gundam F91
---
K: SEVEN STORIES
---
---
ALSO AVAILABLE TO PRE-ORDER NOW
BEASTARS: SEASON 1 – SOUNDTRACK VINYL DELUXE EDITION
In case you missed it pre-orders have launched for our mammoth BEASTARAS Season 1 soundtrack vinyl release!
We've got a special pre-order offer this running through Thursday 18th March too!
---
*Zavvi.com Exclusive Variant*
---
We hope you're excited for what's to come!
And if a title you were hoping for wasn't mentioned in this post, it hasn't been forgotten about. Hopefully we'll have some news we can share on those soon!
Signing out~!
Jeremy