It's time for your latest edition of the Newswire featuring updates on Fusé: Memoirs of the Hunter Girl, Escaflowne and Lords Marksman and Vanadis, including a special offer on the latter. Read on below for the details.
ANIME LIMITED UPDATES
~ First of all the wait is nearly over as Fusé: Memoirs of the Hunter Girl is released this coming Monday (7th March.) We're going to have a full unboxing of release for you here at our blog tomorrow. So be sure to check back tomorrow lunchtime and check it out. In the mean time here's a glimpse (left) of the Limited Collector's Blu-ray/DVD for you.
~ So, time to address the big news story of the weekend, Escaflowne. For those of you not aware over the weekend Funimation announced that have launched a Kickstarter for a new English language dub of the series. For all the details on that, please see THIS. Pretty much immediately we began receiving questions but weren't able to make a comment as the office was closed over the weekend. Now that we have discussed where things stand internally on this we want to address the question of will our release be impacted by this news.
The short answer is no, it won't affect our release as we will be releasing our Ultiamte Edition Blu-ray and standard DVD sets of Escaflowne in 2016. We are not going to be delaying it any longer than it already has been. But, this new "2016 dub", as we're calling it, does pose some very interesting questions, assuming it does get funded. We're going to be releasing our next podcast tomorrow where we talk about this in lots of detail, including what work have done so far, so we encourage you to stay tuned for that. It will be available tomorrow afternoon/early evening.
~ Looking ahead to another of our releases, Lords Marksman and Vanadis. We're going to be bringing the series to the UK as a Limited Collector's Edition Blu-ray/DVD set and as a standard edition DVD as well. Today we give you a glimpse of what to expect from our release. First of all, let's look at the Limited Collector's Edition version.
Our release will come packed in a rigid case, and inside that will be a digipack to hold the two Blu-ray discs and a 40-page booklet that will contain background information on the world the series is set in and the characters from the show as well. Trust when we say if you want a great companion to help with details of the world and how provinces within the show are affiliated with each other, it's a very good read.
In terms of on-disc content, there will be the complete series, all 13 episodes, with both the English dub and original Japanese audio with subtitles. Also on the discs will be episode commentaries, the "Tigre and Vanadish" chibi theatre, a preview for the first episode, a promotional video for the series, and the textless opening and closing title sequences.
=-=-=-=-=-=-=-=-=-=-=-=-=-=-=
SPECIAL LIMITED-TIME PRE-ORDER OFFER!
Until 12pm this coming Monday (7th March) pre-order our Limited Collector's Edition of Lord Marksman and Vanadis for only £34.99. You can find the listing at our web shop HERE.
A reminder if you've not ordered from our shop before that payment is taken within 72 hours of the order being placed. Please read our FAQ section HERE for more details.
=-=-=-=-=-=-=-=-=-=-=-=-=-=-=
For those of you looking to get your hands on the standard DVD version or Lord Marksman and Vanadis, here's a glimpse of what it will look like (right.)
~ Time for an update an important update on the availability of our certain titles of ours. First of all Tiger & Bunny: The Beginning Limited Collector's Edition Blu-ray/DVD is officially out-of-print. This means there are no more in our warehouse, and only what is available at retailers, be them online or in shops, is what is available in the wild.
Also our Baccano Limited Collector's Edition Blu-ray is also officially out-of-print. Again meaning that we have no more units in our warehouse so whatever is available through retailers is what is available. We will however be releasing a standard edition Blu-ray of Baccano. This will be coming on 11th April. You can expect to see listings for this to beginning surfacing on online retailer sites soon.
And finally, we are down to about the last 30 units in our warehouse of Mobile Suit Gundam Part 2 with the Limited Edition Art Book. Once we have no more units in our warehouse there will be only be stock without the book being produced. This DOES NOT mean that the version with the book will be sold out right away. We have no control over how many units retailers have in their respective warehouses. But obviously with all three titles listed above, not just Gundam, if you wanting to get hold of the Limited Edition versions, we suggest acting sooner rather than later.
~ Excited for our release of Tokyo ESP? Be sure to check out the trailer for it below.

REPLACEMENT SCHEME UPDATES
Durarara!! Limited Edition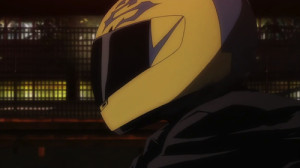 This replacement scheme closes on Thursday 31st March 2016.
The next wave of discs will be getting by the end of this week. The next round of confirmation messages will be getting sent later this week week. If you have applied for discs since then your application will be processed soon. We appreciate people's patience with this.
If you've yet to apply for discs please follow the steps of filling out the survey AND emailing us your proof of purchase. (Simply doing one of the two steps is not enough.) If you haven't received a confirmation message within to weeks of applying please email Jeremy on Jeremy@AllTheAnime.com – he'll get back to you as quickly as we can about this.
If you have questions or concerns about your replacement request please feel free to email Jeremy on Jeremy@AllTheAnime.com. If you have yet to apply for replacement discs please follow all the guidelines HERE.
Kill la Kill Part 1 [for units purchased at MCM London Comic Con in October 2014 only]
NOTE: This only applies to units purchased at MCM London Comic Con in October 2014. (Following the event the products general retail release was delayed and the error of the English dub being out of sync by 0.4 seconds during one of the episodes was corrected.)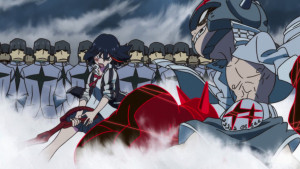 We are working to get these out as quickly as possible. The latest wave are being sent tomorrow (Wednesday 28th October) so if you haven't had yours already you can expect it any day now.
To apply for a replacement we ask that everyone who purchased this at MCM London Comic Con in October 2014 please do the following:
Send an email with the subject "KLK1 Replacement – MCM October 2014" to Jeremy@AllTheAnime.com
In this email please include:
– You full name (as it would be written on a parcel being posted to you)
– You full postal address
– a photo of your copy of Kill la Kill Part 1.
NOTE: We appreciate that some people may have sent emails to other Anime Limited personnel regarding wanting a replacement, but due to the length of time that has passed we ask that everyone who will have previous enquired about a replacement please send a new message to Jeremy. We apologise for any inconvenience, but this is to ensure we can fulfil these as quickly as possible.
UPCOMING EVENTS
Here you'll find a list of events we'll be attending during 2016. The looks small at the moment, but trust us when we say it'll start looking packed very soon.
Kitacon @ Birmingham, 1st-3rd April 2016
MCM London Comic Con @ Excel London, 27th-29th May
And that concludes this edition of the Newswire. Be sure to keep an eye both here at our blog and on our social media channels for the latest news regarding Anime Limited along with some great reading material too.
Signing out~!
Jeremy