On-Gaku: Our Sound
October 11, 2020 · 2 comments
By Jonathan Clements.
The "Three Musketeers" are the toughest kids in Chiku High, although with a typically Japanese sense of rebellion, they still put on their uniforms in order to go in and bunk off. Quite possibly, nobody else knows how tough they are, since a planned rumble with the rival Marutake High is called off when the Three Musketeers can't find it. They are, in fact, three impossibly thick teenage boys, dead losses in the school system, but not quite smart enough to find anything to do beyond playing at being outlaws.
Their lives are transformed, suddenly and wonderfully, when a chance encounter on the street convinces their leader, the rat-moustached skinhead Kenji (Shintaro Sakamoto) that he's going to start a band. Music unexpectedly opens up a new world for the Chiku High delinquents, introducing them to new friends, experiences and ideas, in On-Gaku: Our Sound, a relentlessly upbeat indie film from director Kenji Iwaisawa.
Not since Makoto Shinkai's debut has there been quite such an emphasis on self-starting, go-getting amateurs. The original manga on which the film is based was a 2005 self-published work by Hiroyuki Ohashi – in fact, the "complete" edition, on which this film is supposedly based, was not released until the film itself was finished last autumn. The creator started a crowd-funding campaign to adapt the work into an animated film, on which director Iwaisawa toiled, often solo, for seven years. Of the 40,000 drawings that span the film's 71-minute running time, most are Iwaisawa's work – he is billed as director, animation director, screenwriter and editor, and presumably also made the tea and took out the bins.
Born in 1981, Tokyo native Iwaisawa left high school and learned about film-making from the maverick director Teruo Ishii, who died in 2005. He worked in video production for the live-action film business, while also tinkering with animation – his first animated short, Fukuraicho: Man in the Tunnel Alley, was completed in 2008.
"I hate the word 'unprecedented'," he comments. "You hear it all the time when you work in movies. I wanted to make On-Gaku as a feature-length, solo-animated project because that's something that really warrants the term 'unprecedented'! They said that On-Gaku would be impossible to pull off, and that's without considering it as a feature-length independent film. But that was the big attraction of this work, that even completing it in the first place was such a high hurdle for me to clear."
This is not the endless rehearsals, grit and slick determination of Love Live! Sunshine; this is three idiots who have never played a musical instrument in their lives, suddenly deciding that they are going to form a band. Like the film itself, they are the low-fi antithesis of everything we are used to in anime. In the true spirit of punk, they're crap and they don't care. Stealing their instruments from the school music room, the three boys march off to Kenji's house for their first rehearsal, unwittingly enacting a reversal of the Beatles' iconic Abbey Road zebra crossing photograph. Having accidentally acquired two bass guitars, lead bassist Kenji is joined by second-bassist Ota (Tomoya Maeno), and drummer Asakura (Tateo Serizawa).
Like the Scotland festival favourite The Case of Hana and Alice, much of On-Gaku is drawn over live-action footage. The scrappy, simplified characters often walk with impressively realistic gaits, because their movements are rotoscoped over those of real actors. Cars and buildings keep up the pretense of being hand-drawn, but every now and then, Iwaisawa leaves the photo-real colours or sharp lines poking through. He also frames and shoots like a live-action director – witness Kenji's long opening amble through the streets of Japanese suburbia, in which the camera lingers on a series of shots of nothing, and compare it to the "My Generation" montage of Naoko Yamada's A Silent Voice, which crams shot after shot of character-building vignettes into a fast-paced montage. Yamada doesn't waste a single piece of onscreen visuals, because her staff have to draw every single pixel. Iwaisawa still enjoys the luxury of being able to point a camera at the real world and just let it roll.
During one of Kenji's aimless ambles, we hear a woman shouting after a thief – it is so faint on the soundtrack that the subtitle is more noticeable than the sound. Kenji, true to form, just keeps walking, and the drama of the scene unfolds through the passers-by: first the thief himself, then a Good Samaritan giving chase, who unwisely hands Kenji his bass guitar for safe-keeping. Then the victim, scurrying along behind, and bringing up the rear, a Japanese bobby on a bike. In any mainstream film, this would be a self-contained action sequence. In Iwaisawa's confidently indie hands, the entire drama unfolds off-screen. The thief is apprehended just a few metres away from Kenji, but the scene plays out entirely in audio, while he stands there, impassive, holding a stranger's guitar.
Unfortunately for Kenji, his earlier past as a local tough guy is coming back to haunt him. Even though he has, at least temporarily, found a new hobby in endlessly strumming, the mohicanned tough guys of Marutake High are out to get him. Luckily, however, in a dumb-and-dumber case of mistaken identity, the Marutake ringleader Oba (Naoto Takenaka) is waiting for their fight in the local petrol station parking lot, where he is mistaken for a shift-worker and bussed off to the fish-canning plant.
Even the Three Musketeers allusion is a step beyond their actual mental capacity, making the subtitles a little bit smarter than the lines they are translating. The band's lone fangirl Aya (Ren Komai) doesn't actually address them as such, but as "kenka daisuki sanningumi", the Gang of Three That Likes Fighting. Their oh-so-clever band name, Kobujutsu ("classical martial arts"), is something that the drummer overheard his uncle say, and in another stroke of bad luck worthy of Spinal Tap, turns out to be dangerously close to that of the school's pre-existing band of hipster softies, Kobijutsu ("classical arts").
Instead of fighting it out, the bands swiftly affirm their mutual respect. In impressionistic scenes that visualise the effects of the music on the mind's eye, Kenji sees a summery trip to the seaside when he hears a song by his opposite number Morita (Kami Hiraiwa), while Morita is unexpectedly transported by Kobujutsu's mindless wall of sound to a surreal landscape of crashing airships, cows, fried eggs in the sky, and a passage through a giant mock-up of the cover of Mike Oldfield's Tubular Bells.
Iwaisawa's film excels at emphasising the endlessly beige, suffocating sameness of Every Japanese Suburb Ever – the town of Sakamoto-cho is a hicksville of convenience stores and pokey side-streets where the inhabitants are all comfortably numb. In one sweet throwaway scene, Kenji smokes a cigarette in a park at sunset, and then meticulously folds it away into a portable ash tray. Tough guy he might be, but he won't even litter the park with dog-ends – he's a good-hearted soul, just a little lost, and looking for a direction in life.
There are clues, now and then, of deeper resonances with history and culture, but Iwaisawa keeps them at arm's length – the statue of a local samurai hero, for example, is left eternally out of focus, as if nobody has bothered to ask who he was, and although we know that there are cultural activities in the town, we don't see them. Instead we see the listless teenagers, kicking their heels in their home-room, or staring blankly at computer games and a TV screening Mischievous Squeeze, a sinister cartoon series about a talking blob that hugs people. Music, for everybody in this film, is a blessed relief, a chance at creativity and escape, as beautifully illustrated by Morita's guitar performance, in which his clunky, tin-eared lyrics transport him from his dull school life to a windswept train, chugging along a coastline towards the hometown of an imaginary girlfriend.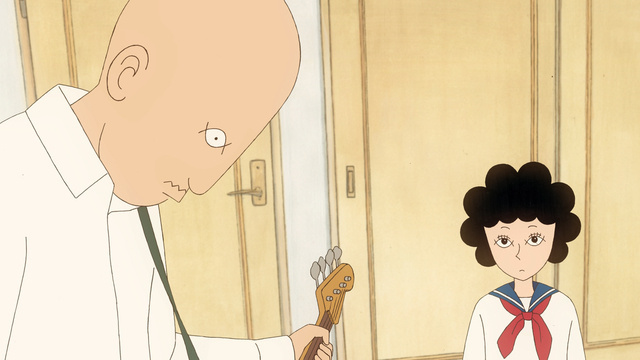 There's a mini rock family tree buried in the cast, with the teenage Kenji played by guitarist Shintaro Sakamoto, formerly of psychedelic rockers Yurayura Teikoku, while his singing voice comes from singer-songwriter Yasushi Okamura, best known to UK fans for singing the Space Dandy theme song, "Viva Namida". Ren Komai, who plays the groupie Aya, is an actress and model who starred in the music video for "Before the Cherry Blossoms Bloom", a 2015 effort by shoe-gazing trio Kinoko Teikoku. Morita, the soft-spoken singer of the guitar trio Kobijutsu, is played by actress Kami Hiraiwa, who is the wife of Fuji Fabric's lead vocalist Soichiro Yamauchi.
For the lead role, Sakamoto was approached by both the director and the original manga author, and was initially reluctant to take the job.
"Knowing that he'd spent seven years animating it, I couldn't really say no," he told the Japan Times. "If I'd been asked by someone else, I probably wouldn't have done it."
Now touring solo after the 2010 break-up of Yura Yura Teikoku, Sakamoto is 53 this year, while Oba, his teenage rival from Marutake High, is played by Japanese celebrity Naoto Takenaka, a ubiquitous figure in TV and movies, and an absurd choice to play a high-school bovver boy, at 64. The effect of casting such mature voices in the roles of callow teens works in a similar fashion to Dennis Potter's Stand Up, Nigel Barton and Blue Remembered Hills, which similarly put adults in children's roles. Such a casting decision adds an additional waste to the character's dilemmas –as Oba plots ambushes and subterfuges, Takenaka's voice lends him the gravitas of a samurai warlord, and not a school bully.
The climax of the film features a series of reversals and surprises, as Kenji scrambles to make it to the rock festival in time for Kobujutsu's first (and possibly last) public performance. Nothing could be further, in aims and executions, from the super-polished pop-music routines of an anime musical like Love Live! Sunshine, but in celebrating music for music's sake, On-Gaku: Our Sound is a truly independent voice in an anime scene crowded with corporate giants.
Jonathan Clements is the author of Anime: A History. On-Gaku: Our Sound is screening as part of Scotland Loves Anime.
2 comments
Matthew

October 11, 2020 9:12 pm

Not being funny but your crowdfunder has 18 days left and you're a little short of your goal. Should you not be making a post on your blog or bumping an existing post to try and push your fund raising efforts? I'd hate to see your company fall short.

Vincent

June 5, 2021 6:08 pm

I first came across this review through Mr. Clements' blog and when I had seen that this movie was available in my region, this article came to my mind again and I gave me a good excuse to check the movie out. So I'm just coming from my screening and now having re-read this nice review, I have to say thank you to Mr. Clements for deepening appreciation for "On-Gaku" with it. Because, while some animated scenes were certainly a sight to see and feast for the eyes, in the end, I was a little unsure about what to ultimately make of this story. I would be curious what other people who have already seen the movie thought about the hinted "romance", if you can call it that even, between Aya and Kenji.