By Roxy Simons.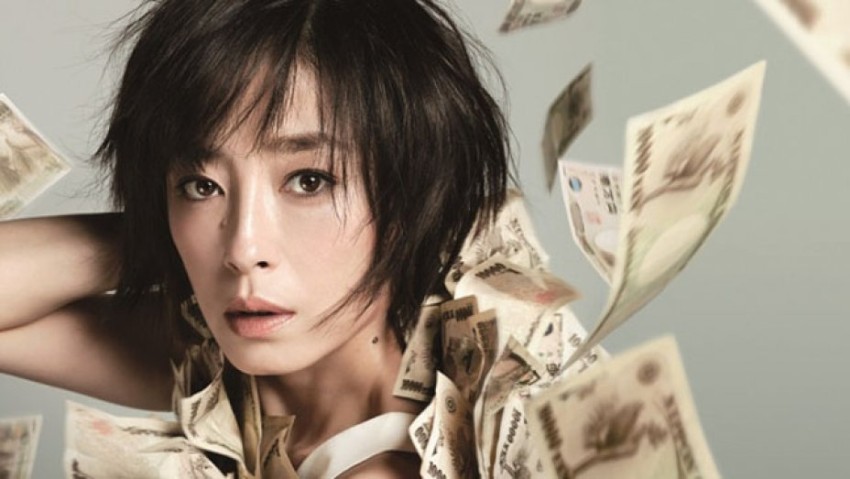 Bank teller Rika (Rie Miyazawa) leads a conventional life. She goes to work, meets clients about their accounts and possible future investments, and then goes home where she prepares food for her distracted husband. Frustrated with her humdrum existence, she succumbs to the seductions of a younger man. Finding happiness for the first time in years, Rika wants to provide for her debt-ridden lover, but what starts as an attempt to revitalise her life soon turns sour, as she is forced down a dark path of lies and embezzlement, in Daihachi Yoshida's Pale Moon.
Rika has a history of taking money that isn't hers – when she was a child, she stole from her father's wallet to make a donation to earthquake victims. Her heart may have been in the right place then, but it certainly isn't now. Sneaking money from her clients' accounts, Rika starts to steal more and more so that she can be free of life's constrictions and the moral codes that have brought her to this situation. She even seems dimly aware that any joy acquired in such a manner is sure to be short-lived, but she risks it all just to have a few months of liberty.
Predictably, toy-boy Kota (Sosuke Ikematsu) proves to be grasping and ungrateful, while Rika spoils him so much that his motivation to respect and repay her swiftly fades. It doesn't even take long before his romantic attention wanders, leaving Rika with nothing to show for her actions but an apartment she can no longer live in. It's but one of an ever-increasing series of setbacks that chip away at her old life, as she pays a heavy price for giving in to temptation.
Endearing and charismatic, Rie Miyazawa tries hard to save the film with her depiction of Rika's hardships and emotional turmoil, but it just isn't enough to make up for the lacklustre narrative. Only her relationship with her co-worker Yoriko (Satomi Kobayashi) is particularly fascinating, thanks to the actresses' onscreen chemistry, and even then it's Yoriko's thought processes that are the most intriguing.
Mitsuyo Kakuta's original novel, Paper Moon, was a prize-winner in Japan, but seems to derive much of its dramatic force from many a late-night Japanese TV drama  – in fact, the story was previously adapted in 2014 as a five-part series on NHK. Such familiar tropes may explain why this adaptation never seems to quite get off the ground. With simple character development and a formulaic storyline, it's easy to see where the narrative will head next. It's difficult to care for a protagonist whose story just isn't developed enough, and this stops the film from making any real impact. In the words of the song, "…it wouldn't be make-believe / If you believed in me." Except we don't.
Pale Moon is screening around the UK as part of the Japan Foundation film tour.