By Andrew Osmond.
Onward is Pixar's twenty-second feature animation and the studio's fourteenth original film – neither sequel nor prequel – and it officially opens in cinemas today after sneak previews last week. Like an earlier piece I wrote on Pixar's Inside Out, this article isn't a review, but more an "anime eye" on a non-anime film. Onward has two teen brothers who try using magic to bring back a dead parent, only for the spell to go terribly wrong. Now, why might that sound familiar to anime fans?
The film's first joke is to accompany Pixar's hopping-lamp logo with music you'd expect in a Peter Jackson fantasy epic. And indeed, Onward opens with zooming vistas of a trad fantasy world of dragons, wizards and adventurers; this is genre fantasy. Like most such worlds, the one in Onward ran on magic… until, the narration explains, the world's denizens started discovering things like electricity. Fast-forward a few centuries, and what was once Middle-Earth has transmogrified into something very like modern America, from fast-food restaurants, to motorways, to TV, to high school (and we mean like every teen-film high-school, not like Hogwarts).
Unlike many fantasies, none of this has devastated the world's non-human races. Actually, there aren't any humans at all, as far as I could spot on first viewing. All the film's characters are elves, trolls, centaurs, cyclops, sprites (who've forgotten how to fly) and so on. As you may have guessed, the combo of fantasy creatures and a modern high-tech environment makes Onward look a fair bit like Pixar's Monsters Inc.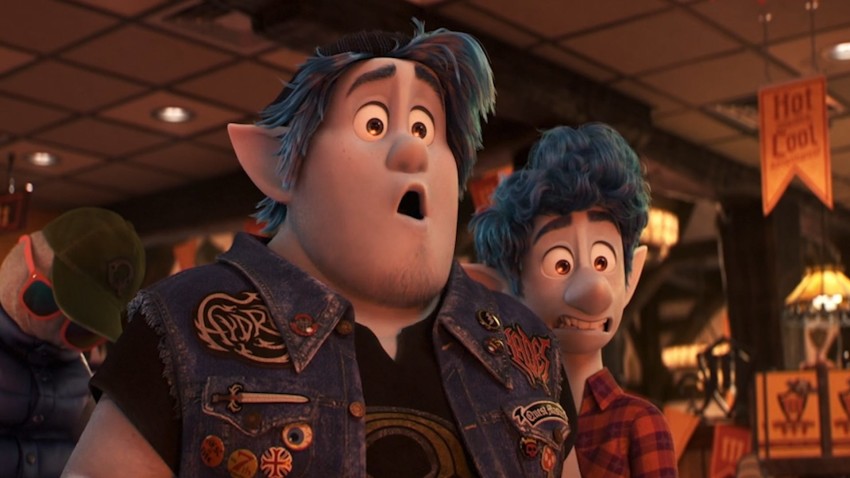 The protagonists in Onward are elves, though without any of the quasi-religious mystique of Tolkien's versions (which influenced species as diverse as Star Trek's Vulcans and the Iorph in Mari Okada's Maquia). Onward's elves are just regular guys, including Ian (Tom Holland), a high-school boy who flinches in his own skin, and his hearty gap-year big brother Barley (Chris Pratt), who lives in a rumbustious world of his own. Barley is obsessed with the magic and adventure that seem as absent from Onward's world as they are from ours. Cue nostalgic jokes about pre-console RPGs and card games.
Though the boys have a loving mother (Julia Louis-Dreyfus, with a larger story role than most cartoon mums), their father died from an illness years previously. Barley has a few memories of him from his infancy. Ian never knew him at all, and wishes he had. There's an especially moving scene early on where Ian plays back an old recording of his dad's voice on an audio cassette (yes, cassette); Ian talks back and pretends they're communicating. For anime fans, this may recall the spellbinding scene in Cowboy Bebop where Faye Valentine sees a VHS tape of someone she lost decades ago, speaking directly "to" her. In fact, as Onward director Dan Scanlon explained, the audio cassette scene came from his personal experience, and was the basis for the film.
The "resurrection" part of the story is actually set up very differently in Onward from how it was done in Fullmetal Alchemist. For one thing, the brothers don't try to bring back their dad on their own initiative. Instead, their mum reveals a letter he left behind for them, to be opened when they were both sixteen. All the instructions for the spell are contained there, plus a wizard's staff to bring magic back into the world. Unlike Alchemist, there's no suggestion that the spell itself is forbidden. While the boys do trigger dangers, these stem from a chain of accidents, not from any "crime" of reversing death.
Alchemist could well have been inspired by a classic British story, "The Monkey's Paw", about the terrible consequences of trying to bring a loved one back by magic. Reworkings of the story range from Stephen King's Pet Sematary to a memorable episode of Buffy. But in Onward, it's established very early that the resurrection, if successful, will only be brief. The boys' father will come back to life for just 24 hours.
The most obvious precedent for this idea is in the last part of a film that slipped between SF and fairy-tale; Spielberg's AI: Artificial Intelligence, which also involved a parent and child. Many critics trashed AI's ending as Spielbergian schmaltz, then were surprised to learn it was in the version of AI prepared by Stanley Kubrick, who died before he could make it. There's a comparable idea in the best-selling novel The Time-Traveller's Wife, though its under-rated film version ends more like Onward than the book.
We won't detail how the resurrection goes wrong in Onward, though you'll know if you've seen the trailer. From then on, the film becomes an against-the-clock adventure, with Ian and Barley forced to take a long journey. Barley embraces it as a quest, while Ian slowly finds the inner resources you knew were there. There are obvious nods to Indiana Jones, especially the 1989 film The Last Crusade. Beyond that, adventure stories about youngsters finding mythic magic in modern settings are common in books, less so on screen; Onward, however, has a few overlaps with last year's delightful British fantasy film The Kid Who Would Be King, directed by Joe Cornish. There's also a very clever kind-of mecha that we'll leave you to discover.
Many of Onward's echoes, of course, are of other Pixars. There are the visual echoes of Monsters Inc.; then there's the sibling dynamic between the quailing Ian and the hearty Barley, not so far from Marlin and Dory in Finding Nemo. The rest of this paragraph requires a vague SPOILER warning. One of Onward's crowning moments involves a character who realises he's completely misunderstood the significance of the adventure he's in. The motif was central in 2009's Up and in last year's Toy Story 4, but it goes all the way back to the first Toy Story, where Buzz Lightyear realised he was a toy.
And there's a different way in which Onward recalls the first Toy Story. Like Onward, one of Toy Story's starting points was an idea time-honoured in fantasy; toys can move and speak by themselves when humans aren't looking. Before Toy Story, that idea was used in straightforward fantasy cartoons, like Disney's 1933 The Night Before Christmas and Pixar's 1988 short Tin Toy.
The difference with Toy Story, though, is that it overlaid a deep sense of "reality," not just at the level of aesthetics, story and characters, but by appealing to the mundane world. As adults see when they watch the first Toy Story, it parodied working life, office life. The whole story stems from an upset in the working hierarchy when a new guy (Buzz) joins the team and displaces the established top dog (Woody). There's something similar in Monsters Inc., where the many-shaped "monsters" are factory working joes, who have staff meetings, office romances and locker-room rivalries, and who see humans as the scary bug-eyed aliens.
Onward uses exactly the same principle. It takes a fantasy idea, a fantastical world, and makes it "mundane," makes it like real life. It's a massive contrast to an earlier Pixar film, Brave (2012). While that was set in a version of Scotland, Brave was a much more straightforwardly magic adventure, with witches, demons and transformations. The film was criticised for multiple reasons, but one of them was that it didn't feel like a Pixar film. Rather, it trod on the turf of Disneys like Tangled and Frozen. Even though Pixar had been part of Disney for several years when Brave opened, Pixar had an entirely separate brand image, and princess and witches weren't part of it.
In contrast, Onward feels entirely Pixar; its handling of fantasy and reality is "what Pixar does." Of course, there are many other ways that animation can balance fantasy and reality, as anime fans know well. Fullmetal Alchemist, for instance, was set in an ingenious world that runs on both magic and science, and where magic is a quasi-science. In Miyazaki's Totoro and Kiki's Delivery Service, the background worlds are detailed extremely realistically. They're also intensely idealised, yet overt magic is shown very sparingly. The same balance holds in Shinkai's Weathering with You. In Mamoru Hosoda's The Boy and the Beast, the story sloshes freely between magic and non-magic realms.
Pixar's 2017 film Coco looks initially similar to Boy and the Beast. There's an extended "real-world" set-up, with the human family in Mexico before the fantasy adventure starts. But once Coco's adventure does start, the film stays in fantasy mode for nearly all the way, till the heartbreaking resolution back in Mexico (which is comparable to Your Name's end if you think about it).
The films of Pixar only let humans be leads when they're placed mostly or wholly in fantastical settings, like Coco's Land of the Dead or the Art Deco comic-strip of The Incredibles films. Okay, you could argue that Linguini, the Paris cook in Ratatouille, qualified as a lead without having to go to a magic land, but he was in a film which foregrounded talking rats.
Pixar has made wonderful fantasies, like Coco and Inside Out and Up. But its brand was first defined by Toy Story which made fantasy "mundane," an approach now extended in Onward. But will Pixar, or any of the other big Hollywood animation studios, ever dare make the kind of film that's made in anime all the time? Specifically, could they make a film set in the mundane human world, without talking animals or more than the briefest peeps at magic realms?
Japan's most famous animated studio, Ghibli, made five such films – six counting the TV film Ocean Waves. Anime examples have only multiplied in the last decade – think of A Silent Voice, The Garden of Words, Anthem of the Heart (barring its prologue), I Want to Eat Your Pancreas and Ghibli's From Up on Poppy Hill. There are also Giovanni's Island and In This Corner of the World. As non-fantasy war dramas, the last two have a few animated cousins outside Japan – France's Persepolis, Israel's Waltz With Bashir and Ireland's The Breadwinner (set in Taliban-ruled Afghanistan).
None of these titles make obvious models for an expensive Hollywood CG animation. Perhaps the cultural expectations of what animation should be are too different, even now the medium is accepted as fit viewing for adults. In a previous article, I suggested that animation and live-action had an oppositional relationship in Western territories, more than in Japan. However, the ever-continuing march of boundary-blurring CG effects films could be changing audience attitudes. Will tomorrow's generation see the "animated" Spider Verse as significantly different from the "live-action" Spider-Man: Homecoming?
A deeper objection is that Hollywood movie animation is grounded in caricature and illusion of life, a tradition anime never shared. On this argument, there's just so much more you can do with Hollywood animation if you invent, say, a world of fabulous monsters, rather than the "real world" milieus of A Silent Voice or Garden of Words.
Yet if you watch the Mexican opening of Coco or the human scenes in Ratatouille, Pixar's caricature still has brio and life. Pixar, its fans concur, has been at its best when it breaks new territory. I thought Onward was very good, no question, but not a match for Inside Out, Wall-E or the first Incredibles. Pixar still needs to break new frontiers as it passes its first quarter-century of animated features. The studio has created so many fabulous realities; perhaps in the 2020s, it'll dare depict the "real" real world.
Andrew Osmond is the author of 100 Animated Feature Films.