Psychic School Wars… 80s Style!
May 30, 2016 · 0 comments
By Andy Hanley.
Much like Mamoru Hosoda's version of The Girl Who Leapt Through Time, Sunrise's animated take on popular Taku Mayumura novel Psychic School Wars (Nerawareta Gakuen) is by no means the first attempt to bring its story to life – indeed, it follows in the footsteps of two different live-action films as well as a number of TV dramas produced in Japan in the wake of that 1976 book.
While the Madhouse-animated Girl Who Leapt Through Time movie was officially more of a "pseudo-sequel" than an outright retelling of its source, the extent of its differences pale in comparison to those seen in Psychic School Wars variants. Although the PSW anime also effectively serves as an unspoken sequel of sorts, with the grandfather of the film's protagonist Kenji Seki seemingly tied into the original story, there's a world of difference to be found compared to previous iterations of the story. Thanks to a Hong Kong DVD release with English subtitles, the most readily available adaptation for comparison is Nobuhiko Obayashi's 1981 live-action film School in the Crosshairs, and it really couldn't be any more different if it tried – get ready for Psychic School Wars, 1980s style!
Our protagonist for School in the Crosshairs is Yuka Mitamura, a smart but well-rounded high school girl who is not only top of her class academically but also the manager of the school's kendo team. It's this role which has led to her striking up a close friendship with one of the kendo team's stars – Kohji Seki, an athletic young man who has little academic interest or ability. It's this distinction between academic achievements and outside interests which crops up frequently throughout – the school's gym teacher demands that more time and money be spent on unlocking the potential of his charges, while other members of staff regard it as an unnecessary distraction.
Into the midst of this on-going debate enters a new transfer student – Michiru Takamizawa, a keen disciplinarian who wastes no time in finding her way into the school's student council. From here, and in one of the few areas where there's a clear analogue to Sunrise's Psychic School Wars, Takamizawa's true goals quickly become clear – to create a totalitarian regime within the school with the insistence that it's the only way for the students to reach their true potential.
There's more to Takamizawa than just intelligence or a persuasive personality– she's also a psychic whose power to impose her will upon others is an important part of her plot. She isn't the only one however, although Yuka's struggles with the power which suddenly manifests in her is far more personal – she's less worried about changing the world, and more concerned with how this development might change herself or her relationship with Kohji.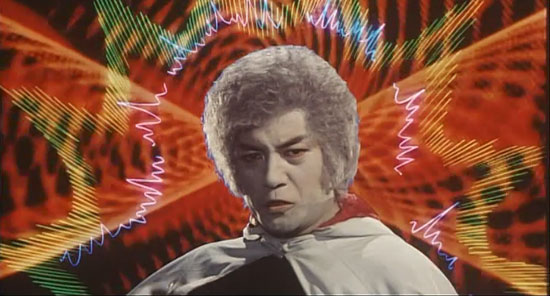 It's these paranormal sci-fi trappings that feed School in the Crosshairs manages most of its bizarre moments – Yuta is taken for a drive by an odd-looking fellow who waxes lyrical about how she could become a "superwoman" to underline the emergence of her powers, while the climax to the film is, frankly, utterly bonkers in a most pleasing fashion as it pits Yuta and Kohji against Takamizawa in the kind of weird dreamscape that could only have been dreamed up by a movie director in the 1980s. Kohji's next-door neighbour owns a monkey because monkeys in popular culture were "in" back then; at one point everyone breaks into a song and dance number; and the film's slapstick comedy often feels more like a cartoon than its anime equivalent!
As silly or outdated as its presentation can be, School in the Crosshairs turns out to be an enjoyable movie that still manages to get its message across succinctly – rather than focusing on its romantic elements a la Sunrise's Psychic School Wars, this is a film concerned with the importance of love over progress, and retaining a child-like sense of wonder over simply studying or working hard. It's a message that fits in with the experience of watching the film, in fact – School in the Crosshairs has some serious points to make, but that isn't enough to get in the way of it having fun, and it makes for an interesting counterpoint to Ryousuke Nakamura's animated film three decades later.
Psychic School Wars is released in the UK on DVD and Blu-ray by Anime Limited. Good luck finding School in the Crosshairs, though!