Ride Your Wave
September 12, 2019 · 0 comments
By Shelley Pallis.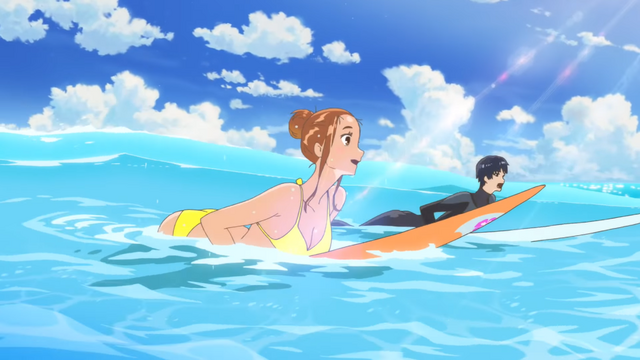 Hinako has moved to Chiba to pursue her studies as an oceanographer – she just loves the sea, unaware that Minato and Wasabi on the shoreline have been watching her early morning surfing ventures with wide-eyed amazement. Both of them are trainee firemen, but its Minato who gets the chance to play hero when Hinako's building catches fire.
The fire-fighter's life in Japan was largely overlooked in anime ever since Susumu Nishizawa's forgotten Firefighter Daigo (1999) – that is, until recent months saw Fire Force, Promare (also screening at Scotland Loves Anime), and Ride Your Wave. Here, director Masaaki Yuasa zooms in not only on the logistics and technology of Japanese firemen, but of the intimate relationship they have with water, something which makes the two would-be lovers unexpectedly kindred spirits. It's water that wins out in the end, with the fire-fighting subplot swiftly side-lined in favour of Hinako and Minato's burgeoning romance, as she teaches him how to surf, and he repays her by gamely mansplaining about coffee and fried eggs.
Yuasa has already put Flash to use in animating fluids in his acclaimed Lu Over the Wall, so it should come as no surprise that he returns to a seaside setting for this follow-up. But his animators are already showing off how far they have come in the opening sequence, lovingly rendering the gloopy, glistening folds of an omelette. They also treat fire with the same cartoonish reverence that they used for water in the earlier form, particularly in a striking early night scene in which a dramatic rescue is framed and silhouetted by a carnival of exploding fireworks.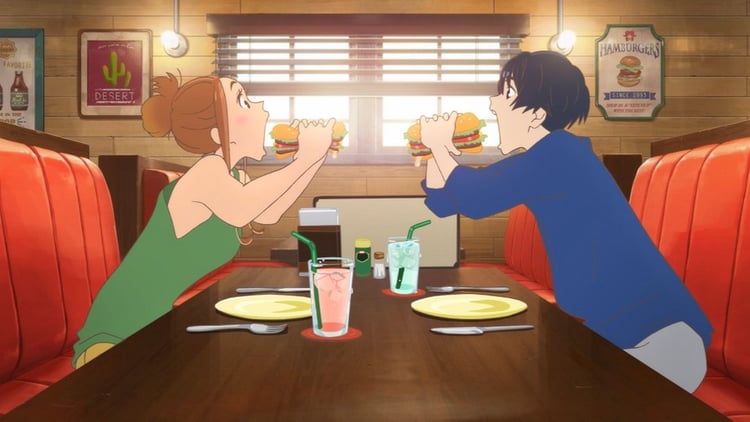 But as with the earlier Lu, Yuasa focuses here on sun, sea and songs, most notably in a montage sequence where Hinato and Minato's burgeoning relationship is sped along by a series of snapshots from dates across six months, linked together by a gleefully and naturalistically off-key rendition of a karaoke lovers' duet.
Yuasa teases the audience for a full thirty minutes with a tale of courtship and happiness that is almost self-contained, only to throw in a twist just when you think the story is done. In a lovely story-telling touch, flashbacks after everything has gone wrong continue to fill in blanks from the first half-hour of happiness and lovey-dovey schmaltz, extending the feel-good first act, but now with more ominous overtones.
At the risk of giving too much away, the story continues with a series of modern angles on loss and recovery – the way in which modern social media can preserve lost memories, or leave them tantalisingly out of reach. Not unlike the heroine of another beach-front story, Letter to Momo, the rest of the film is readable either as a magical fantasy or as the delusions of a troubled girl suffering from some form of post-traumatic stress – because you can read what happens next as a love story that barrels on through life-changing hardships, or as a the tale of a woman who enjoys singing to the toilet bowl and dancing with a water-filled lilo in the shape of a finless porpoise.
Ride Your Wave explores the metaphysical meaning of water as a source of life, with a leading lady whose love of all things liquid turns her into something of an amphibian, seeking out puddles, rainy days and ponds in search of a chance to reconnect with her lost love.
Perhaps cynically, the film's Japanese title Kimi to Nami ni Noretara, seems designed to slot into film listings right after Makoto Shinkai's block-busting Your Name (Kimi no Na wa). Reiko Yoshida, a prolific screenwriter most likely to be familiar for her work on K-On and A Silent Voice, crafts another work about mawkish companions who are confident and "heroic" in their personal fields, but turn into floundering klutzes in so many other areas of human interaction. But it's surely no coincidence that Ride Your Wave steals a page from Your Name's playbook, placing a seemingly insurmountable obstacle between two lovers, and then leaving it to magic and fate to somehow win through.
Charmingly, it's Minato who realises that things can't go on in the way that they have, and who attempts to arrange a way for him to step aside, so that Hinako can move on with her life. As with Alan Rickman's star turn in Truly, Madly, Deeply (reissued on DVD only last year, after what seemed like forever unavailable), the story turns into a love story about letting go. Meanwhile, the supporting cast are refreshingly unsupportive, particularly Minato's prickly sister Yoko (Honoka Matsumoto), who is unimpressed with just about anything, and huffs and puffs her way through the film like the little train that couldn't be arsed. Yoko serves a valuable function in holding the script together, particularly when she sarcastically comments on Hinako's habit of running away from every moment of drama.
But Yoko turns out to have her heart in the right place, as she inadvertently helps Hinako uncover a secret from the past that, in itself, is another well-worn anime trope, imparted with new life largely through writer Yoshida's deft choice of when to reveal it. This revelation adds a new level to the film, suggesting that the degree to which the lovers are imprinted upon one another runs far deeper than had previously been shown.
Ride Your Wave is screening at Scotland Loves Anime.