Shinkai Easter Eggs
July 9, 2020 · 0 comments
by Andrew Osmond.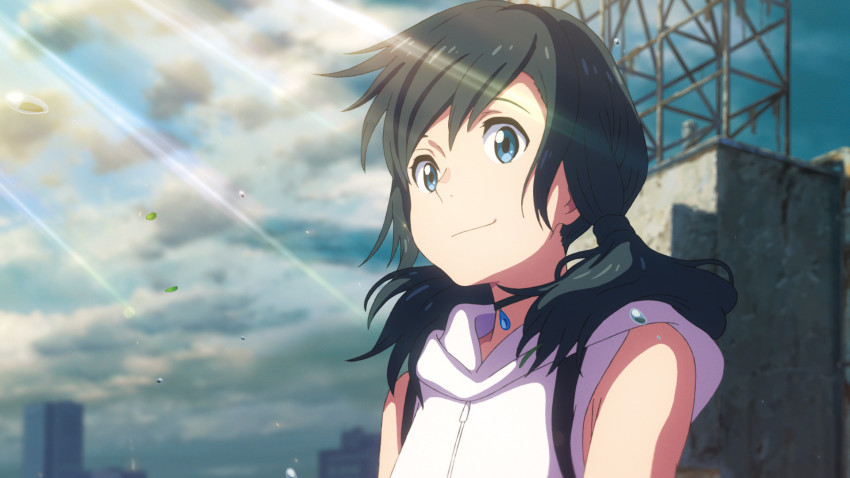 Following the blog's hunts for Easter Eggs in the Gundam franchise, this article focuses on Eggs relating to Makoto Shinkai's biggest blockbusters, Your Name and Weathering With You. Warning – SPOILERS for both films.
THE CAMEOS
Taki and Mitsuha from Your Name appear midway through Weathering, in scenes that are pure fan service. Taki appears as the grandson of the old woman who's commemorating her husband during the Obon festival. Mitsuha appears a few minutes later, in a department store where Hodaka buys a ring for Hina. Specifically, Mitsuha works at the MocA-Tokyo store on the "Lumine" side of the cavernous Shinjuku station.
In this case, we have the "word of god" on the subject. In a talk at London's BFI Southbank which I attended, Shinkai said Weathering's scenes with Taki and Mitsuha take place just before the final scene in Your Name, where those characters reunite.
Except that doesn't make sense. There are loads of ways the scenes don't mesh; here's one. As we said a moment ago, Taki appears in a scene set during the Obon period. That festival takes place in summer, one of multiple summer references in Weathering. Whereas in Your Name's final scenes, Taki steps out of his apartment and looks over to nearby trees… covered in pink blossom. In other words, Your Name's ending takes place in spring. Your Name's ending also takes place in a Tokyo that's (a) sunny and (b) above water, which rules out Taki and Mitsuha reuniting after the main events of Weathering.
But according to the on-screen dates, they do! During Your Name's last scenes, Taki is sitting in a café while snow falls outside. He flips through a diary of upcoming appointments… dated November and December 2021. The reunion scene takes place the following spring, so that's spring 2022.
Yet in Weathering, we see the date of the crucial day when Hodaka rescues Hina from the cloud world and causes the endless deluge over Tokyo. That day, according to a series of glimpsed text messages, is in August 2021. So why isn't it raining when Mitsuha and Taki reunite in Your Name?
No, the continuity doesn't work, however you cut it. A fan page claims Shinkai said at a Paris Q&A that he doesn't care about the different timelines. If true, the word of god is plainly happy to contradict itself.
In any case, do we need to see Your Name and Weathering as occurring in the same timeline? Some fans love connecting things on any basis; witness the umpteen fan "theories" that all Pixar or Ghibli films happen in the same overarching universes. Mecha fans will know Yoshiyuki Tomino tried the same thing with Gundam.
But against that, there's Osamu Tezuka's "Star System". According to the God of Manga, his recurring characters operated like live-action actors, appearing in similar roles in different stories, sometimes with continuity but often without. The characters don't need continuity, any more than the Cocky Grinning Hero Played By Tom Cruise in Top Gun and Mission Impossible.
Personally, I see Your Name and Weathering in that light, each featuring versions of Mitsuha and Taki who look similar but who aren't the same people. That would also apply to other Shinkai cameos; for instance, a teacher at Mitsuha's school in Your Name who's the spit of Yukari in Garden of Words.
CATCHER IN THE RYE
Early in Weathering With You, when Hodaka holes up in the cyber-café, we see he has a copy of Salinger's classic, with the English title displayed on the cover – though it's rarely seen again and the book isn't mentioned in the script.
There are echoes of Catcher in Weathering. Salinger's hero Holden Caulfield has a sojourn in a city hotel, as do Shinkai's runaway kids. Holden also has a brush with the sex industry and gets a beating. Notably, Holden fantasises about shooting a pimp, and about being bandaged by a pretty girl – not far from some events in Weathering.
The book's presence in Weathering would also seem to offer a short-hand explanation for why Hodaka has run away from home. True, many reviewers focused on something else, a plaster on Hodaka's cheek in early scenes. The plaster could be hinting that Hodaka suffered violence at home… though it could just be a visual call-back to Your Name, where Taki sported a similar plaster when we first met him.
In Catcher, Holden's drifting existence wasn't motivated by parental abuse, but because he's alienated from the "phoniness" of adults and society. It's not a subject Hodaka raises as such, but he mentions he found his home and parents suffocating. Actually, a different Weathering character speaks more like Holden – Natsumi, who despairs of the absurdities of adult life and chides her uncle Suga for his hypocrisy.
Of course, by the end, Hodaka is on the run from the authorities, desperate to save the girl he loves, and waving a gun wildly at the grown-ups in his way. "You all know nothing! You pretend… I just want to see her…" It's a fairy story Holden could have written himself. "Both of them are the type of person who feel that they are isolated in the modern world," Shinkai said of Holden and Hodaka.
I was in Tokyo when Weathering was released, and saw piles of Catcher in the Rye being sold amid the displays of Weathering tie-ins books at the Kinokuniya bookstore in Shinjuku. Specifically, it was a Japanese translation of Catcher by the legendary author Haruki Murakami.
100% MURAKAMI
Shinkai is a huge Murakami fan, and many pundits argue the two creators depict similar inner worlds for their young protagonists. Shinkai said he realised in hindsight that Weathering was "actually quite similar" to Murakami's 2002 novel, Kafka on the Shore, which includes a teen runaway boy as one of its main characters.
The most specific point of contact between Shinaki and Murakami, though, may be between Your Name's ending and the conclusion of a brief Murakami story, "On Seeing The 100% Perfect Girl One Beautiful April Morning." Like Shinkai's film, Murakami's story ends with two amnesiac lovers passing each other in Tokyo. They each know the other person is the love of their life, but they're unable to remember them. Murakami's story (which I discuss in more detail here) ends sadly, Your Name with joy. But some viewers weren't convinced that's how the film should have ended – see the next Egg.
In Weathering, Hina advertises herself as a "100% Sunshine Girl." "I do love that (Murakami) story and it just came out naturally," said Shinkai. Away from Murakami, though, there's an old Japanese film called The Sunshine Girl, directed by Yoji Yamada in 1963. Its story is nothing like Weathering – it's about a factory worker – but it featured a young lead actress called Chieko Baisho. She's most famous in live-action films, but she's also taken anime roles, such as Sophie in Howl's Moving Castle… and the maybe-Taki's kindly grandmother in Weathering. Coincidence?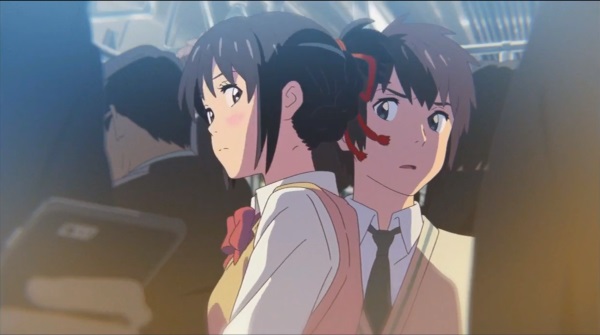 YOUR NAME'S RUMOURED ALTERNATIVE ENDING.
Some viewers of Your Name were convinced the film had been meant to end on a downbeat note, with Taki and Mitsuha passing each other by, never reconnecting, which is how Murakami's "Perfect Girl" story ends. According to this theory, company executives forced Shinkai to change Your Name's ending to what we see on screen. However, Shinkai denied this on Twitter (Tweet), saying "The ending was decided in the original plot even before the screenplay was written."
MU MAGAZINE
Mu Magazine is an entirely real Japanese magazine that's ran four decades from 1979, covering… Well, anything you might find in X-Files, from Bigfoot sightings to proof of Atlantis. There's a useful article here, where editor Takeharu Mikama describes Mu as "a philosophical publication exploring unsolved mysteries." It's hardly a Japanese thing – Britain's equivalent is Fortean Times, six years older.
Mu is the magazine that the characters write for in Weathering (Mu's cover is shown when Suga explains the job), when Hodaka first hears about sunshine girls. But that wasn't Mu's first appearance. Early in Your Name, Tesshi is excited to hear of his friends Mitsuha's "dreams" of another life, and he brandishes a copy of Mu while babbling about Hugh Everett's theory of the multiverse. The cover's not visible in that scene, but it is minutes later when Tesshi's leaning on his balcony at home, looking towards Mitsuha's family shrine.
Given Mu's successive plugs in two Shinkai blockusters, it wasn't surprising Mu returned the compliment by profiling Shinkai in its October 2019 issue.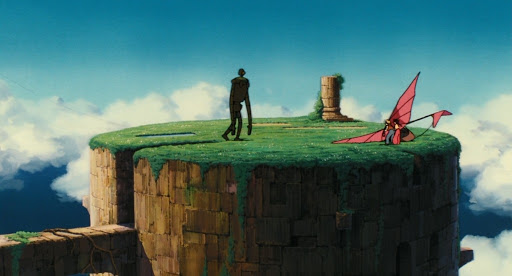 LAPUTA CASTLE IN THE SKY
Shinkai has a long-standing affection for Hayao Miyazaki's 1986 steampunk fantasy, which he saw as a schoolboy. He told Little White Lies, "That was the first movie I went to see with my pocket money, that I paid for myself – and it was great. There was nothing like it."
The fantasy imagery in Weathering is extremely close to Laputa, especially at the climax. There's the giant cloud which conceals a world in the heavens, and the boy and girl clinging to each other as they float or fall together. Hodaka's entrance to the sky world is especially redolent of Laputa. Crossing the threshold, he's buffeted by a terrific storm, manifesting as fabulous sky creatures… and then he breaks through into a silent realm, with blue sky and green grass.
Hodaka's conviction that it's his male duty to save the pretty girl is very Laputa-ish too, though in both films the girls save the boys as well.
SHITORI NO KAMI
Previously on this blog, I reviewed Your Name: Another Side, a spinoff book which retells and expands on Shinkai's film. The last section depicts the initial meeting of Mitsuha's future parents, when her shrine-maiden mum explains the customs of Itomori. She refers to a Shinto legend mentioned in the 8th-century book, the Nihongi. The legend is summarised briefly here. Shitori (or Shidori) no Kami is a god of weaving, who subdues a star god. If you think about the red threads and fiery comets in Your Name, it's not hard to see a connection.
The canonicity of this idea is debatable. Another Side was written by an author called Arata Kanoh, not by Shinkai, and we don't know whether Shinkai had Shitoro no Kami in mind when he made the film. But the legend fits with Your Name's story extremely well. It's also likely Shinkai read over and approved Another Side, given it was a licensed spin-off with Shinkai's name on the cover as the writer of the "original story."
TENKOSEI
Westerners may take Your Name's body-swap story as a variant on Vice Versa (father swaps with son) or Freaky Friday (mother swaps with daughter). In Japan, bodyswaps crop up in various places, including anime episodes of Kokoro Connect and Rascal Does Not Dream of Bunny Girl Senpai. However, the main Japanese precursor is a 1982 live-action film called Tenkosei, aka Exchange Students or I Are You, You Am Me (trailer).
Like Your Name, the film has a gender-swap as well as a body-swap, as a high school boy and girl exchange bodies. In Tenkosei, however, they're already acquainted and they go to the same school. The film was directed by Nobuhiko Obayashi, who remade it in 2007. Obayashi's other films include the cult 1977 horror-comedy House (not to be confused with the American cult horror-comedy of that name), and a 1983 live-action Girl Who Leapt Through Time with Tomoyo Harada, long before Mamoru Hosoda's anime. Obayashi died in April 2020, aged 82.
LOST HOLY LAND
In Weathering, many locations are based on real places in Tokyo, which even extends to the derelict building that plays a large part in the story. The real building was next to Yoyogi Station, between Harajuku and Shinjuku. It was standing when I checked it out as the film opened in Japan in summer 2019 – indeed, there were two or three other people taking pictures when I visited, plainly Shinkai fans. However, the real building was shorter than the one in the film, and it lacked an external stairway, let alone a rooftop shrine. You can see pictures of Yoyogi Kaikan, as the building was called, here, but it's now been demolished.
KIMI NO NA WA
Your Name's Japanese title was Kimi No Na Wa – literally "What is your name?" That's identical to the name of a Japanese live-action film trilogy in the 1950s, based on a hit radio serial.
Its story begins during one of the biggest catastrophes in modern Japanese history, the Great Tokyo Air Raid of March 1945. A man and woman, complete strangers, help each other through the fire. Afterwards, they promise to meet each other again at an agreed location, without even giving each other's names. But the reunion is missed, as the saga follows the characters through their separate post-war lives.
No comets, body-swaps or time travel… Yet it hardly sounds that different from Shinkai's anime. Again, we have painfully separated young lovers, in a plot that refers openly to a national calamity (Shinkai made clear that the disaster in Your Name is a reference to the tsunami which devastated Japan in 2011). Perhaps the title was partly chosen to widen the anime's demographic beyond teens, attracting the older Japanese cinemagoers who'd remember the 1950s trilogy.
Weathering With You will be released by Anime Limited later in the year.