Sonny Chiba (1939-2021)
August 20, 2021 · 0 comments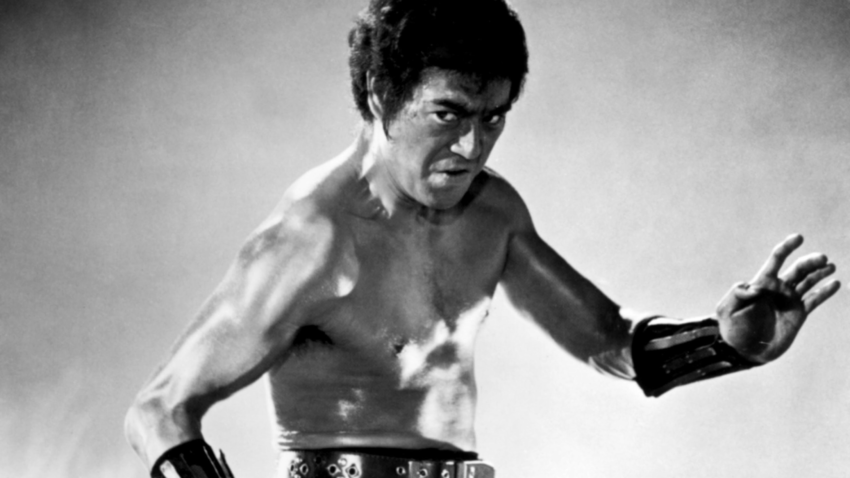 Shinichi "Sonny" Chiba, who died yesterday from COVID-derived pneumonia, was one of Japan's foremost action stars, with an influence extending way beyond his native country.
Inspired as a pre-teen by the sight of Japanese gymnasts at the Helsinki Olympics, he attended Nippon Sports Science University, training alongside many figures who would indeed go on to become future medal-winners. His hopes, however, were dashed in a series of injuries that left him barred from training for crucial period before the Olympic trials. Cutting his losses, he dropped out of college and successfully applied for the Toei Studio's "new faces" scheme, where his looks and gymnastic abilities were put to immediate use.
Although Chiba was famed in later life for holding black belts in six different disciplines, for the first half of the 1960s his martial arts accomplishments were modest and unremarkable, not all that different from thousands of other young school athletes. It was as a gymnast that he first attracted the eye of numerous action directors, swiftly co-opted into some of the studio's television output, with leading-man status in the adventure serials Seven-Colour Mask (1960) and Messenger of Allah (1960).
The following year, he somehow managed to appear in nine Toei feature films, including Kinji Fukasaku's feature debut, Drifting Detective: Tragedy in the Red Valley (1961). Fukasaku often insisted on the supremacy of physicality in acting, that "an actor's body is his words", and was impressed with his young star's insistence on performing his own stunts – one gets the sense that Chiba's readiness to show off was born, at least in part, from his personal disappointment at the enforced change in career direction from Olympic glory.
In fact, Chiba had a tenth movie job that year. In search of muscular realism, animators on Toei's Arabian Nights' Sindbad the Sailor brought Chiba in to generate footage of the actor running, jumping, fighting and rolling. The film was them rotoscoped to create some of Sindbad's action scenes, although the role of Sindbad in the anime was credited only to his voice actor, Hideo Kinoshita.
Chiba's true metier was in being seen on screen, and the 1960s saw him playing in a multitude of detective, yakuza, samurai and action films. He would make seventeen movies with Fukasaku, but while his cinema presence remained a strong strand of his career, he would arguably achieve a similar impact in television. In particular, as the Cold War led to a surge in clones of Mission: Impossible and The Man From U.N.C.L.E., Chiba found a breakout role on television in the espionage series Key Hunter (1968-1973). The series, which purportedly top-lined Tetsuro Tanba and Yoko Nogiwa as two former intelligence agents who form a crack Interpol crime-fighting team, was only supposed to run for a single year, but eventually ran for five, at least in part because of Chiba's enthusiastic improvisations.
Chiba excelled at plugging the gaps in television scripts, which unlike films, tended to simply leave action scenes blank, in order to give crews a freer hand in unknown locations. Now a black belt in Shotokan Karate, Chiba seized upon this absence, enthusiastically throwing in ideas for dangerous stunts, perilous leaps, and original weaponry. His schemes often caused him personal injury, but helped propel the show past a 30% primetime audience share, and found it an enthusiastic audience in Hong Kong, where Jackie Chan and Bruce Lee would both later confess to being fans.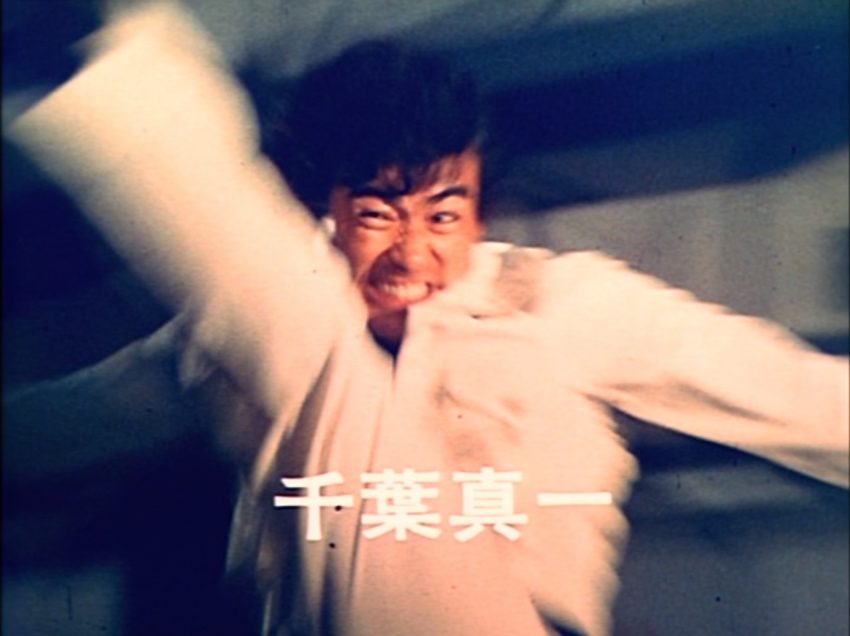 Chiba's co-star Nogiwa remained magnanimous about his grabbing of the limelight, as she still got to sing over the end of each episode. The series boasted a funky soundtrack from anime composer Shunsuke Kikuchi – modern viewers may find it somewhat redolent of Cowboy Bebop – while lyrics were added to the tune for the closing credits, sung by Nogiwa herself. Shortly before the series ended, she also became the first Mrs Chiba – they would remain together for twenty years, only to divorce in 1994 over his wish to relocate to California.
Chiba's role in Key Hunter had been intended partly as comic relief, but he cherished more serious action roles. Although he never left the movies behind, even during the run of Key Hunter, his role in Memoir of Japanese Assassins (1969) led him to rediscover a desire to work more in features, and to persuade his co-star Tetsuro Tanba to proclaim the TV show over and done with.
Not that film work was any less punishing. Cast against type as a hoodlum in Fukasaku's Battles Without Honour or Humanity: Deadly Fight in Hiroshima (1973) Chiba deliberately downplayed his movie-star good-looks, hiding his eyes behind sunglasses, and keeping his lips permanently pursed. Plunging into martial arts training with all the enthusiasm of an athlete, Chiba amassed several further black belts and upper dans, in the process becoming an onscreen ambassador not only for karate, but also for Shorinji Kempo, ninjutsu and judo. He also began to accrue a following in the English-speaking world, after the release into American cinemas of a dubbed version of his martial arts film The Street Fighter (1974).
His emphasis on authenticity in the martial arts led in 1977 to his serving on a full-contact karate team in an international competition, leaving no doubt as to the realism of his abilities, and conveniently also serving as a publicity stunt for his appearance in Karate for Life (1977), a bio-pic based on the career of his own teacher. Capitalising on his fame in Hong Kong, he played another anti-hero in Golgo 13: Assignment Kowloon (1977) based on the long-running manga series by Takao Saito.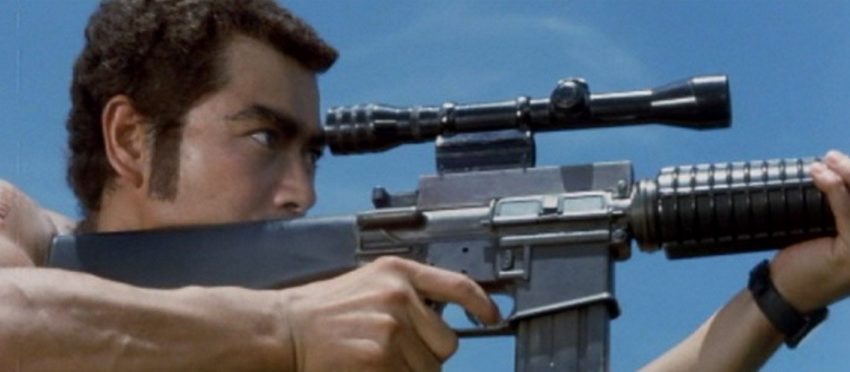 As he aged out of the bracket for a traditional male lead, he excelled at character roles and older parts, he had several winning turns as the ninja master Jubei Yagyu, and increasingly also worked behind the scenes as a fight coordinator – he formed the Japan Action Club, a talent agency for stuntmen, actors and action directors. In the 1980s, he also embarked upon a fruitful sideline in stage musicals, claiming that West Side Story had convinced him that live dance, particularly dance-fighting, was one of the best methods of training future action stars. Largely unknown to his overseas fans, he nevertheless packed out Japanese theatres for years on end with such live-action extravaganzas as The Big Adventure of the Fantastic Pirates and The Drunken Duke.
Chiba's impish sense of humour, which was after all what initially got him the role in Key Hunter, served him well in old age, when he embraced the potential for self-parody. One of his most enjoyable yet overlooked turns was in the TV series Shotgun Marriage (2001), in which he stole the show as a gruff, retired police inspector, aghast to hear that his 20-year-old daughter (Ryoko Hirosue) has been knocked up in a one-night stand. Relentlessly sending up his many roles as a battle-hardened detective, he becomes the world's most terrifying concept, a kung-fu father-in-law.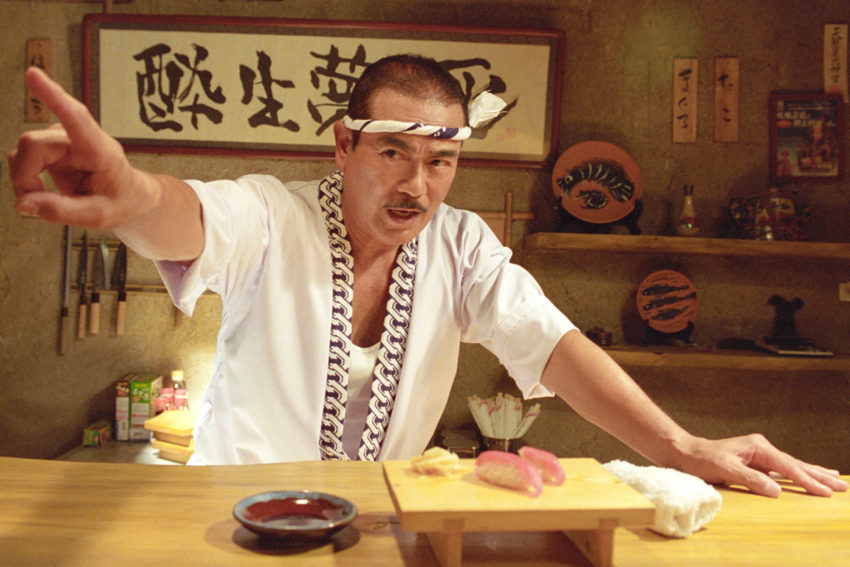 Chiba had become a true star – a man who was hired not for playing someone else, but for being Sonny Chiba. This served him increasingly well in old age, as some of his fans began to work in the entertainment industry themselves, and reached out to their celebrity icon. When Andrew Lau adopted the popular Hong Kong comic saga The Storm Riders for the screen in 1998, Chiba provided a scene-chewing performance as the dastardly Lord Conqueror. In 2015, when Keanu Reeves was on the publicity circuit in Japan for John Wick, and speaking of his great respect for the star's ability to integrate character and action, Chiba gate-crashed the interview in a planned stunt, sternly intoning: "MISTER KEANU….!"
His highest profile Hollywood fan was Quentin Tarantino, whose script for True Romance had Christian Slater's character sneaking into a Sonny Chiba cinema retrospective, and whose script for Pulp Fiction lifted the opening crawl from Chiba's Karate Kiba (1976) as Samuel L. Jackson's memorable quote from "Ezekiel 25:17": "And I will execute great vengeance upon them with furious anger, who poison and destroy my brothers; and they shall know that I am Chiba the Bodyguard when I shall lay my vengeance upon them!" When Chiba visited the Pulp Fiction set, his presence left the usually unflappable Jackson tongue-tied and meekly asking for his autograph.
Chiba's cameo role for Tarantino's Kill Bill similarly drew upon his onscreen past. Chiba appeared in the film as Hattori Hanzo, a name recalling his role(s) in the Kinji Fukasaku-directed TV series Shadow Warriors (1980-85), in which successive seasons would see Chiba play his original character's namesake descendants. In naming Kill Bill's swordsmith-turned-sushi-chef Hattori Hanzo XIV and hiring Chiba to play him, Tarantino subtly implied that the lineage had extended all the way to the present day.
In announcing his death to the press, his management office made the cryptic comment that he had not been vaccinated against COVID-19, presumably intended as a warning rather than a misguided boast. It seems that to the very last, he was determined to show the world how tough he was.
He is survived by his three children, Juri Manase, Mackenyu Arata and Gordon Maeda, all of whom are actors.