By Andrew Osmond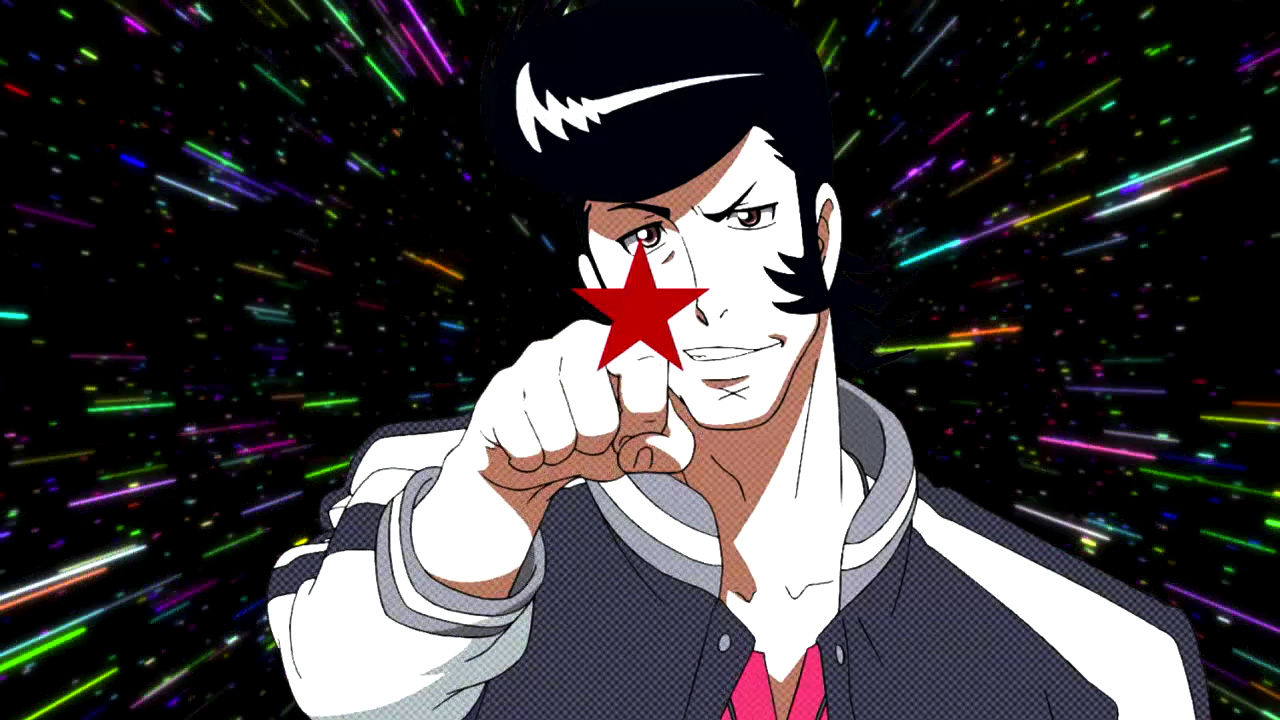 What's it like to be a commercial animator? Take a furious, crazy-seeming animation like Space Dandy – can the experience of making it ever resemble that of watching it? Most times, probably not. Don't trust those jolly 'making-ofs.' We know commercial animation can be a soul-destroying production-line, as in the "Banksy" opening of The Simpsons, or that Paranoia Agent story where the animators are so exhausted and stupefied that they don't notice a head-bashing killer.
Space Dandy, though, feels different. It's a real effort to give freedom to the staff who worked on it, lifted rather than smothered by the show's big star. That star, of course, is Shinichiro Watanabe, director of the landmark Cowboy Bebop nearly twenty years ago. Since then he's burnished his reputation with the hip-hop historical Samurai Champloo, and a couple of segments of the bestselling Animatrix. More recently, Kids on the Slope was notable for its vision of artistic creation, where teen musicians jam joyfully together. It's the opposite of the psychotically competitive jazz battles in the recent live-action film Whiplash.
As a contributor to Animatrix, Watanabe must appreciate the importance of collaborative anime projects. He was known for Bebop when he worked on Animatrix, but it presumably did his reputation no harm, and uplifted other talents. For example, Takeshi Koike directed an Animatrix segment; he went on to direct the scorching Redline and define much of the look of Lupin III: The Woman Called Fujiko Mine.
You can see Space Dandy as Watanabe's Animatrix, his bid to give other anime staffers a leg up. Of course, the show benefits from his name in the credits, as Chief Director. Dandy's high concept – a strutting space 'hero' who's really a buffoon, an idiot who trips over his own feet – feels like a piss-take of the languid 'coolness' of Cowboy Bebop. It feels consciously aimed at Western audiences, where the image of the braggart, girl-crazy space hero looms large, thanks to one James T. Kirk (often parodied in Western cartoons like Futurama). Watanabe himself loves 'seventies movies and says Space Dandy was influenced by Dark Star, by John Carpenter, which has beach-ball aliens and talking mega-bombs.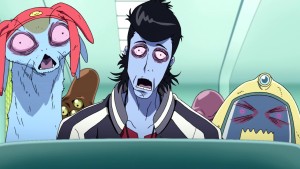 The set-up of Space Dandy is an ideal blank slate. As a character, Space Dandy is barn-door broad, along with his two companions, a slobby cat-alien and a fusspot droid. The directors and staff of the individual episodes can do whatever they want with them; indeed, that's a meta-point of the show. Several episodes end with Dandy and/or his companions vaporised, eaten, zombie-fied or otherwise coming to their final ends, only for the next episode to blithely reset them for another adventure. The show is militantly anti-arc, which doesn't stop it being epic. One week the characters can be searching for a noodle bar beyond the event horizon. The next they're on a woozy world of intelligent plants, paying tribute to the 1970s stoner classic Fantastic Planet.
Some of the staff are already associated with Watanabe, including two women who already have strong reputations in the industry. Writer Keiko Nobumoto worked with Watanabe on Cowboy Bebop as well as scripting such landmarks as Macross Plus, Tokyo Godfathers and Wolf's Rain (the latter by the BONES studio which made Dandy). She writes one of the most affecting Dandy episodes, about a dog lost in space.
Then there's Sayo Yamamoto, a rising woman director. Watanabe produced music on both her series so far, the South American adventure Michiko and Hatchin and the already-mentioned Fujiko Mine. In Space Dandy, Yamamoto directs the noodle bar episode, which unsurprisingly features a formidable butt-kicking heroine; the bar-brawling could be straight from Michiko and Hatchin except with aliens instead of gangsters.
Oh, and Dandy has a look-in for one of anime's most famous women, musician Yoko Kanno, who did much to make Cowboy Bebop a legend (as well as Macross Plus, Escaflowne and Ghost in the Shell Stand Alone Complex). She's credited with arranging Dandy's end song, and contributes to several episodes of its second season.
You may know the work of Thomas Romain. He's a French animator who designed and co-directed the excellent Oban Star Racers, a French-Japanese co-production. Then he moved to all-anime series; for example, he was art designer on Bodacious Space Pirates. On Dandy, Romain was hand-picked by Watanabe to design the hero's ship (modelled on a Hawaiian canoe) and the vessel of the pitifully hopeless villains. The latter is depicted as the Statue of Liberty's head, its mouth covered by an SM-style gag, as if we need reminding that Gallic cartooning pulls no punches.
Dandy's second season also has big names including another episode by Sayo Yamamoto, this one music-based. Then there's an episode by anime's madman Masaaki Yuasa, who's famed for warping plots and visuals on The Tatami Galaxy, the recent Ping Pong and the film Mind Game.
But more importantly, perhaps, are the Dandy staff who aren't on that level of recognition –yet. They're the ones who'll hopefully benefit the most from the project, getting industry attention and career boosts. Several are named by Mike Toole in a column for Anime News Network. Of the first season talents, the ones I'd look for include Ikuro Sato, who directed the witty zombie episode. A glance at his CV shows Sato has worked on a massive number of big titles, going back decades, and is surely due to step up.
As Toole notes, there's also a new woman artist likely to get notice. Her name is Ennyoung Choi and she made the first season's most distinctive story, the Fantastic Planet-ish one with sentient plants. Choi has worked with Yuasa, including helming an episode of Tatami Galaxy, as well as contributing to the series Casshern Sins.
Another of the best episodes is the first season finale, which builds up to a stonking giant robot battle. It was handled by Dandy's main director under Watanabe, Shingo Natsume. After animation duties ranging from Fullmetal Alchemist to Gurren Lagaan, Dandy may be Natsume's launchpad to a new career phase – the time for him and the other Dandy staff to proclaim they're not production-line drones, but free artists!
Andrew Osmond is the author of 100 Animated Feature Films. Space Dandy is out now on UK DVD from Anime Ltd.