By Andrew Osmond.
Two years ago, this blog ran a spoiler-filled article discussing the end of Makoto Shinkai's blockbuster Your Name. Now, after the cinema run of Shinkai's follow-up Weathering with You, we give it the same treatment. The discussion will involve huge SPOILERS for both Weathering and Your Name, so consider yourself warned.
First, let's start with a retro-anime opening, and a theme song. (The first thirty seconds of the video should make the point.) And no, the accompanying music is not by Radwimps.
This is a well-remembered title sequence in Japan. It's the 1978 TV series Future Boy Conan, often counted as the first signature anime by Hayao Miyazaki. It's not on Netflix, but as of writing it's just had something of a revival, thanks to maverick director Masaaki Yuasa. His new TV series Keep Your Hands off Eizokuen! includes an enormous tribute to Conan.
If you remember the final images of Weathering with You, it should be obvious why we're starting here. Both anime share weirdly cheery visions of post-disaster worlds and sunken cities, with a young generation shown enjoying themselves amid them. In Weathering they've taken to using futuristic-looking boats to get around the waterways, apparently based on real Tokyo waterbuses designed by manga/anime artist Leiji Matsumoto.
We could speculate that Japan's history is so full of visions of disaster, natural and man-made, that inevitably creators would start playing with them, suggesting they're not always so bad. Indeed, there are "fun apocalypse" films in the West, like Zombieland and Night of the Comet, though our iconic ends-of-the world tend to involve Terminators or Charlton Heston screaming on a beach.
Alternatively you could suggest, as an article on Wired did, that the end of Weathering reflects a Japanese conformist culture where young people don't march to save the planet. To quote the Wired headline, Shinkai's film "nails Japan's climate crisis apathy." That article, like other reviews of the film, quotes dialogue in Weathering that smacks of climate denialism, such as the comments by the aged Shinto priest (with the giant rain-maiden painting on his ceiling) and by characters in the closing scenes.
Oddly, fewer writers seem to have picked up on Hodaka's own conclusion, his last (internal) speech in the film. There, he explicitly declares that those other people are wrong; that he did change the world; and that the flooded Tokyo of the final scenes is the world he chose, to save Hina. It's hardly an apathetic ending.
Okay, so some people would have a beef with what Hodaka says too. Wired, amusingly, ran an article by a different writer who argued that, far from an ode to apathy, Weathering was an environmental power fantasy. On this account, the real reason why Weathering was irresponsible is that it depicted a girl who could magically change the weather, thus suggesting the world could be saved by efforts of individuals, without change at the level of global commerce and politics.
Which proves Weathering is a film that people not only disagree with, but they disagree over why they disagree with it.
Let's remind ourselves how Weathering ended up with a flooded Tokyo. To quote my review of the film in Sight & Sound (a magazine which allows spoilers):
"It turns out that Hina must be sacrificed in an aerial otherworld to restore balance to the weather. Hodaka can't accept this, and pulls Hina out of the otherworld in a terrific sky-tumbling climax. Consequently, Tokyo is half-drowned by rain."
This is clear in précis. Yet in emotional terms, Weathering has the kind of ending to leave viewers, myself included, more bemused than fulfilled. The end of Your Name left audiences weepy and cheering. Weathering's fade-out provokes mutters of "Wait, that's the end? Is it happy or what?" For some, it's proof that Weathering is inferior to Your Name. For others, it's precisely why Weathering is bolder and more interesting.
Your Name turned on a rug-pull scene halfway through the film when Taki goes to the countryside and finally sees his girlfriend's town – what's left of it after the comet hit, that is. It was like the twist in Sixth Sense, only Taki was dreaming of dead people. Sixth Sense's director would later become notorious for relying on twists that couldn't possibly surprise you, because everyone in the audience was waiting for them. But Shinkai doesn't thrill us with a similar shock in Weathering.
Instead, the "shock" in Weathering is its emotionally confused ending, which is absolutely what you don't expect in a blockbuster follow-up to a feelgood hit. There are downer franchise sequels like Alien 3, or subversive sequels like The Last Jedi, but these were extensions by other hands. Weathering is 100% Shinkai, and that's much of its surprise.
Quoting again from my Sight & Sound review of the film:
"Whereas Your Name fantasised about undoing a disaster, Hodaka (in Weathering) lets an eco-disaster happen, to save the girl he loves… The last scenes carefully mirror Your Name's conclusion – which was a straightforward, joyful crowd-pleaser – and subvert the earlier film too."
Both Your Name and Weathering climax with teenagers racing frantically against time. Apocalypses crash from the sky; and then we cut to years later. The teenage characters have aged up to adults but, true to Shinkai, they don't lose their fundamental uncertainties. Finally Shinkai lets the lovers reunite, though they hardly have time to say anything before Radwimps plays them out.
In both films, the characters on screen are equally elated. Indeed, Shinkai shows more of Hodaka's and Hina's joy in Weathering. (Your Name's reunion was timed ruthlessly to a T, as Taki and Mitsuha hit their marks like dancers in a musical – "What's your name?") What's different in Weathering is that our reactions in the audience are ambivalent.
That ambivalence is partly linked to our awareness of climate change in the real world. But actually, Weathering's handling of a "real" subject – and the accusations of bad taste and wrong messages – isn't so different from what Your Name did.
You think Weathering says the wrong things about climate change? Your Name, by Shinkai's own account, was his response to the tragedy of March 2011, when thousands of Japanese people were killed by the Tohoku tsunami, prompting anyone to think, if only they could have been warned sooner. From there, Shinkai concocted the feel-good fantasy of Your Name. Compared to that, the luridly violent film revisions of history in recent Quentin Tarantino films are small beer.
But the central dilemma of Weathering isn't inherently about climate change anyway. In the film, one innocent girl must die in order to avert a terrible disaster. Should Hodaka accept that? This is similar to the key idea in the most famous Star Trek episode, "The City on the Edge of Forever," made in 1968.
In that story, Shatner's Captain Kirk goes back in time to 1930s America. He falls in love with a woman, a peace activist, played by Joan Collins. Then he learns the activist – a completely good person – may change history; her well-meant actions will lead to Hitler conquering the world. The only way Kirk can stop this is by ensuring she dies in the accident which "historically" killed her, and by stopping another time-traveller who tries to save her.
Like Weathering, the story is most memorable for its ending, atypical for the Trek franchise. There are variants of this dilemma, often in fantasy media. Watchmen has one, involving several million "sacrifices" (actually murders), weighed against the world's survival. The Watchmen line was taken to fantastical extremes in the recent Avengers films, though any moral contemplation was buried under CG dazzle.
The American author Diane Duane took a far more individual perspective in her pre-Harry Potter series of YA books about junior wizards. In the second book, Deep Wizardry, the intrepid teen heroine volunteers to take part in a magic ritual to prevent a disaster. It's only later that she learns that the ritual requires her death, much like Hina in Weathering. (No trickery was involved; the girl's magic peers just thought she knew the price.) Unlike Weathering, there's an intense depiction of the girl's devastated reactions, and whether she can really die for others.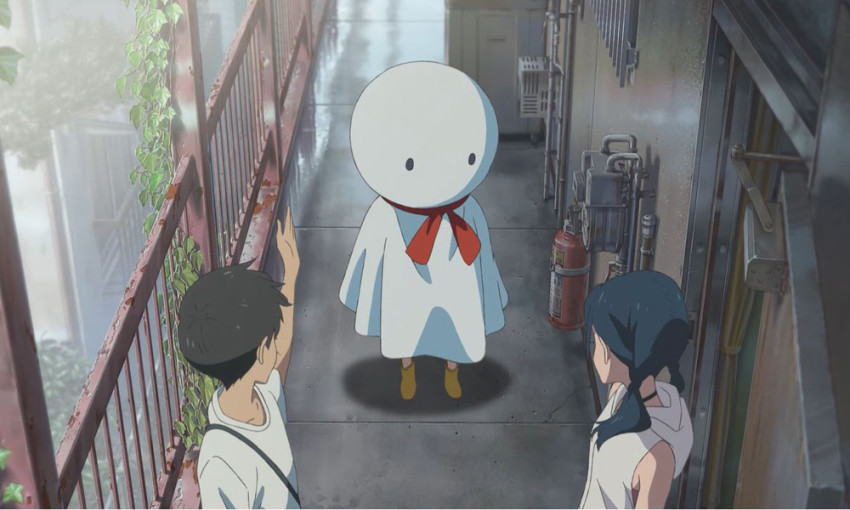 In anime, the themes are explored in the Madoka Magica franchise, and especially in the film Rebellion, which sets a very close precedent for the end of Weathering, though to say more would involve huge spoilers. The Madoka Magica franchise is particularly serious on the subject of unrewarded virtue. Through the series, good people do things because they're right, or at least because the characters think they're right, not for their personal happiness.
This point is relevant to Weathering because many reviewers describe the ending as if Hodaka only saves Hina so they can be together and live happily ever after. This glosses over the obvious: Hodaka saves Hina because she's going to die and he wants her to live. Watching the climax, it's clear Hadoka would have striven to save Hina even if he had to die for her, or if they were permanently separated – like the "bad end" that Your Name toys with in its last scenes, when Taki and Mitsuha forget about each other.
Indeed, reviewers of Weathering seem reluctant to say the film involves a moral dilemma at all. Some pundits seem dismissive of Hodaka's situation because he's a "lovesick" teen. The film itself engages with this criticism; at several points, Shinkai's script questions why one generation's perspective should be more valid than another (which was also a theme in Shinkai's earlier Garden of Words). Pointedly, it's the character Suga in Weathering who talks of adult priorities, then says he's fine with an innocent girl dying to save everyone else. His niece Natsumi, who disdains "adult" attitudes, looks horrified.
Perhaps the reviewers who describe Hodaka's actions as hormone-driven selfishness would have been more convinced by a version of Weathering in which Suga's cute infant daughter Moka was threatened with sacrifice, with Suga having to save her. Viewers of the Doctor Who spin-off show Torchwood may remember a major storyline in that series where a character had to murder his own child for the world's sake. That, though, was framed as a subversion of the source Doctor Who series, where only villains believe ends justify means (the subject of one of the show's most famous speeches).
One article on Weathering described the film's vision as "existentially terrifying." But to exchange one provocative observation for another, there are undoubtedly Green thinkers in the real world who want to kill you, me and millions of other people for Gaia. Today they're cranks, the subject of larky fantasies like Kingsman. They're far removed from the peaceful protests of Extinction Rebellion and Greta Thunberg. But if climate predictions are correct, the world will undergo enormous, traumatic changes in the next decades, and Green activism may change with it.
You could take Weathering as warning of a mentality that the most ecological thing anyone could do would be to kill people, preferably as many people as possible. Doctor Who did a story about that back in 1974, even if it was the super-goofy Invasion of the Dinosaurs.
The "existential terror" article also contrasts Weathering unfavourably with Miyazaki's eco-films. Yet ironically, some of Miyazaki's most sympathetic characters are those fighting against nature – characters like Nausicaa's Kushana (the film version), or Eboshi in Princess Mononoke.
In the book Starting Point (page 402), Miyazaki spoke about a local conservation movement called the Totoro Forest Project, which was named in honour of his film of that name. "I don't support what they're doing because they're 'right,'" Miyazaki said. "I support them because they are really good people… Believe me, if they were a bunch of ecology fascists, we'd quit helping them."  Weathering, you could argue, champions human goodness in the shadow of eco-fascism.
As the Conan clip at the beginning demonstrates, Miyazaki and Shinkai both envision humans living on, however bad things get. This blog reported Shinkai's recent comments in London, where he fully acknowledged climate change's reality. Shinkai also acknowledged that some critics see Weathering as perversely off-message in a world where people will die if climate change is not curbed.
But, Shinkai says, he wanted "to show young people living today in this crazy world where things have got out of control, but not just sitting there crying and complaining about it, but getting on with their lives, laughing and loving…  That scene where Hina is praying, overlooking the submerged Tokyo; that is the scene that I most wanted to get in this film."
Andrew Osmond is the author of 100 Animated Feature Films.