TOP 10 ANIMATED SEX SCENES
By Andrew Osmond. Not suitable for work. Unless you work at Anime Limited.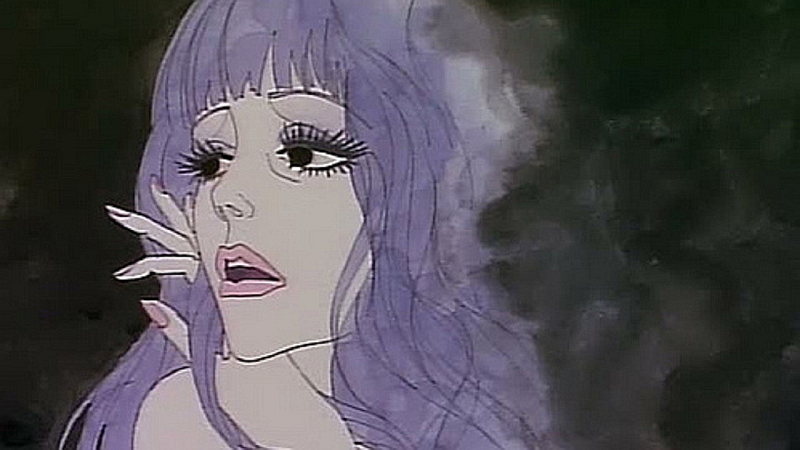 For any cynics thinking an article on cartoon sex is a piece of shameless clickbait… You're absolutely right. But it's a timely subject, given that Charlie Kaufman's Oscar-nominated Anomalisa opens in Britain on March 11, with two puppets getting off in painfully detailed fashion. In 2016, that's hardly shocking, but the surprise is that animated sex goes back a long, long way, taking in everything from fine art to randy donkeys.
This list includes several anime, but we've deliberately not included any hentai, and stuck largely to legal acts (which excludes hentai anyway). Oh, and while we've illustrated most of these titles with stills, it should go without saying some of the video clips are definitely not safe for work. Starting with this one…
BURIED TREASURE (c. 1928)
Yes, this is real, not a retro-hoax; it's a landmark 88 year-old American toon that's strangely left out of most histories of Hollywood animation. The artists are unknown, although scurrilous rumour suggested it involved such names as George Stallings and Walter Lantz. (Why else would Lantz go on to create a woodpecker called Woody?)
Unshowable in cinemas, the film's most obvious screening venues would be stag parties and similar male gatherings. It reminds us that there's nothing new under the sun. Buried Treasure came out around the same time as the early Tijuana Bibles, underground porno comic strips featuring celebrities like Laurel and Hardy and Donald Duck. Yes, Donald Duck, proving his surname is rhyming slang and causing countless anguished cries of "Cannot unsee…" (And if you think we're slurring the duck's name, have a look at his 'real' randy antics in Disney's The Three Caballeros).
FRITZ THE CAT (1972)
It was nearly half a century before cartoon sex made it into a US feature, Ralph Bakshi's Fritz the Cat. This was a great deal tamer than Buried Treasure, though the bathtub scene (pictured) is decadently funny. Fritz is portrayed as a drop-out 1960s student, who tries to get laid by posing as a political rebel. Not to be confused with the silent-era Felix the Cat, Fritz is based on a character by the legendary counterculture cartoonist Robert Crumb. Notoriously, Crumb hated the film so much that he "killed" Fritz after its release, driving an ice-pick through Fritz's head in the final strip.
Don't confuse the film with its non-Bakshi sequel, The Nine Lives of Fritz the Cat, which is rubbish.
Meanwhile, in Japan, another cartoon legend, Osamu Tezuka, was exploring similar territory…
THE TRAGEDY OF BELLADONNA (1973)
The creator of Astro Boy ventured into adult animation several years before Fritz. According to historian Frederik L. Schodt, who knew Tezuka personally, the artist always wanted to expand the cartoon audience. Coining the label "Animerama," Tezuka embarked on two adult feature cartoons. The first was A Thousand and One Nights (1969), which includes a striking hand-drawn sex scene which can be seen at 2-05 in the Japanese trailer, full of melting limbs and opening flowers. The subsequent Cleopatra (1970) was notoriously retitled Cleopatra, Queen of Sex in America. In fact, it's a goofy comedy with generally tame content (though its fleeting disturbing imagery is highlighted in the linked trailer).
The boldest "Animerama" film, though, was The Tragedy of Belladonna, aka Belladonnna of Sadness, which didn't involve Tezuka. Unlike the films we've mentioned so far, it's not a comedy – it's a wholly serious medieval phantasmagoria about a raped woman rebelling against God and patriarchy. She's helped by the satanic part of her psyche, drawn as a phallus. The film was made with a low budget – largely thanks to the commercial failures of the other "Animeramas" – and has minimal animation, relying on lambent static watercolours; scratchy scrolling tableaux; a folk-rock soundtrack (1973 was the year of The Wicker Man); and unbridled cartoon orgies, in which the impaled heroine is overdrawn by zany Yellow Submarine characters.
Belladonna was another financial disaster, made just before the Tezuka-founded Mushi Pro studio went bankrupt. But it's a remarkable film, cited as a favourite by Mahiro Maeda, director of Gankutsuou: The Count of Monte Cristo. In Maeda's words, "It's somewhere between super cool and not cool at all, and just a little psychedelic."
WICKED CITY (1987)
When it comes to sexually explicit titles released post-Akira in Britain, most people think of the Scrabble-breaking Urotsukidoji, aka Legend of the Overfiend. But Wicked City was a strong seller in its day. According to the Erotic Anime Movie Guide (published 1998), it sold between 25,000 and 40,000 units, putting it in the same British sales bracket as Ghost in the Shell and Ninja Scroll – the latter by Wicked City's director, Yoshiaki Kawajiri.
As with Akira and other imports of that time, Wicked City relies on morphing 'body-horror' imagery; the spider-woman in the above clip could be the daughter of John Carpenter's Thing and David Cronenberg's Fly. However, it would be two decades before American horror would take on a vagina dentata in the 2007 film Teeth.)
Much has been written on anime's and Kawajiri's blend of sex and horror. The spider-woman is sometimes described as mere misogyny, a monstrous caricature of the "Bad Girl." It's worth noting, though, that Kawajiri seems to have a thing for the woman who bites back; the tragic heroine of his later Ninja Scroll has a body that's literally toxic to would-be rapists.
ACHILLES (1995)
Twenty years before Anomalisa, British animator Barry Purves (acclaimed for stop-motion mini-masterworks like Screen Play, a Japanese kabuki story) created this explicit interpretation of Homer's Illiad. The eleven-minute short depicts the gay love story between the Greek warriors Achilles and Patroclus during the Trojan war. Purves called animation a "culturally castrated" medium and was determined to give its balls back. Achilles was narrated by Derek Jacobi, with puppets by the esteemed company Mackinnon and Saunders, which now makes the cast of Bob the Builder and Postman Pat.
When I interviewed Purves in 2008, he said, "Achilles came about when I saw an evening of 'Erotic Animation' that really was not erotic. All the films were drawn and all made fun of sex. I did want to challenge myself to see if I could make a film that was erotic or intimate with puppets, and that treated the sexual situations with some gravitas. There is some frisson when two puppets touch each other and respond to each other, and I tried to make the most of this."
Achilles was made when there were still Parliamentary battles over homosexuality. (The gay and straight ages of consent weren't equalised until 2001.) However, says Purves, "I don't really recall the subject matter being an issue, though some festivals declined to screen it and others couldn't wait to screen it. If I had suggested exactly the same film as a drama or a dance piece with equally naked actors, the reaction might have been very different. Maybe this is one of animations' strengths, that by the distancing of using puppets, you can get to the heart of the matter without being distracted."
On the reaction to Achilles, Purves said – and this shouldn't surprise anime fans – that the people who liked it most were straight women, "who clearly enjoy the sight of grown men being affectionate. Gay men enjoy it, but some felt it was too obvious to have two men suffering for their love."
ALL IS FULL OF LOVE (1999)
This famous music video could be a counterpart to Achilles; another high-art treatment of same-sex love, created by a British artist (Chris Cunningham) in a British studio (Bray Studios near Maidenhead). Cunningham had already made numerous music videos, including the notoriously terrifying "Come to Daddy", with imagery anticipating Ringu, and the warped "Window Licker". Both were created for Richard David James, aka Aphex Twin.
Made with the Icelandic madwoman Bjork, "All is Full of Love" counterpoints those films' ugliness with pristine beauty. Cunningham joked in his treatment that "It's like Karma Sutra meets Industrial Robotics." He specified a Japanese feel, "a simplicity in its design" and compared the robot Bjork's face to "the smoothed panels of a Japanese motorbike." Like Purves, Cunningham believed using surreal animated effects would give the film more freedom than live-action. "We could be (as) sexually suggestive as we like and get away with it."
Elsewhere, Cunningham was frank about his inspirations for the video. "It's a combination of several fetishes; industrial robotics, female anatomy and fluorescent light, in that order. I got to play around with the two things I was into as a teenager; robots and porn." The images of a nude female body being assembled recall those in the original Ghost in the Shell. Mamoru Oshii's vision has less mechanical screwing than Cunningham, but he's equally fond of suggestive liquids – and, of course, of naked ladies.
MIND GAME (2004)
2004 saw two animated sex scenes at the opposite end of the aesthetic scale. First, this jaw-dropper from Mind Game, one of the first "signature" anime by the great Masaaki Yuasa – read more about him in our article on his 2014 triumph Ping Pong. Perhaps this scene's triumph is that it manages to be simultaneously beautiful, romantic and funny.
TEAM AMERICA: WORLD POLICE (2004)
Okay, so this classic scene from this puppet opus by the creators of South Park isn't strictly animated – it uses marionettes – but it's so infamous that it would be criminal to omit it. Like the whole film, it's a spoof of Bruckheimer-style blockbusters, complete with rock songs (the song in the clip was by a Brit, Harry Gregson-Williams). It shows a whole lot more than Bruckheimer could, but that's the beauty of puppetry – it's not really showing anything at all.
At least that was the creators' argument during their long battles with the Motion Picture Association of America, which demanded heavy cuts to the sequence for an "R" rating. You can see co-writer Matt Stone's account of the fight here from 5-30 in, including uncensored outtakes from the puppet orgy. They include at least one image to leave readers screaming, "Cannot unsee…" You have been warned!
BESERK: THE GOLDEN AGE ARC II – THE BATTLE FOR DOLDREY (2012)
Our ninth pick is from the middle part of the film trilogy based on the early chapters of the epic Berserk by Kentaro Miura. (The same portion of the manga had been previously adapted as a TV anime in 1997; a new Berserk anime was announced in December, apparently based on the next part of the manga story.)
While it's the third film (The Advent) that's infamous, straying perilously close to Overfiend territory, the sex scene in the second film is the most impressive. It's beautifully animated, a lurid scene realistically rendered; it's a criminal, lustful act that's a seduction rather than a rape. It involves the beautiful, androgynous Griffith and a virginal princess… though we see Griffith has a very different face in his mind as he deflowers her. At least it's a mercy that he doesn't cry out the wrong name at the climax, although things still go very badly afterwards.
THE WOLF CHILDREN (2012)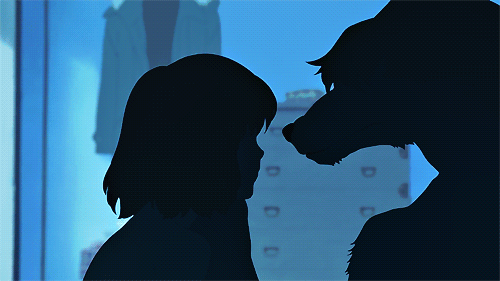 "See! sweet and sound she sleeps in granny's bed, between the paws of the tender wolf." Perhaps Mamou Hosoda read this, the last line of Angela Carter's story "The Company of Wolves" (filmed by Neil Jordan). We're including The Wolf Children because it has a a scene of bestiality that somehow got into a family film – rated PG in Britain! The BBFC notes described the scene as "a mild love scene… tender, not frightening," discounting the ewww factor of a woman having sex with a werewolf. Okay, so we're not sure if human/lycanthrope sex is strictly bestiality. Perhaps it's less zoophilia, more species dysphoria…
Andrew Osmond is the author of 100 Animated Feature Films.