[UNBOXING] ERASED – Part 2
April 24, 2018 · 0 comments
We know it's been a while in coming, but at last it's nearly here, as the second half of the thrilling series ERASED is just days away from arriving on retail shelves here in the UK on April 30th 2018! Before a copy lands in your own hands however, we wanted to take a little time out of our day to give you a quick tour over our subtly beautiful Limited Collector's Edition release of ERASED Part 2, so join us as we join hands and wander through this sleek edition of the series.
Before we start though, be warned that some of the contents of this unboxing – and in particular our look at the included book – may contain spoilers, so if you're completely new to the series then beware!
Also, if you're impressed by what you see below, allow us to remind you that you can currently purchase our ERASED Part 2 Limited Collector's Edition from the AllTheAnime.com web shop at a great Early Bird price of just £19.99. This offer is only available until Thursday 26th April, so time is running out to grab a copy of this release at our discounted price – you can even pick up ERASED Part 1 on a discounted cost too if you want to buy the full series!
View our ERASED deals at the AllTheAnime.com web shop
---
ABOUT "ERASED" PART 2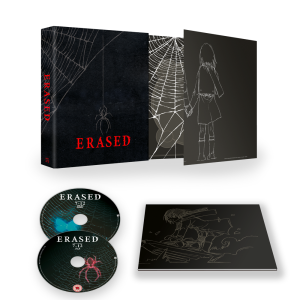 Includes episodes 7-12 [end] of the series.
Synopsis: "Erased is a sci-fi thriller series based on the award winning manga series (2014 Manga Taisho Award) by Kei Sanbe. The dream production team includes director Tomohiko Ito (Sword Art Online), character designer Keigo Sasaki (Blue Exorcist), composer Yuki Kajiura (Sword Art Online), Fate/Zero, Madoka Magica), and animation studio A-1 Pictures (Sword Art Online, Your Lie in April, Blue Exorcist).
The series finale that ends with a shocking yet emotional twist…"
You can watch the trailer for this release below:
ADDITIONAL NOTES
— Want to know more about the series? Have a read of the piece at our blog HERE
— For some insight into the music of ERASED, check out the blog article HERE
— Finally, you can read a comparison of the animated and live-action iterations of ERASED at THIS blog article
---
WHAT'S INSIDE? WHAT's ON THE DISCS?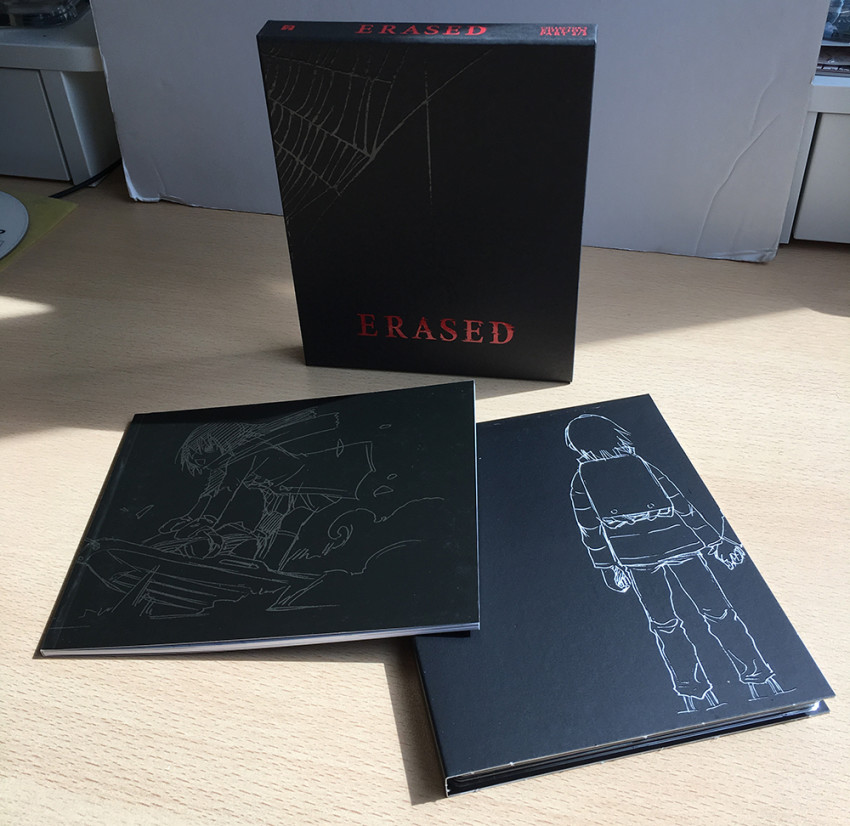 While the theme of our Collector's Edition released of Part 1 of ERASED was as white and pure as the snow, so Part 2 Collector's Edition matches the darkness which envelops its story as we switch to a striking black colour scheme for all of the elements of this package.
In keeping with our release of Part 1 of the series, our Limited Collector's Edition Blu-ray+DVD set of ERASED Part 2 comes in a rigid case with a soft touch finish, giving it a unique texture and feel. Inside that you will find a digipak to store both the Blu-ray and DVD discs, along with a comprehensive 40-page booklet that is filled with fascinating and revealing information about the series and its production.
On the discs themselves you'll find:
Episodes 7-12 of ERASED in both English and original Japanese with English subtitles.
On-disc extras include Audio Commentaries for episodes 7, 8, 11 and 12, as well as textless opening and ending title sequences.
In the 40-page booklet you will find –
Character Files
Revival Chronology
Key Animation Selection
An Interview with series director Tomohiko Ito
---
WHERE CAN I BUY THIS?
Aside from the Early Bird offer outlined earlier in this post, you can also order both the Limited Collector's Edition DVD+Blu-ray version that we're showing you today, as well as the standard DVD version, ahead of its release now from retailers including the following –
ORDER AT AMAZON UK Order at Zavvi Order at BASE Order at HMV Online Order at Anime-On-Line Order at All The Anime
---
WHAT DOES THE FINISHED PRODUCT LOOK LIKE
Now, on to the part you've been waiting for – the unboxing of the product itself! Again, we remind you that there may be some spoilers on view here, so beware – click on images to enlarge them for a better, full-sized look.
---
So there you have it – our ERASED Part 2 Limited Collector's Edition in all its glory. We hope that you're looking forward to finally being able to own all of this terrific series on Blu-ray, and we can only thank you massively for your patience and understanding while we brought the series to the UK in the best manner possible.
Until next time, take care!
~Andy H