[UNBOXING] March Comes in Like a Lion: Season 1 Part 2
November 21, 2018 · 3 comments
Can you believe we've nearly reached the end of November already?! Where has this year gone. But the end of the month brings you the release of March Comes in Like a Lion: Part 2 – it's out this coming Monday (26th Nov. 2018). So now is the perfect time to bring you a full unboxing of what to expect from this release.
Read on below for all the details on our release of Part 2.
---
But before we proceed, if you want to know about our release of Part 1 you can find a full unboxing of that HERE.
---
ABOUT MARCH COMES IN LIKE A LION
Synopsis for Season 1, Part 2:
"With his life as a teenage shōgi player developing rapidly, Rei Kiriyama finds himself facing a whole host of new challenges – not just on the shōgi board itself, but also in his own personal life.
As his fractured and difficult family life come into focus, so too do the root causes of many of the anxieties that plague Kiriyama. He isn't alone in his struggles however, as a major tournament reveals that even more experienced players have their own deep-seated problems to face in the name of success.
With new friendships forged and important life lessons learned, for the first time Kiriyama might just be equipped with the knowledge he needs to proceed down the path to a successful life and career…"
You can watch dubbed and subtitled trailers for the series below
---
WHAT'S INSIDE? WHAT'S ON THE DISCS?
Keeping in theme with our release of Part 1 (sold separately), Part 2 comes packed in a rigid case and inside that you'll find a fold out digipack that houses the three Blu-ray discs. And in addition to that there's also a 40-page booklet that also continues the theme from our Part 1 release. This booklet has character profiles, Production Art, and End Card Gallery and a section showing the art used for the ending title sequence.
On the disc themselves you find the following –
Episodes 12-22 (the remainder of season 1) with both English and original Japanese audio with English subtitles language options.
On-disc extras are Textless Opening and Ending Title Sequences, Meow Meow Shogi shorts #2-10, a Second Season announcement trailer and a season 1 trailer.
---
WHERE CAN I ORDER THIS?
You can order you copy from retailers including the following:
Order at Amazon Order at Zavvi Order at Base Order at HMV Online Order at Anime-on-Line
---
~ AllTheAnime.com Special Offer ~
But until tomorrow (Thursday 22nd November 2018) we're having a special offer at our AllTheAnime.com online shop for ordering Part 2! (And we've even got a special offer on ordering Part 1 as well.) Don't miss out; details in the link below.
---
PHOTOS OF THE FINISHED PRODUCT
And now it's time for photos of the finished product. As a note you can click on the images to enlarge them if you want.
Also, *POTENTIAL SPOILER WARNING* for some of the images shown below. As it's Part 2 of the series, there may be some images/details shown that will spoil things in the show. You have been warned.
---
And that concludes this unboxing for March Comes in Like a Lion: Season 1 Part 2! We know a lot of you enjoyed Part 1 of the series, so we hope you're looking forward to adding Part 2 to your collection as well.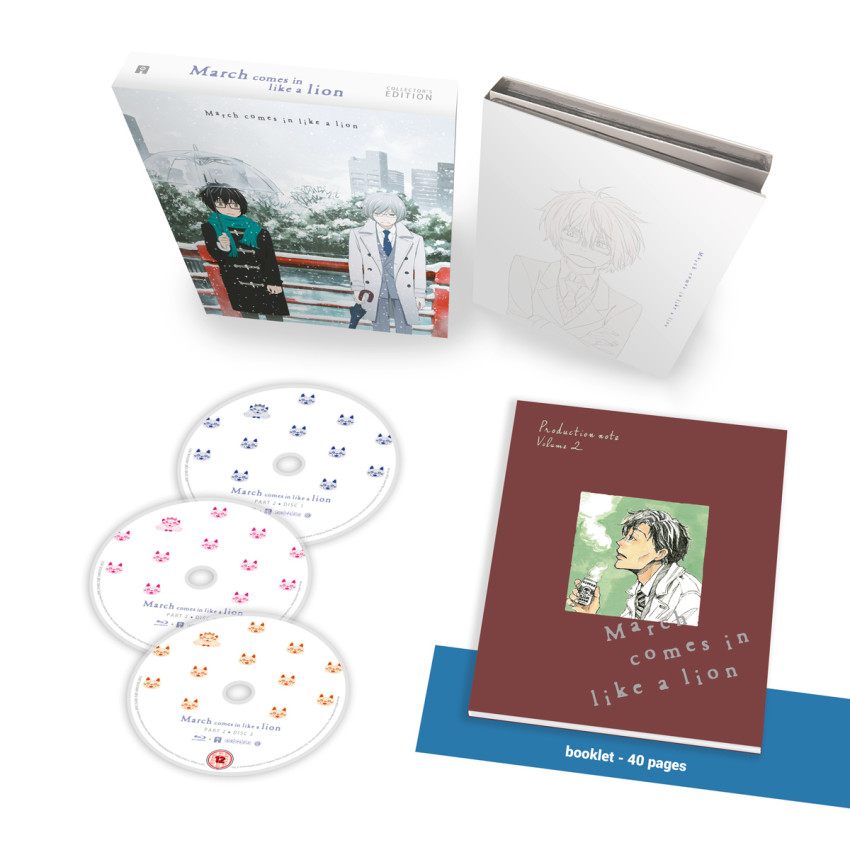 Signing out~!
Jeremy
3 comments
Ryan Dave Jimenez

December 31, 2018 2:43 am

Wow! That booklet looks awesome! And its 40 pages too

Suzu

August 29, 2019 8:10 am

Will you license the second season too?

dp

December 8, 2019 9:48 pm

I hope you also license season 2.