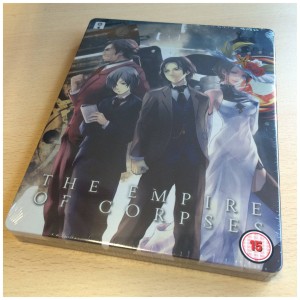 The time is nearly here! Project Itoh: The Empire of Corpses arrives this coming Monday on Limited Edition Blu-ray/DVD Steelbox and today we're going to show what our release will look when you have your copy in your hands!
Before go any further a quick reminder that you can order your copy today from Amazon UK, Zavvi, Base, HMV, Anime-On-line and our web shop.
ABOUT THE EMPIRE OF CORPSES
From the studio that produced Attack on Titan comes a captivating historical action thriller based on a Phillip K. Dick Award winning novel by Project Itoh. In an alternate version of 19th century London, the world has been revolutionized by corpse reanimation technology creating armies of undead who serve the living as laborers across the globe.
Synopsis: In an attempt to revive his dearly departed friend, young medical student John Watson becomes obsessed with replicating the work of Dr. Victor Frankenstein the legendary corpse engineer whose research produced the only re-animated corpse to possess a soul. But when his illegal experiments put him at odds with the British government, Watson is drafted into a worldwide race to find the lost research notes of Victor Frankenstein before the secrets of the human soul fall into the wrong hands.
---
You can read more about the film in an article we publushed at our site HERE
---
Check out the trailer below.
WHAT'S INSIDE? WHAT'S ON THE DISCS?
Our release is presented as a Limited Edition Steelbox. Inside you will find to discs, 1 x Blu-ray and 1 x DVD. In addition to that you will also find Art Cards and a booklet that explores the world of Empire of Corpses and has an interview with the Director and Screenwriter of the film.
The film itself is presented in English and the original Japanese audio with English subtitles.
On-disc extras, exclusive to the Blu-ray disc only, include Promo Videos, Original Trailer and the Funimation Short: Empire of Corpses.
WHAT DOES THE FINISHED PRODUCT LOOK LIKE?
And now onto photos of the finished product. Check out of the photos below and as a note you an click on them to enlarge them too.
And that wraps up this unboxing! We hope you're looking forward to this release!
Signing out~!
Jeremy