[Unboxing] Snow White with the Red Hair Season 1 & 2 Collection
January 18, 2019 · 1 comment
From the studio that brought you Fullmetal Alchemist, Eureka Seven and Wolf's Rain to name a few, came the series Snow White with the Red Hair. A visually gorgeous series with a wonderful cast of characters determined to protect the main protagonist, Shirayuki, from a danger that forced to leave her home and help her achieve her dream.
The series has dazzled fans since it aired back in the summer of 2015 (yes, it's been that long) and now we're delighted to bring you a set that combines both seasons of the series into one collection that's currently available to purchase exclusively at our AllTheAnime.com online shop right now!
Read on below for the details on what to expect with this set that is shipping now.
---
ABOUT SNOW WHITE WITH THE RED HAIR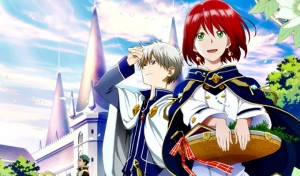 Season 1 & 2 synopsis: Once upon a time in the Kingdom of Tanbarun, there lived an independent young woman with beautiful red hair. A skilled herbalist by trade, Shirayuki used her knowledge of plants and medicine to heal the people of her city. But when her apple-red hair drew the unwanted attention of the devious Prince Raj, she was left with two options become his unwilling concubine, or leave her home forever. In the dead of night, she cut her hair and escaped to the neighboring kingdom of Clarines where she was found by a kind young man named Zen. The mysterious stranger turned out to be none other than the dashing prince of her newfound kingdom. And with his protection, Shirayuki was finally free to chase her dreams.
Now, she's set her sights on becoming a royal court herbalist and it will take a lot more than poisoned apples, scheming lords, and challenging exams to stand in her way.
You can watch trailers for both seasons, originally published ahead of their respective individual releases, below.
ADDITIONIAL INFORMATION
---
WHAT'S INSIDE? WHAT'S ON THE DISCS?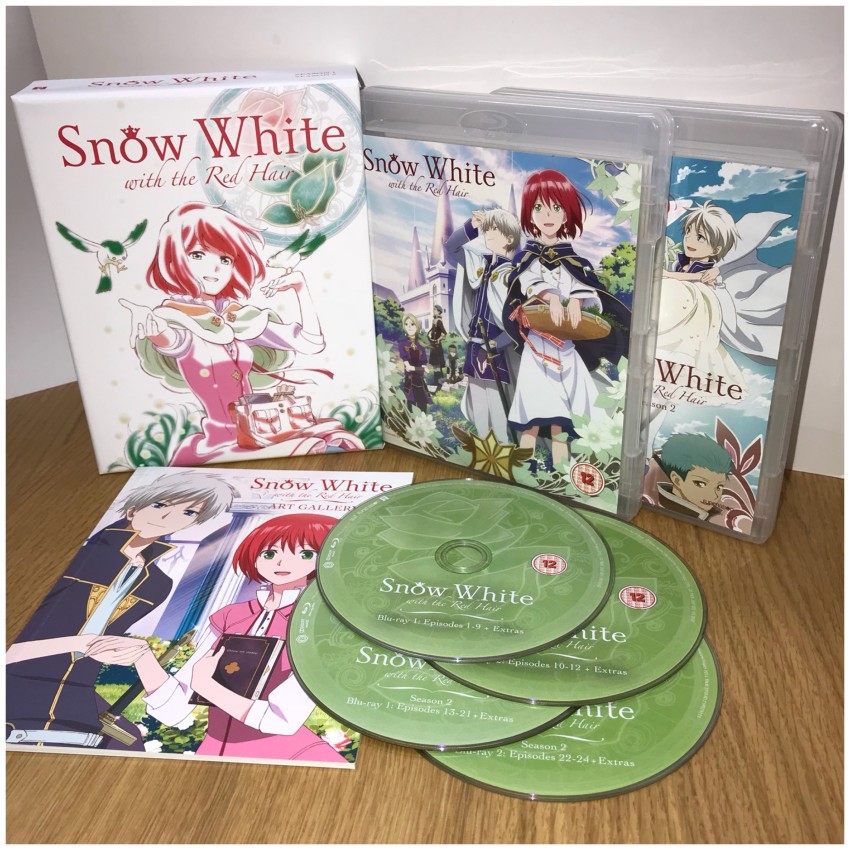 This AllTheAnime.com exclusive set comes packed in a beautiful rigid case. Inside that you'll find two amaray cases that store the series and a 30-page booklet showcasing various key art of the series.
Across the four Blu-ray discs included you get both seasons of the series (24 episodes) with options to watch them with in either English or Japanese with English subtitles. Extras wise you get Episode commentaries, Promotional videos, Commercial collection and Textless Opening & Closing themes.
---
WHERE CAN I BUY THIS?
We've said it a couple of times but to confirm, this is currently exclusive to our AllTheAnime.com online shop. The product is in stock and shipping now! You can order it in the link below
Also worth noting that this will likely be available to purchase at events we exhibit at too.
---
PHOTOS OF THE FINISHED PRODUCT
And now it's time for photos of what we've been talking about. You can click on the photos to enlarge them too.
---
And that concludes this unboxing of the AllTheAnime.com Exclusive Snow White with the Red Hair: Season 1 & 2 Ltd. Collector's Edition Blu-ray collection. If you haven't already, we hope you're looking forward to adding this to your collection.
Signing out~!
Jeremy
1 comments
Asia Jagiełło

January 21, 2019 1:25 am

Please tell me, that exclusive version of Akagami blue ray is still available. I saw it today and my heart go on~ And I will be grateful, if you answer my second question. I live in Poland, how much I will pay extra for delivery? That is the only thing that scare me...