[Unboxing] Tokyo Ghoul
September 24, 2015 · 0 comments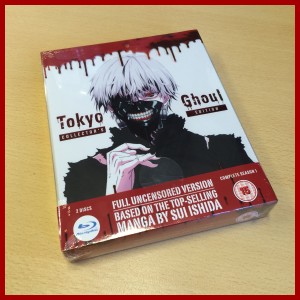 We are just a few weeks away from the release of our Tokyo Ghoul Limited Edition Blu-ray set, it's out on 5th October. Today we are delighted to bring you an unboxing of what you can expect from our release that is limited to only 1000 units!
WHERE CAN I BUY IT?
Even though it's limited to 1000 units, all retailers will be carrying this. It is NOT exclusive to any one retailer. So you can pre-order it from the likes of Amazon UK, Base.com. Zavvi or even our own web shop.
Though we will note all stock of our Tokyo Ghoul Limited Edition Blu-ray release is being shipped to retailers. This means there are no more units in our warehouse. So if you're wanting to add this to your collection we strongly encourage you to secure your copy and pre-order yours, as we genuinely do not not how easy it will be to find following its release.
WHAT IS TOKYO GHOUL ABOUT?
In modern day Tokyo, society lives in fear of Ghouls: mysterious creatures who look exactly like humans — yet hunger insatiably for their flesh. None of this matters to Ken Kaneki, a bookish and ordinary young man, until a dark and violent encounter turns him into the first ever Ghoul-human half breed. Trapped between two worlds, Ken must survive the violent conflicts of warring Ghoul factions, while attempting to learn more about Ghoul society, his newfound powers, and the fine line between man and monster.
Based on the manga series by Sui Ishida and produced by Studio Pierrot (BLEACH, YU YU HAKUSHO) TOKYO GHOUL is directed by Shuhei Morita, who received an Oscar-nomination at the 86th Academy Awards for his short film, Possessions.
WHAT'S INSIDE? WHAT'S ON THE DISCS?
This particular release includes all of Season 1, episodes 1-12. (For those wondering we will be releasing the second season in the future, but we'll have more details on that as they become available.) Our Season 1 Limited Edition Blu-ray set comes packed in a rigid case and has a transparent sleeve on the outside (see pictures below). Inside there is a digipack to hold the two Blu-ray discs and there's even a hard back book featuring behind the scenes materials including an interview with the director, a piece analysing the series commissioned exclusively for our release and more.
In terms of what's on the two Blu-ray discs themselves, here's what included:
All 12 episodes from the first season of Tokyo Ghoul with both English and Japanese (with English subtitles) language options.
Two episode commentaries.
Kaneki in Black and White featurette.
Japanese Commercials
Promotional Videos
Preview Collection
Clean Opening and Closing songs
Oh and did we mention that all the episodes on our release are the uncensored versions of them? (For a preview of how the uncensored version of the series differs to what aired on TV in Japan/was simulcast, CLICK HERE.)
We will also make a note that we will be releasing the series as a standard edition DVD set on 26th October. The on-disc content is identical.
WHAT DOES THE FINISHED PRODUCT LOOK LIKE?
With our release of Tokyo Ghoul we've really tried to capture the unique spirit and energy that the series provides. It has some wonderful designs combined with the fact it's pretty blooming gory, so we've tried to incorporate all of those elements into one package that will sit proudly on your shelf. We're delighted with the results. Check out the photos below.
That concludes the unboxing of our Tokyo Ghoul Limited Edition Blu-ray release. We hope your as excited about it as we are. As mentioned at the top of this post it's available from 5th October and you can pre-order your copy now. (If you're at MCM Glasgow Comic Con this weekend we will have a limited number of advance copies at our AllTheAnime booth.)
Signing out~!
Jeremy