By Andrew Osmond.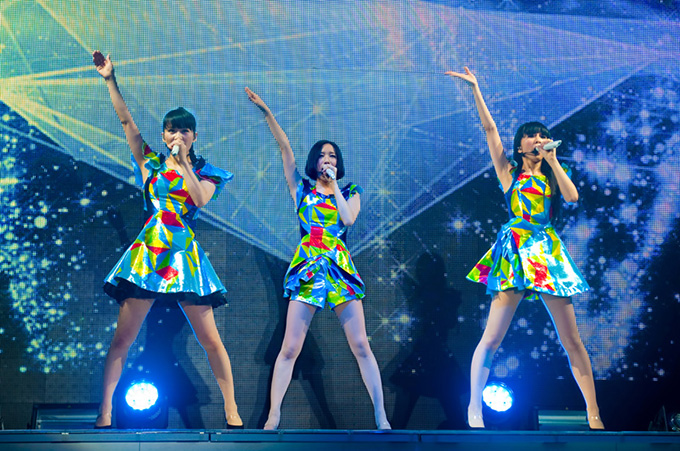 An upcoming Anime Limited release, Beck: Mongolian Chop Squad, has a brash title rock song, proclaiming in English: "I was made to hit in America!" In many ways, J-pop faces the same challenge as anime in the world market. Do you customise yourself for the foreign audience? Or do you sell yourself on your "exotic," Far Eastern qualities – like, for example, Korea's PSY, who got the world trotting to "Gangam Style"?
The female J-pop band Perfume has gone all-out for the second course. Interviewed by Reuters, the Japanese Managing Director of Universal International summed up Perfume: "Mysterious, futuristic, robotic doll-type girls, well-choreographed with laser beams… I think with Perfume it's all about that futuristic Japanese image."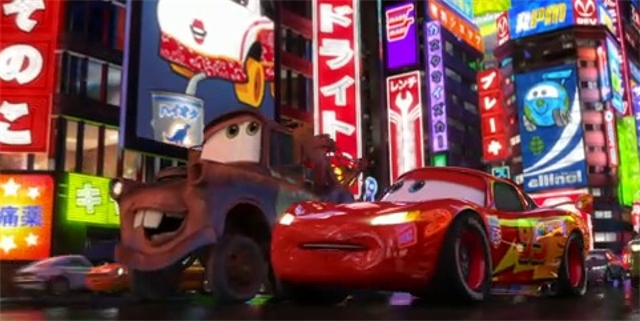 In 2011, many world viewers got their first taste of Perfume's electro-pop when it was used in Pixar's Cars 2. You can see the scene here; it's when the four-wheeled characters enter a futurist Tokyo building of iridescent surfaces. The song, "Polyrhythm," is available on the band's youtube channel. John Lasseter, a decades-long Japanophile, said when he heard it, he "loved it as it was like falling in love." In the same interview, Perfume singer Nocchi said she liked the film's bumbling hero, Mater, for staying himself wherever he was in the world.
Nocchi's real name is Ayano Omoto; her fellow performers are Ayaka Nishiwaki (also known as a-chan) and Yuka Kashino (aka Kashiyuka). One thing that makes then unusual is their longevity in the J-pop world; it's been 15 years since they first formed as a local Hiroshima band. A-chan and Kashiyuka have known each other much longer; they first became friends at school, aged nine. A couple of years later they were training at the Actors School Hiroshima, a talent agency. Nocchi was a fellow student, who joined Perfume when another singer (Yuka Kawashima) left the unit early on. The teenagers' first single, the cutesy "Omajinai Peroi," was released in 2002.
In 2003, the trio went to Tokyo and signed with the entertainment company Amuse Inc.; they also met Yasutaka Nakata, from the music duo Capsule. Nakata became Perfume's producer and creator of their electro-inflected music. (Today, he produces music for another singer you might have heard of: Kyary Pamyu Pamuyu.) Perfume's elaborate choreography was created by a woman, Mikiko Mizuno, who's a constant presence in the We Are Perfume film.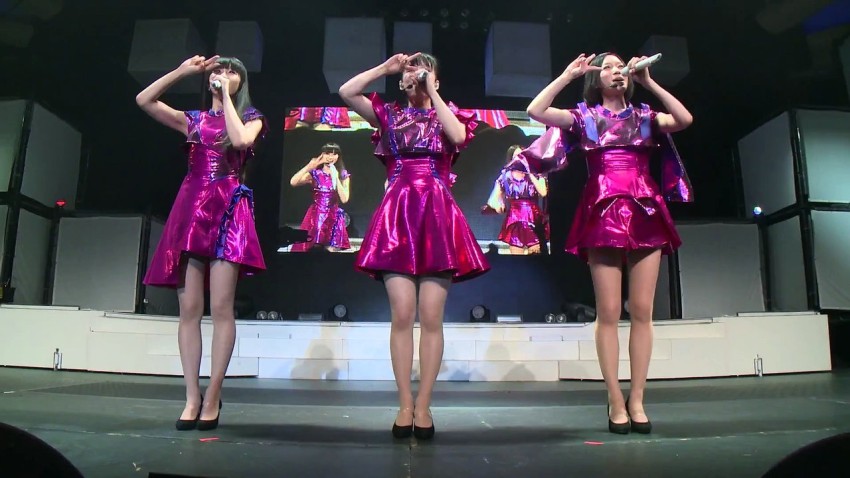 After several years of modest success (shades of CHAM in Perfect Blue), Perfume's breakthrough in Japan came in 2007. They were featured in a crazy TV commercial on the public broadcaster NHK, promoting recycling. The song was "Polyrhythm," the same one used in Cars 2; thanks to the commercial, it nearly topped the domestic charts. Perfume's fame was bolstered by other adverts using their music, and by their appearance in a popular cinema film, Moteki (2011). In this romcom, they appear in a fantasy song-and-dance set-piece (reminiscent of the Central Park number in Disney's Enchanted), performing another of their hits, "Baby Cruising Love."
By 2010, Perfume had played in the Tokyo Dome to a crowd of fifty thousand. However, it was their Cars 2 experience that encouraged them to go international. Speaking to the Japan Times, a-chan remembered, "Some American fans were screaming 'Perfume! Perfume!'… I was like, 'Why do you even know who we are?!' One man gave me his bandana, which he said he'd worn constantly for eight years, and a DVD he'd made about his undying love for us. We'd never released anything outside of Japan and we were signed to a domestic label, so those fans could only have known us through the Internet." (Or perhaps through American Dad – Perfume's music made a surprise cameo in the toon sitcom.)
The experience encouraged Perfume to go abroad, and the results are documented in a new feature film, We Are Perfume, subtitled World Tour 3rd Document. It premiered at the Tokyo International Film Festival, with simultaneous screenings in Los Angeles and New York. In London, the film will be shown on 12th December at the Rich Mix cinema in Bethnal Green. Further UK screenings seem possible, as the tour in the film includes a performance in London – it was at the Apollo in Hammersmith in November 2014 (Perfume also played at the 02 Shepherds Bush Empire in 2013.)
We Are Perfume is a highly enjoyable watch, assuming you're not expecting the subversion of Head (Monkee psychedelia) or the riveting tragedy of Amy. The film cuts out any true negativity, and it's disappointingly light on the performers' personal histories, with only a few video clips of their early days. However. it presents a convincing picture of three likable, enthusiastic women who genuinely love being with each other, doing what they do, viewing their tour as a wonderful adventure. Certainly Perfume appear more real on screen than they did in their film festival conference, where – like many photogenic celebs, in Japan and abroad – they seemed to be playing anime versions of themselves, down to theatrically cute voices.
In the film, though, they're shown as engaged, quick-witted participants in the behind the scenes discussions of how to shape and structure the concerts: which songs to use, what running order works best, and how to link the numbers most naturally and organically through the choreography. The film cuts between these discussions, the singers' excited reactions to each new tour stop (experiencing novelties such as an L.A. drive-thru and a New York T-Bone steak) and, of course, footage of the concerts themselves. One comic highlight is when the singers get lost on the London stage during a number, floundering around for their right positions. They laugh about it after (a lot), but the film still shows their professionalism on the road.
Yasutaka Nakata's Perfume music was described by the Japan Times as "a multi-layered concoction of J-pop with elements of electro-house, chiptune and Shibuya-kei." For the layman, it often seems generically close to France's Daft Punk, and also on the same continuum as Hatsune Miku. Not only are the singers' voices extensively layered and processed, but their recent live concerts treat them as animated characters, blurring reality and virtuality. See, for example, this amateur video of the opening of their Los Angeles show last year. The process was completed in a new Japanese ad campaign; designed by Yoshiyuki Sadamoto of Evangelion, it does turn Perfume into anime characters.
According to director Taketoshi Sado, the name We Are Perfume was meant as the group's greeting to America and the rest of the world. Of course, it's possible they've peaked already; Perfume are clearly aware that nothing lasts forever. One of the most charming details in the film is the way they join hands before going on stage, declaring "Let's enjoy it because this could be the last time." And yet, the group (still in their twenties) say they're ready for the next adventure – the film ends with them setting their sights on Madison Square Garden. Whether that happens or not, the success Perfume has had could influence J-pop exports for a long time yet. Mysterious, futuristic, robotic doll-type girls, well-choreographed with laser beams… It'll be a long time before that goes out of fashion.
We Are Perfume is playing at the Rich Mix in Bethnal Green on 12th December.