Will Isao Takahata Get an Oscar…?
February 21, 2015 · 0 comments
By Eija Niskanen
Mention Studio Ghibli, and everybody starts raving about Hayao Miyazaki. But Ghibli was established by two talented animation professionals with a long, and often shared career already behind them. And now, with Takahata's last film, The Tale of the Princess Kaguya, nominated for an Academy Award there is a chance for him to get the recognition he deserves. But will he – the obvious choice for me – return to Tokyo with the statue in hand? The Locarno Film Festival had no trouble dishing out a Lifetime Achievement for him in 2009 (pictured), but will the Oscar crowd be quite so accommodating?
Both Miyazaki and Takahata share influences from French, Russian and Canadian animation and a belief in old-school leftist politics. Takahata entered the Toei animation studioas as a trainee in the early 1960s, to be joined by Miyazaki soon after. Their career paths, if they had stayed at Toei beyond the early 1970s, would have evolved into Takahata becoming one of Toei's animation directors, and Miyazaki as a lead animator. Takahata has always started with the story, while Miyazaki usually starts with a scene or a visual image. Takahata directed his first animation feature, Little Norse Prince, for Toei in 1968. The film features both themes and characters typical for the later Ghibli oeuvre – a youngster managing a balancing act against greater powers. After leaving Toei, they made the landmark children's series Heidi (which birthed the World Masterpiece Theatre franchise) and the cinema hit Panda Go Panda.
The Academy Award competition for feature-length animation award is a tough one, with the very much Japan- and Ghibli-influenced Disney feature Big Hero 6 as the favourite. You could claim that whichever of the two gets the aware, the ultimate winner will be Japanese popular culture. The other three finalists are The Box Trolls, How to Train Your Dragon 2, and Song of the Sea.
Miyazaki has already got an Oscar nod with Spirited Away, which won the Academy Award in 2003, and with a lifetime achievement honorary Oscar last year. In 2013, both Ghibli masters released films announced as their last, with Miyazaki's Wind Rises gaining its own share of controversy, but with a true animated masterpiece in the form of Takahata's wonderful story of Princess Kaguya. A mix of traditional Japanese story-telling peppered with a contemporary girl's will for self-realization, with masterful ink-and-watercolour drawing and pace, a style that relies on animation being about drawings, not photo-real backdrops, Joe Hisaishi's ethereally beautiful music – all these have gained Princess Kaguya five stars from critics around the world.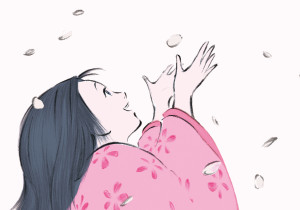 But will it be enough for the Academy voters? Will they be convinced with the fairytale innocence of the Heian period, something resembling the best of classic Disney? Or will the sketchy, in some parts almost abstract style of drawing turn the voters to the more mainstream Song of the Sea with a story steeped in more accessible Celtic cultre, as opposed to Takahata's tale steeped in Heian-era Japan? With Big Hero 6 being a bit too non-Disney, The Box Trolls perhaps too trashy for the American voters, and How to Train Your Dragon 2 being a sequel, the true competition will be between these two well-crafted films, with an original hand-drawn feel and aspirations towards mythical height.
During his Ghibli career, Takahata has always kept both his feet on Japanese ground, whereas Miyazaki has often wandered into European-influenced fantasy worlds. Takahata has rooted his stories in Japan, be it the war-time tragedy of orphaned children in Grave of the Fireflies through the tanuki raccoons fighting construction companies in Pompoko, to Yamagata's countryside through the eyes of a contemporary office lady in Only Yesterday. In his depiction of an average Japanese family, My Neighbors the Yamadas, Takahata began experimenting with the sketch-like drawing style that was further developed in The Story of the Princess Kaguya. So any Academy voter with a knowledge of Takahata's long career and as the co-establisher of Ghibli, might vote not just for this film, but in recognition of a life-time achievement. The other directors in the competition are young enough to get other awards in time, but considering the long time this took to reach the screen, and that Takahata is now approaching his 80th birthday, this is very likely to be his very last feature film. Takahata's personality, more on the shy side than Miyazaki's, might be one of the reasons why he is not such a target of otaku worship as Miyazaki, but his career, spanning from the post-war Japanese anime industry's rise up until today, deserves an acknowledgement. I know that, you know that… but do the Academy voters?
Eija Niskanen is the programming director for Helsinki Cine Aasia-festival.
0 comments
Anime Limited Newswire #9 – 3rd March 2015 – All the Anime

March 3, 2015 3:54 pm

[…] Will Isao Takahata Get An Oscar…? […]