Yoshikazu Yasuhiko: The Interview
November 25, 2015 · 0 comments
By Andrew Osmond.
A couple of days after my audience with Yoshiyuki Tomino, I'm once more sitting in a Shinjuku hotel room above the glowering head of Godzilla. This time, I'm interviewing Yoshikazu Yasuhiko, who was Character Designer and Animation Director on the 1979 Gundam, though many anime fans met him through his 1980s films Crusher Joe and Venus Wars.
Three and a half decades after Yasuhiko first oversaw the Gundam universe, he's now back chronicling the Universal Century. He's Chief Director of Gundam The Origin, a lavish anime based on his manga retelling of the series; the anime focuses on the previously untold backstory of Char Aznable and his sister Sayla. Parts one and two have been made – you may have caught them at the "MCM Loves Anime" event in October – and two more instalments will follow.
The white-haired Yasuhiko closes his eyes contemplatively before answering my questions. His answers are slower than Tomino's but firm, and disarmingly self-critical. In the twenty-first century, anime like Gundam the Origin and Gundam Unicorn enjoy huge budgets and hi-tech resources. In 1979, Yasuhiko had to create an epic space opera on a pittance and a killer schedule. Gundam may be a mecha show, but it's the human factor that makes it stands up today. When I reviewed the 'Art of Gundam' exhibition in Tokyo, I commented, "Yasuhiko's character drawings… are immensely dynamic and expressive, with faces that are desperate, furious, leering or stricken. Roughly shaded in felt-tip, they look timeless today in a way that the 1970s TV animation does not."
"The battle scenes (in Gundam) were not so important," Yasuhiko confirms when I ask about his priorities as Animation Director. "I wanted to describe the human drama more carefully, the relations between the main character and his colleagues and parents." As in vintage Star Trek, it's the confrontations between characters that stand out.
I ask whether Yasuhiko created the character designs by himself, or if they came out of discussions – or arguments – with Tomino. "Fortunately, I had few arguments," says Yasuhiko. "Actually, Tomino's ideas and my ideas were quite similar at the beginning. But Tomino was still the leader, his ideas came first. I tried to catch up with his ideas, and during the process, our concepts were deepened." I raise the subject of Lalah, who's a pivotal character in Gundam's later episodes. Unlike the other major characters, she's drawn as non-white, perhaps Indian (as confirmed in Tomino's novels of the series). "That was Tomino's image," Yasuhiko explains. "I still don't know why he chose for her to look Indian."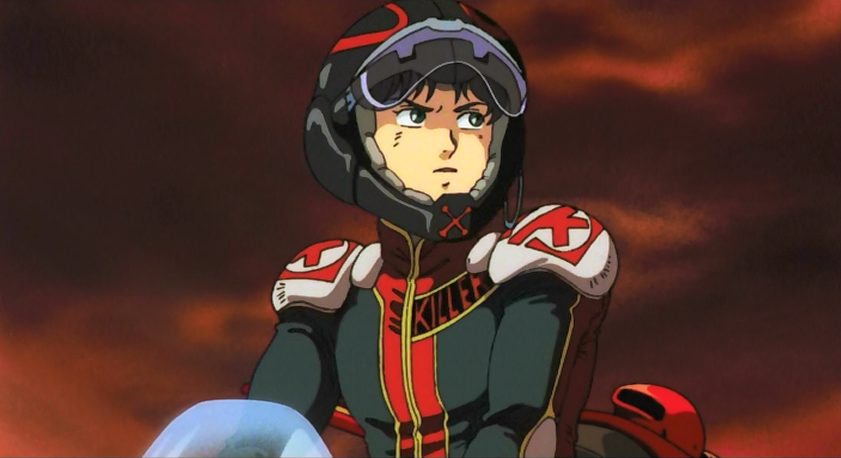 Many Western anime fans first encountered Yasuhiko through his 1980s SF adventures, Crusher Joe and Venus Wars (pictured). The latter film was one of the first anime released on British video after Akira and casts a shadow today. For example, the fan animation TIE Fighter by Britain's Paul Johnson homaged Venus Wars' "crazy detail and shading." Yasuhiko, though, doesn't rate that part of his work at all.
"I didn't think Crusher Joe and Venus Wars were good works," he says bluntly. "I especially didn't like Venus Wars; it is not available in Japan on DVD, because I didn't approve that. Because I was not satisfied with those works, I stopped working in animation." Yasuhiko also directed the lesser-known film Arion (1986), not released in Britain or America. Based on his manga, it was an action-packed reworking of Greek mythology, which the Anime Encyclopedia praised as "a mature and exciting adventure." However, in a stage talk after the interview, Yasuhiko says he "erased" Arion from his mind.
Nor does he think his work benefitted from Japan's bubble economy in the late 1980s, the time of such spectaculars as Wings of Honneamise, Akira and Venus Wars. "Even in the bubble years, we only had a limited, small budget. The bubble years were bad for Japan, and bad for me. I kind of had a difficult time to figure out what to express. Society became so materialistic, spirituality was ignored…"
About the only consolation for lovers of 1980s anime is Yasuhiko's fondness for the Dirty Pair, two scantily clad babes whose galactic 'troubleshooting' destroys cities or planets. Yasuhiko was the characters' illustrator when they debuted in a series of Japanese novels, while their screen debuts were as background characters in the Crusher Joe film. "I loved Dirty Pair," Yasuhiko says. "They were created by Haruka Takachiko, a friend of mine, and I really loved that work." (Takachiko also created the Crusher Joe characters.) "These days light novels are popular in Japan, and I believe Dirty Pair was a forerunner in this area." There were numerous anime centred on the characters; Yasuhiko didn't work on them, but his illustrations were a template for the calamitous couple.
Although Yasuhiko has a couple of 1990s anime credits – he was Character Designer on the video series Super Atragon and on the Tomino-directed Gundam F91 – he turned increasingly to manga. Perhaps as a response to the spiritual decline of the bubble years, he wrote strips about Jesus and Joan of Arc (the latter called Joan). The Gundam The Origin manga began in 2001, and ran for a decade. Yasuhiko says he was persuaded to write it by Takayuki Yoshi, the CEO of Sunrise studio, and by Yoshi's predecessor Koji Yamaura. He denies there was any plan at the start to turn the manga into a Gundam anime.
Yasuhiko's strip retold the original Gundam, but took the opportunity to fill out the backstory of Char and his sister Sayla, which was only sketched briefly on TV. These flashbacks became the basis of the new Origin anime, which features not just Char and Sayla but young versions of other Gundam characters, such as Ramba Ral, his lover Crowley Hamon and the deadly Kycilia Zabi. However, Yasuhiko feels that Char and Sayla were especially in need of backstory, having been sold short in 1979.
"There was something that should have been explained in further detail," he says. "The background of Char and Sayla had not been described in the TV animation; as a result, Char's character was not well understood. His mysterious character made him attractive, and he became popular, but at the same time he was misunderstood by the audience." The TV Gundam was truncated, cut from a twelve-month run to ten, but Yasuhiko says a longer version still wouldn't have filled out the backstory. "That was not part of Tomino's plan."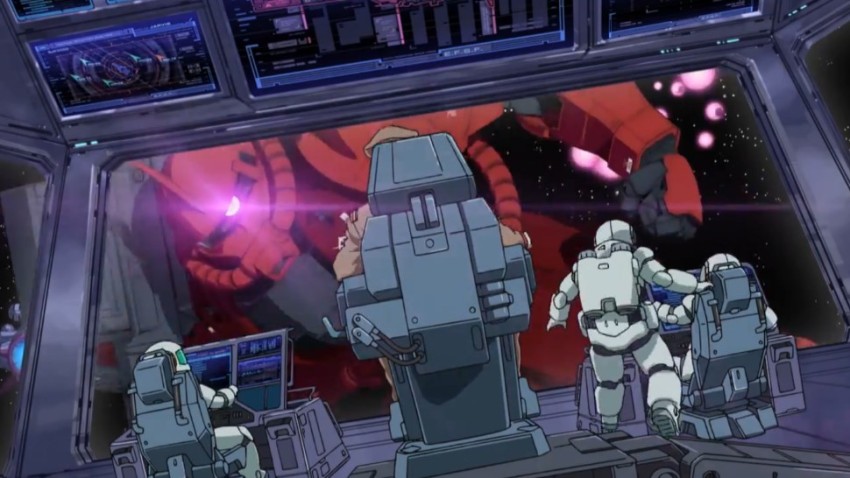 Today, British viewers may watch the 1979 Gundam series at the same time as the Gundam The Origin anime. I ask how Yasuhiko sees the relation between the works; does he see them as two parts of the same story, or as separate versions of Gundam and its characters? "(The Origin) is quite close to a remake of the first Gundam," Yasuhiko answers. Perhaps it's best to view the Origin anime as an adjunct to his manga, rather than a prequel to the 36 year-old TV show.
The Origin anime let Yasuhiko return to old characters and old acquaintances. In the first episode, the boy Char is voiced by the great anime actress Mayumi Tanaka, famous as the voice of Monkey D. Luffy in One Piece. Yasuhiko had worked with Tanaka long before Luffy, on the likes of Arion and Giant Gorg, a children's mecha show from 1984. Straight after my interview with Yasuhiko, he and Tanaka appeared on stage at the Tokyo Film Festival, where their decades-long friendship was obvious. Yasuhiko revealed how he fought to cast Tanaka as Char over the objection, "But that's Luffy's voice…" For her part, Tanaka demanded Yasuhiko hurry up and make the rest of Origin as soon as possible.
Yasuhiko will be glad to oblige, judging by his comments on stage. He says being Chief Director of Gundam The Origin is the best job ever, "putting in my flair and my taste… having fun, being bossy." He describes being able to nap at home before judging the work of the talented staff adapting his manga. "I'm so embarrassed to watch early works like Gundam," he says, "but I'm very happy with Gundam The Origin." After 36 years, Yasuhiko can finally make Gundam exactly the way he wants.
Andrew Osmond is the author of 100 Animated Feature Films. 
Anime Limited release the Mobile Suit Gundam franchise, including the Gundam The Origin films, on Blu-ray in the UK.