Anime Limited to release Buddy Complex in the UK
December 7, 2015 · 0 comments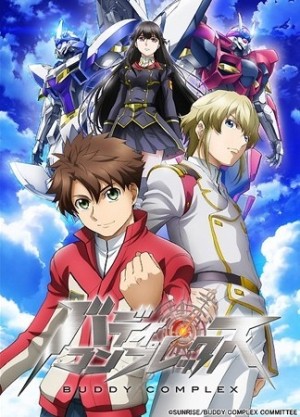 Our 2016 lineup is already shaping up to be our biggest year yet and today we're happy to announce that we (Anime Limited) will be bringing the series Buddy Complex to the UK in 2016.
Synopsis: Legendary Gundam studio Sunrise's latest addition to the mech genre, Buddy Complex takes action and adventure to new heights with dynamic visuals, high-caliber animation and huge interstellar battles.
It's shaping up to be another boring day for high school student Aoba Watase until a bright light appears in the sky and a giant robot attacks the city.
As the mechanical menace closes in on him, he's saved by a classmate who's piloting a mech of her own. After accepting a cryptic offer to join the alliance she's a part of, Aoba is thrust into the future where a new world war threatens to tear the planet apart. With no other choice, Aoba must pick a side, learn to pilot a mech, and fight his way through an army of enemies as he tries to find a way back to the past he left behind.
"Buddy Complex is a series brought to you from the same studio behind Cowboy Bebop, Escaflowne and Outlaw Star, so if you're a fan of great action, and this case more often than not mecha based action, you're sure to enjoy this" says Andrew Partridge, President of Anime Limited. "It's also the directorial debut of Tasuhiro Tanabe, who has previously directed episodes of various anime including Horizon in the Middle of Nowhere, but this is the first series he has directed. As has been documented in the past we love being able to bring new director's work to the forefront and Buddy Complex is no different. "
We can confirm that we will be bringing the series to Blu-ray and DVD in 2016. More details on our release will be forthcoming.
Check out the Japanese promotional trailer below:
Stay tuned for more announcements throughout the week.
Signing out~!
Jeremy
Tagged with: