Anime Limited to release Outlaw Star on Blu-ray
September 25, 2016 · 15 comments
We're delighted to announce we are bringing the classic series Outlaw Star to Blu-ray!
After previously releasing the series as a remastered DVD set in June 2014, we know a lot of you were asking if a Blu-ray release might be possible. At the time we only had the DVD rights and since we released looking in a Blu-ray release is something we have been doing. The time is now!
"Outlaw Star was one of the initial titles Anime Limited licensed and is a classic series that continues to act as a fun viewing experience for anime fans old and new." says Andrew Partridge, President of Anime Limited. "It's a great gateway into the world of anime for new fans and we're so proud to be bringing the series to Blu-ray for the first-time in English speaking territories."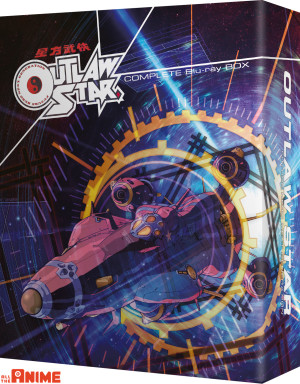 Outlaw Star will be released as a Limited Collector's edition Blu-ray set from 5th December. Expect to see listings appearing on retailer sites very soon.
The set will coming in Collector's packaging, with the entire series (26 episodes) contained over four Blu-ray discs. (For those of you who like the technical information, it's four BD50 discs.) Also included in the set will bea 100-page "Building a Universe" art book, that has not been produced in English anywhere before. It contains Line Arts, Image Boards and Mecha & Props.
On-disc content includes:
The entire series (26 episodes) over four Blu-ray discs in English and Japanese with English subtitles
Extras: Clean Opening and Closing title sequences, Character Design Galleries, Mechanical Design Galleries, Character Color Setting Gallery, TV Commercials and the Pilot Film.
And now for a glimpse at what the set will look like when it arrives on 5th December.
Now to give you a preview of the Blu-ray quality, you can watch a clip of the Opening title sequence below. We've left the subtitles on so you can see how they look with the video. It's worth noting that a streamed clip such as this can't replicate the experience of watching the actual Blu-ray disc itself, but certainly give you a good indication of what to expect. Also worth noting that the video assets used on our release are identical to the Japanese Blu-ray release.
We are so excited to be able to bring you this release and we're hope you're excited for this too!
Signing out~!
Jeremy
15 comments
Big Boss

September 26, 2016 8:46 am

You feel it too, don't you Gene?

David

September 27, 2016 9:44 am

All I want to know is how much this is. It's an instant pre-order for me.

El Dorado

September 27, 2016 5:34 pm

Will these be region free/able to play in US BluRay players?

jeremy

October 10, 2016 10:30 am

All of our Blu-ray releases our coded for Region B, for the UK & Ireland. ^JG

Luke

January 6, 2017 3:48 am

Any chance for a Region A coding? You got U.S. customers ready to pull the buy trigger if so.

James

October 8, 2016 5:34 pm

Over the moon at this! What an awesome set aswell! Looks like zavvi's also comes with an exclusive A5 print! Really great to see some love for a relatively unknown and under-rated classic!

Ba

October 23, 2016 11:01 am

Any chance of a downloadable digital edition for the same price? I don't want to buy a blu ray drive just for this but god damn I needs this series in hd.

jeremy

October 26, 2016 9:00 am

There won't be a digital version available, though if that were to change in the future we will say. If it's any help we have previously released the series remastered on DVD. ^JG

Jon

November 4, 2016 5:44 pm

Would love to see this in a North America friendly format.

Nicholas Hudson

December 27, 2016 10:52 pm

Sameeee

jeremy

January 11, 2017 5:22 pm

We only have the rights to this in the UK & Ireland specifically. So we're not able to release this in North America. ^JG

Will Linsley

December 13, 2016 4:46 pm

So excited! Discovered Outlaw Star on CNX ('member that channel?) way back in the early 2000s. Knew about the DVD release but have been holding out (for YEARS) for a Blu-Ray release. Asked for it this Christmas after watching an old favourite episode on VHS, not knowing if there actually was a BluRay release out yet...looked online and found this, 5th December...what are the chances? I'm still wishing that they make the follow up anime about Jim at college (not making this up, remember reading it somewhere, they had scripts and stuff but didn't get the go ahead). More people know about this anime than I used to think. Like James said, truly an under-rated classic!! :)

Will Linsley

December 13, 2016 4:49 pm

PS For Outlaw Star fans - I made a dubstep track using vocal samples from the anime. It's called Track Hunter and is on my old youtube channel (link is https://www.youtube.com/user/chilpillwill1). "Suits me just fine....then I'll have to hunt down his tracks by his scent..." Enjoy!

Lee

December 29, 2016 4:27 pm

Love my set the only issue is doesnt fill up my tv screen two massive black borders down the sides of the screen seriously ruin the experince. But its something we have to live with i guess

jeremy

January 11, 2017 5:26 pm

Hi Lee, Outlaw Star was made before 16x9 was the standard format for most television in general, not just anime. So it displays it in 4:3 to retain it's original viewing aspect ratio. So it's not a case of it not filling up your television, it's a case of that's how it was made. No widescreen version of the series actually exists. Hope this helps. ^JG