Newswire #57 – 4th Feb 2016
February 4, 2016 · 0 comments
This weeks Newswire bring you updates on
Miss Hokusai and Anthem of the Heart in UK cinemas from tomorrow.
Big updates on our upcoming Blu-ray releases of Noein To Your Other Self and Psychic School Wars
and more!
ANIME LIMITED UPDATES
First of all a quick reminder that both Mobile Suit Gundam Part 2 and Gankutsuou: The Count of Monte Cristo are available this Monday (8th February). We posted unboxings for both this week. You can check them out in the links below.
CLICK HERE to see the unboxing of our Mobile Suit Gundam Part 2 Blu-ray
CLICK HERE to see the unboxing of our Limited Collector's Edition Blu-ray of Gankutsuou: The Count of Monte Cristo
~ The wait is nearly over as tomorrow (Friday 5th February) sees Miss Hokusai and Anthem of the Heart in cinemas across the UK as part of the Japan Foundation Film Touring Programme. If you haven't booked your tickets yet there's still time to do so. Details HERE.
~ Looking forward to our upcoming Blu-ray release of the series Noein: To Your Other Self? Earlier this week on our social media channels we shared an updated visual of what you can expect with out release.
As you can see it'll come packed in a rigid case, inside that there will be a digipack holding the three Blu-ray discs and the set will also come with 8 art cards. We're still working on locking down a new release date for this, we're hoping to have that confirmed for you soon, so please stay tuned for more details.
~ Remember a while back we spoke about our upcoming releases of Sword Art Online II: Part 3 & Part 4, and how we would have more information about the episode breakdown for each release. Today we can confirm the episode breakdown will see episodes 15-19 included in Part 3, and the remainder of the series included in Part 4.
This sees the complete 3 episode "Calibur" arc and the first two episodes of the "Mother's Rosario" arc. Sword Art Online II: Part 3 is set for release on 25th March. You can expect more details, including visuals of what our release will look like soon.
~ Looking ahead to our release of Psychic School Wars, remember that one? We have an update on this for you. As we've talked about before we'll be bringing this to the UK in the form of a Limited Collector's Edition Blu-ray+DVD set scheduled for release on 25th April. Today we can show you what we have planned packaging wise for our release. There was some wonderful imagery so we've done our best to include as much of it as possible. Take a look at the visual below for your first glimpse at this our release.
So to give you a rundown of what we have in the image above, our release will come packed with a rigid case (top row, centre) and inside that will be a digipack (top right) to house the two discs (bottom left), 1 x DVD and 1 x Blu-ray. In addition to this there will also be a Collector's Edition exclusive 40-page booklet that will be divided into three sections: 1) character and background art, 2) a gallery, and perhaps one of the most unique aspects to a booklet we've had in one of our releases 3) an epilogue section to the film. Yes you did read that right, there is actually an epilogue to the film included in this booklet. And finally in the top left of the image above is an o-card that will slide over the top of the rigid case, like what we've done for various releases of ours including Wings of Honneamise and Space Dandy Season 2.
You can expect this image to start appearing with retailers shortly. You can pre-order your copy from the likes of Amazon UK, Zavvi and Base today.
~ If you've not subscribed to our YouTube channel why not do so HERE. You can find trailers, clips and exclusive content relating to our titles and more to be added very soon. Our most recent addition to the channel is a trailer for our release of Tokyo Ghoul Season 1. You can watch it below.

Speaking of Tokyo Ghoul, we're going to have details on what to expect with our release of the second season, Tokyo Ghoul √A, soon but if you're someone who likes to get in early with your pre-orders you can do so at Amazon UK HERE.
~ We recorded a podcast earlier this week! We touch on various notes regarding upcoming releases and we also debut a new regular feature to the podcast. I (Jeremy) am currently in the process of editing it and the plan is for this to be up by the weekend. So stay tuned for that.
In case you haven't listened to our most recent podcast, you can find the details for that episode HERE.
NEWS YOU MIGHT HAVE MISSED
~ Late last week we announced that we would be bringing the series ERASED to the UK in the future. It's airing to the UK at Crunchyroll as part of the ongoing Winter anime season and is definitely one check out if you're not aware of it. You can find out more about it HERE.
~ The Case of Hana & Alice is getting a screening at the Queen's Film Theatre in Belfast on the weekend of the 20th/21st February. Stay tuned their website for more details.
A reminder that it's also getting a cinema screening in London as part of the Asia House Film Festival. You can catch the film on 27th February at the Regent Street Cinema near Oxford Circus. You can book tickets today HERE.
~ We are once again working with our friends at Bandai Visual in Japan to offer UK & Irish fans the chance to purchase the third of the Gundam The Origin Blu-ray Collector's Edition [Export Version] set, Gundam The Origin III: Dawn of Rebellion. You can get all the details on this HERE.
REPLACEMENT SCHEME UPDATES
Durarara!! Limited Edition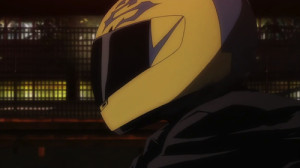 This replacement scheme closes on Thursday 31st March 2016.
The latest round of replacements were sent earlier this week. The next round of confirmation messages will be getting sent before the end of the week. If you have applied for discs since then your application will be processed soon. We appreciate people's patience with this.
If you've yet to apply for discs please follow the steps of filling out the survey AND emailing us your proof of purchase. (Simply doing one of the two steps is not enough.) If you haven't received a confirmation message within to weeks of applying please email Jeremy on Jeremy@AllTheAnime.com – he'll get back to you as quickly as we can about this.
If you have questions or concerns about your replacement request please feel free to email Jeremy on Jeremy@AllTheAnime.com. If you have yet to apply for replacement discs please follow all the guidelines HERE.
Kill la Kill Part 1 [for units purchased at MCM London Comic Con in October 2014 only]
NOTE: This only applies to units purchased at MCM London Comic Con in October 2014. (Following the event the products general retail release was delayed and the error of the English dub being out of sync by 0.4 seconds during one of the episodes was corrected.)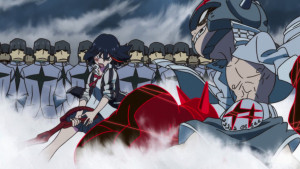 We are working to get these out as quickly as possible. The latest wave are being sent tomorrow (Wednesday 28th October) so if you haven't had yours already you can expect it any day now.
To apply for a replacement we ask that everyone who purchased this at MCM London Comic Con in October 2014 please do the following:
Send an email with the subject "KLK1 Replacement – MCM October 2014" to Jeremy@AllTheAnime.com
In this email please include:
– You full name (as it would be written on a parcel being posted to you)
– You full postal address
– a photo of your copy of Kill la Kill Part 1.
NOTE: We appreciate that some people may have sent emails to other Anime Limited personnel regarding wanting a replacement, but due to the length of time that has passed we ask that everyone who will have previous enquired about a replacement please send a new message to Jeremy. We apologise for any inconvenience, but this is to ensure we can fulfil these as quickly as possible.
UPCOMING EVENTS
Here you'll find a list of events we'll be attending during 2016. The looks small at the moment, but trust us when we say it'll start looking packed very soon.
Kitacon @ Birmingham, 1st-3rd April 2016
MCM London Comic Con @ Excel London, 27th-29th May
And that concludes this edition of the Newswire. Be sure to keep an eye both here at our blog and on our social media channels for the latest news regarding Anime Limited along with some great reading material too.
Signing out~!
Jeremy