Newswire #62 – 8th March 2016
March 8, 2016 · 0 comments
We're back with another edition of the Newswire and today we have a variety of things to tell you about including what to expect with our upcoming release of Psycho-Pass 2. Read on below for details.
ANIME LIMITED UPDATES
~ First of all the wait is over as Fusé: Memoirs of the Hunter Girl is available now on Limited Collector's Edition Blu-ray+DVD and standard DVD. If you're not familiar with the film you can get all the info HERE.
~ A quick reminder that our next releases are the complete series of Tokyo ESP available as a Limited Collector's Edition Blu-ray+DVD set and standard DVD, and the standard edition version of Kill la Kill Part 1 (episodes 1-9) on Blu-ray and DVD, both available on 28th March. You can pre-order these today from the likes of Amazon, Zavvi and Base.
~ If you haven't listened to it yet be sure to check our latest podcast featuring discussion on our plans for Escaflowne and how the newly announced (and now funded) Kickstarter by Funimation for a new English dub will impact our release. We encourage everyone to give this a listen as there's a lot of info about our release. You can find the details (including iTunes and Soundcloud information) HERE.
~ Looking ahead, we know a lot of you have been eager to find out what we have planned for our release of Psycho-Pass 2 since our announcement that we'd be bringing the series to the UK. We will be releasing the series as a Limited Collector's Edition Blu-ray set and standard DVD set and it will arrive on the 9th of May. Today we can show you the first visual of both versions! Let's start off with the Limited Collector's Blu-ray version.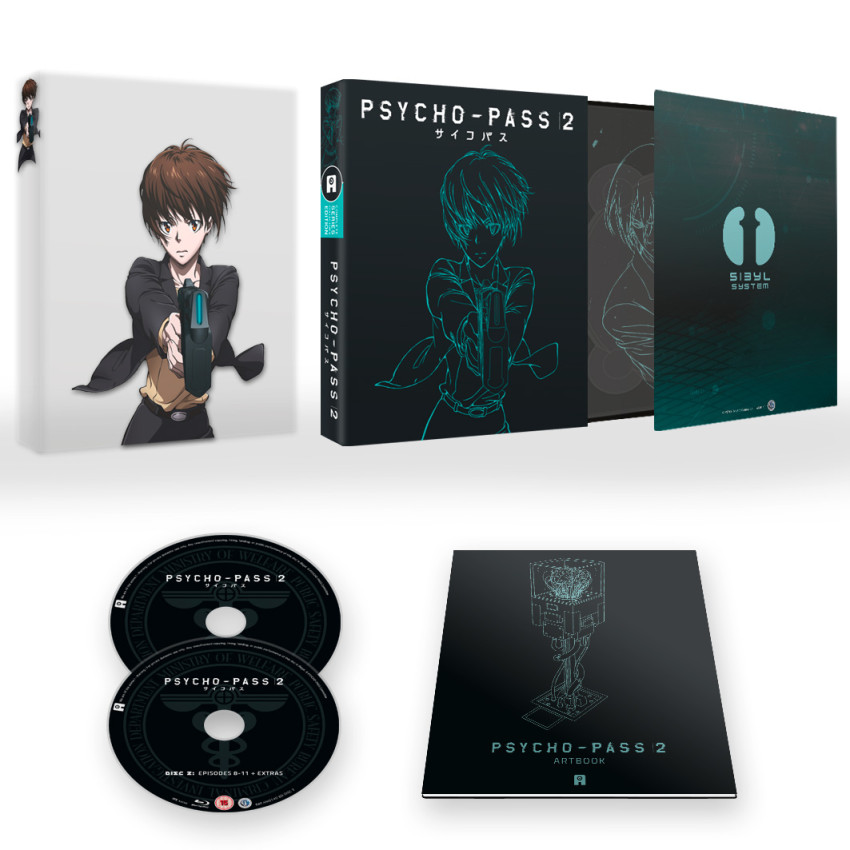 Our Limited Collector's Edition Blu-ray release will come packed in a rigid case (top, centre) with a digipack (top right) to hold the the two Blu-ray discs. Around the rigid case will be transparent o-card (top left) around the rigid case. (For a point of reference, this was something also present with our out-of-print Tokyo Ghoul Season 1 Ltd. Ed. Blu-ray.) Also inside they'll be a 56-page art book (bottom right) featuring character and general world information, illustrations and an interview with Tow Ubukata, who wrote the screenplay for Psycho-Pass 2. On-disc content will include the entire series, 11 episodes total (that are also referred to as episodes 23-33 of the franchise in some circles), with both the English dub and the original Japanese audio with subtitles. Additionally there will be commentaries and textless songs.
As a note, the disc configuration and BBFC certificate are not final, so those shown in the image above are very much placeholders. For those wondering, underneath the cellophane/plastic wrap around the whole product will be an onsert containing the information for the release. As we did with Samurai Flamenco Part 1 as a point of reference.
=-=-=-=-=-=-=-=-=-=-=-=
We want to take a moment to make it known that our next special offer at our web shop will be for our Limited Collector's Edition Blu-ray of Psycho-Pass 2 and will launch this coming Tuesday (15th March) at 12pm. The offer will be valid until midday the following Monday (21st March).
=-=-=-=-=-=-=-=-=-=-=-=
For those of you wanting to get our standard edition DVD of the series, here's a a first look at that. Again, BBFC certificate is not final.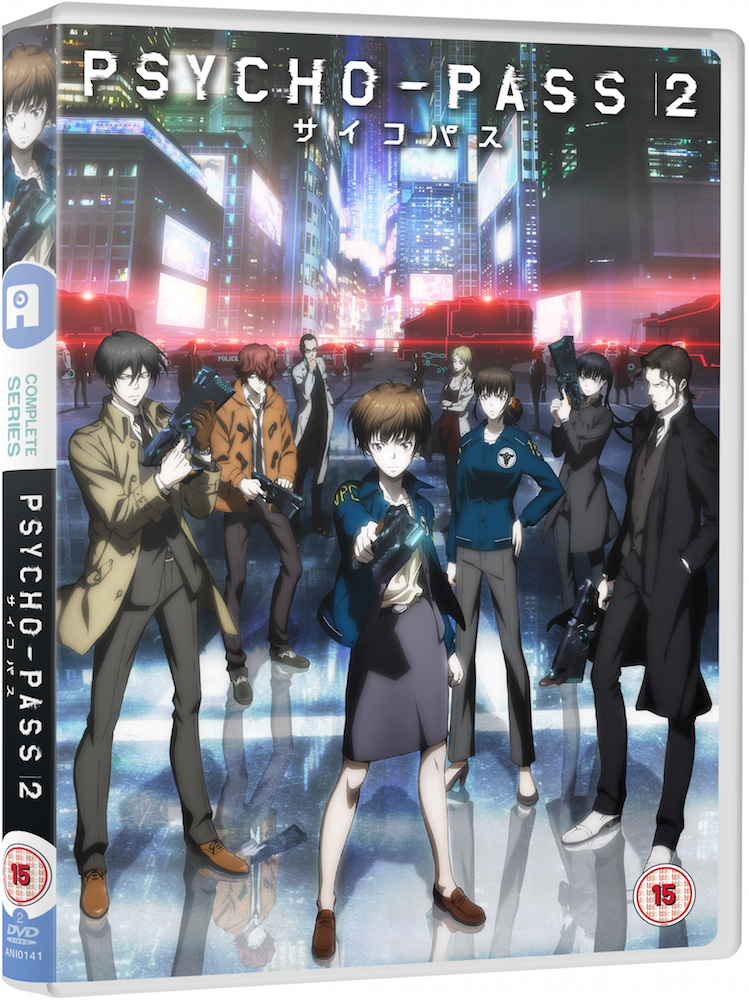 Psycho-Pass 2 will be available on both Limited Collector's Edition Blu-ray and standard edition DVD from 9th May.
~ For those of you planning to collect the standard edition versions of Kill la Kill, today we can show you what our Part 2 release will look like on both Blu-ray and DVD, available from 25th April.
(As a note, the images above aren't to scale, so the actual Blu-ray is 100% a regular Blu-ray case size, not the same size as a DVD as it may appear above.)
~ Our next order of business is Miss Hokusai. We know lots of you have been enjoying seeing this (along with Anthem of the Heart) in cinemas across the UK as part of the Japan Foundation Film Touring programme. Today we are announcing that we are extending the run of the film being available to watch in cinemas across the UK and this will also extend into Ireland as well. This in-turn means that our home video release is subsequently going to be moving back to April. (Exact date to be confirmed soon.) Given there is now more time until our release we're working to see if something extra special might be possible for our release which, all going well, we hope to be able to share details about soon.
~ Speaking of cinemas, for those in the Edinburgh between 25th-27th March, Scotland Loves Anime is having a mini-programme of screenings at the Filmhouse. Being screened will be Miss Hokusai, Anthem of the Heart, A Letter To Momo and Psycho-Pass the movie. You can get all the details on the screenings at the Filmhouse website HERE.
~ For those of you excited about our upcoming Terror In Resonance release, we received a prototype of the Ultimate Edition and we're very happy with how it's turned out! In case you missed the photo we shared on our social media channels earlier, here's how it's looking.
(At time of writing) you can pre-order this for £73.99 at Amazon UK HERE.
REPLACEMENT SCHEME UPDATES
Durarara!! Limited Edition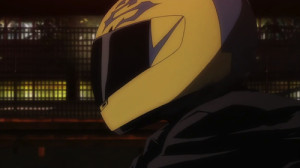 This replacement scheme closes on Thursday 31st March 2016.
The next wave of discs will be getting by the end of this week. The next round of confirmation messages will be getting sent later this week week. If you have applied for discs since then your application will be processed soon. We appreciate people's patience with this.
If you've yet to apply for discs please follow the steps of filling out the survey AND emailing us your proof of purchase. (Simply doing one of the two steps is not enough.) If you haven't received a confirmation message within to weeks of applying please email Jeremy on Jeremy@AllTheAnime.com – he'll get back to you as quickly as we can about this.
If you have questions or concerns about your replacement request please feel free to email Jeremy on Jeremy@AllTheAnime.com. If you have yet to apply for replacement discs please follow all the guidelines HERE.
Kill la Kill Part 1 [for units purchased at MCM London Comic Con in October 2014 only]
NOTE: This only applies to units purchased at MCM London Comic Con in October 2014. (Following the event the products general retail release was delayed and the error of the English dub being out of sync by 0.4 seconds during one of the episodes was corrected.)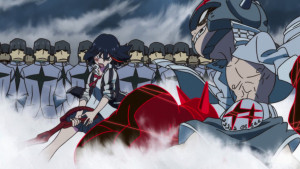 To apply for a replacement we ask that everyone who purchased this at MCM London Comic Con in October 2014 please do the following:
Send an email with the subject "KLK1 Replacement – MCM October 2014" to Jeremy@AllTheAnime.com
In this email please include:
– You full name (as it would be written on a parcel being posted to you)
– You full postal address
– a photo of your copy of Kill la Kill Part 1.
NOTE: We appreciate that some people may have sent emails to other Anime Limited personnel regarding wanting a replacement, but due to the length of time that has passed we ask that everyone who will have previous enquired about a replacement please send a new message to Jeremy. We apologise for any inconvenience, but this is to ensure we can fulfil these as quickly as possible.
UPCOMING EVENTS
Here you'll find a list of events we'll be attending during 2016. The looks small at the moment, but trust us when we say it'll start looking packed very soon.
MCM Birmingham Comic Con, 19th March 2016
Kitacon @ Birmingham, 1st-3rd April 2016
MCM London Comic Con @ Excel London, 27th-29th May
And that concludes this edition of the Newswire. Be sure to keep an eye both here at our blog and on our social media channels for the latest news regarding Anime Limited along with some great reading material too.
Signing out~!
Jeremy
Tagged with: