Snow White with the Red Hair Music: Saori Hayami
August 7, 2015 · 0 comments
By Paul Browne.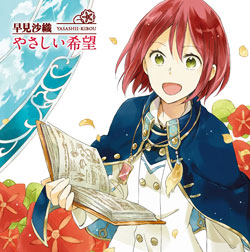 Shirayuki is an ordinary citizen of the kingdom of Tanbarun, aside from one unique feature – her distinctive red hair. Pursued by a prince of Tanbarun because of her unusual hair colouring, Shirayuki instead cuts her hair and escapes to the neighbouring kingdom of Clarines. Befriending Zen, a prince of Clarines, Shirayuki demonstrates her medical skills and agrees to become court doctor.
Adapted from manga series for girls, this anime comes courtesy of popular studio Bones (notable for the likes of Angelic Layer, Ouran High School Host Club, Fullmetal Alchemist and Space Dandy among others). The main protagonist, Shirayuki, is voiced by Saori Hayami – who also performs vocal duties on the acoustic melodies of opening theme 'Yasashii Kibou'.
Based in Tokyo, Saori enjoys a varied career between voice-acting, singing and hosting her radio show Free Style. Growing up, Saori was lucky enough to be exposed to all sorts of different music genres in the family house, from funk to classical. Even with this broad musical background however, she favoured rock music as her genre of choice. Taking up piano practice, Saori was also a big fan of classic anime series Fruits Basket, asking her piano teacher how to play the opening theme.
Although she had a passion for acting and singing from an early age, Saori was quite shy about performing in public. In fact it took some encouragement from her mother, before she finally signed up to a voice training school to develop her talents. Her career began with a role in classic anime series Clannad. Since then, she's starred in a wide variety of anime titles, including Mobile Suite Gundam AGE, Sword Art Online, Fairy Tail, The Idolmaster Cinderella Girls, Eden Of The East and Sound! Euphonium.
Music, however, was still one of Saori's passions. One of her earliest anime singing roles was the ending to 2007 series Touka Gettan. The lilting, warm tones of 'Kono Sekai ga Itsuka wa' demonstrated a powerful yet melodic singing voice in the aspiring singer.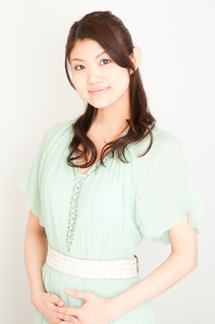 This talent for an evocative, gentle vocal style continued with musical contributions in anime titles including Our Home's Fox Deity and Sora no Otoshimono. But Saori also managed to demonstrate a greater musical range with a more aggressive vocal for the bombastic opening theme to the anime Basquash!
For 2012's Tari Tari Saori delivered a heart-warming vocal for 'Kokoro no Senritsu' (Melody Of The Heart). Its stripped-down composition and simple piano melody suggests a tune that would fit seamlessly into a Studio Ghibli film.
Looking further afield, Saori made her first US convention appearance in 2014 at Otakon. The same year she appeared to take inspiration from the vocaloid songbook with a more electronic approach for the opening theme to Tsukimonogatari.
For the cult hit series Sword Art Online (in which she also plays the character of Sachi), Saori delivered a charming cover version of 'Rudolph The Red Nosed Reindeer' (or 'Akahana no Tonakai' as it's known in Japanese).
Snow White With The Red Hair offers up an opening theme with a brisk melody that's all soaring strings and gentle organic percussion. It's the perfect foundation for the warm tones of Saori Hayami's vocals – and a fitting anime theme into the bargain.
Paul Browne is the owner of Japanese music website J-Pop Go.
Snow White with the Red Hair Part 1 comes to Blu-ray from Funimation.