[UNBOXING] Vampire Hunter D: Bloodlust
May 7, 2018 · 1 comment
Last last week we had the pleasure of revealing to you our plans for the Ltd Collector's Edition release of the classic Vampire Hunter D: Bloodlust, which initially you'll only be able to purchase at our AllTheAnime.com web shop.
Today we're excited to show you what to expect from this release! But before we get to that, a quick refresher on not only the film but what we have planned for the release too.
---
ABOUT VAMPIRE HUNTER D: BLOODLUST
Directed by Yoshiaki Kawajiri (Ninja Scroll, X, Wicked City)
Synopsis: "The enigmatic Vampire Hunter – known only as D – has been hired to track down Meier Link, a notoriously powerful vampire who has abducted a human woman named Charlotte Elbourne. D's orders are strict – find Charlotte, at any cost.
For the first time D faces serious competition. The Markus Brothers, a family of Vampire Hunters, have been hired for the same bounty. D must intercept Meier and conquer hostile forces on all sides in a deadly race against time.
Despised by Vampires for his profession and by Humans for the blood in his veins, D relentlessly pursues his prey, little expecting where his journey will ultimately take him, as long-buried secrets resurface once more."
You can watch a trailer for the film below:

---
WHAT'S INSIDE? WHAT'S ON THE DISCS?
Our release comes packed in a rigid case case and inside that you'll find a digipack to hold the two discs ( 1 x Blu-ray + 1 x DVD) and there's a sixteen page booklet inside with an article written by Andrew Osmond (author of 100 Animated Feature Films.)
On the discs themselves, as well as the feature film with both English 2.0 and 5.1 audio options, there's also lots of extras for sink you teeth into: trailers created for the US, Japanese and Korean releases of the film; a behind the scenes featurette, storyboards and an art gallery.
As we mentioned in our post last week detailing our plans for this release, it's worth reiterating as the film was actually created for the western market, and as per other western releases elsewhere, English is the primary language for the film and thus also the sole audio option available here. Both formats additionally offer up optional Hard of Hearing subtitles for the film.
---
WHERE CAN I ORDER THIS?
As we mentioned last week, this Ltd. Collector's Ed. set initially is exclusive to our AllTheAnime.com web shop only, which you can order right now –
But don't worry, the film will be getting released on standard Blu-ray and DVD this coming July::
Order standard ed. at Amazon Order standard ed. at Zavvi Order standard ed. at BASE Order standard ed. at HMV Online Order standard ed. at Anime-On-Line View listings at All The Anime
---
WHAT DOES THE FINISHED PRODUCT LOOK LIKE?
Now time for photos of the actual product. Worth noting you can click to enlarge them if you want.
---
And that concludes this unboxing! We hope you're looking forward to adding this to your collection.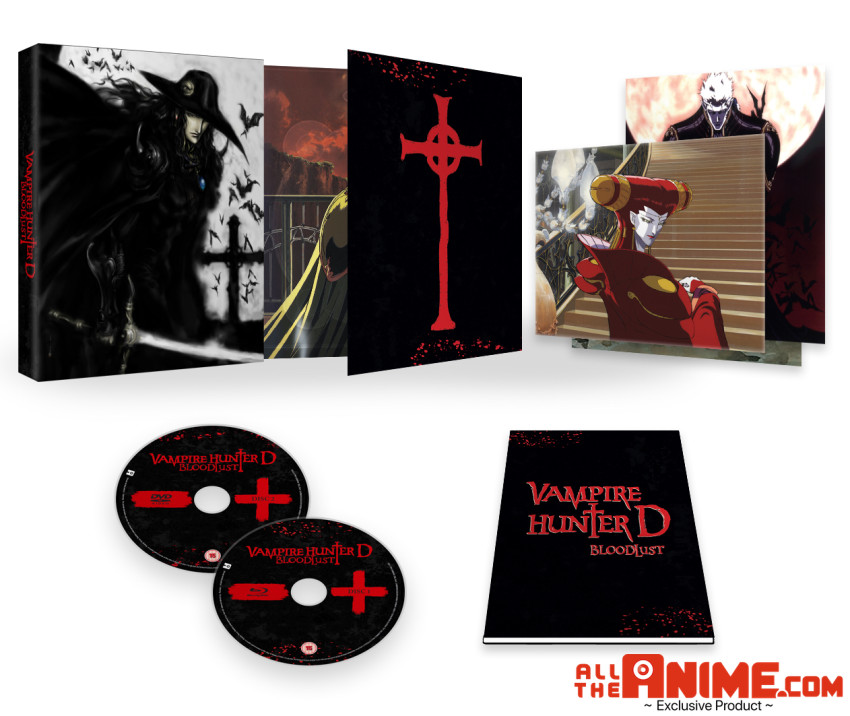 Signing out~!
Jeremy
1 comments
Elton Alwine

September 30, 2019 8:49 pm

Hi, I'm just curious if this Vampire Hunter D collector's edition blu-ray is still available before I purchase it. Thanks