Anime Limited MCM London Comic Con May 2023 announcements
June 2, 2023 · 0 comments
ANIME LTD. ANNOUNCES THEATRICAL PLANS FOR "EVANGELION:3.0+1.01 THRICE UPON A TIME", "GREAT PRETENDER" HOME VIDEO, AND MORE THRILLING RELEASES AT MCM COMIC CON LONDON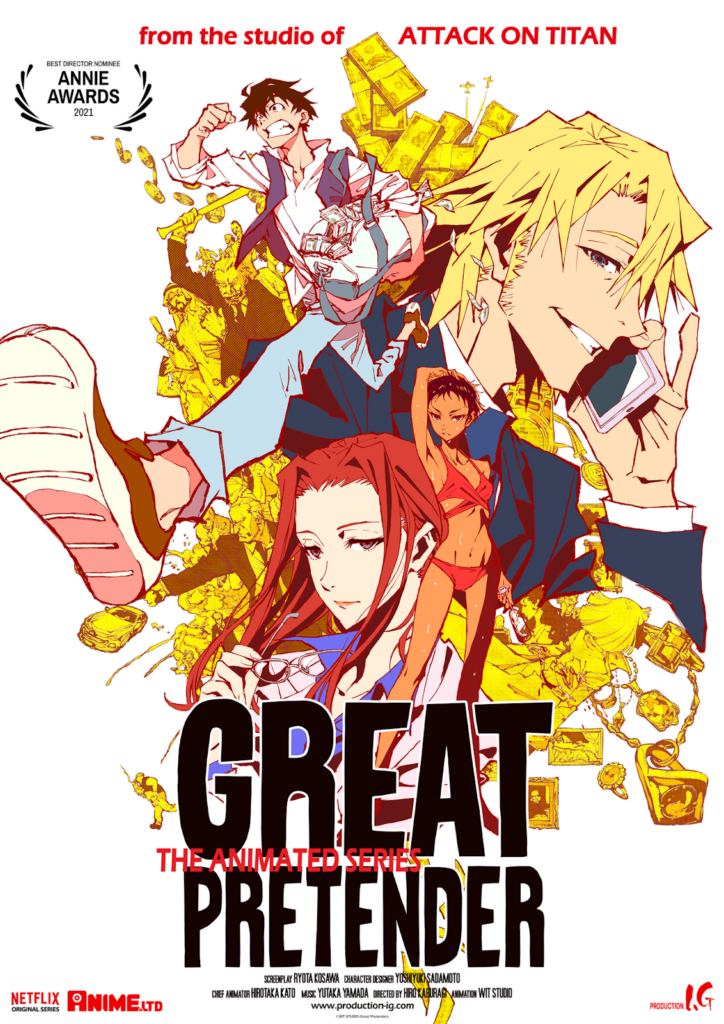 EVANGELION:3.0+1.01 THRICE UPON A TIME (©khara); GREAT PRETENDER (© WIT STUDIO/Great Pretenders)
Theatrical releases also planned for "MACROSS PLUS: MOVIE EDITION", "The Tunnel to Summer, The Exit of Goodbyes", "THE FIRST SLAM DUNK"
LONDON, UNITED KINGDOM, 28 MAY 2023 – Anime Ltd. took to the stage before exuberant crowds at the United Kingdom's biggest fan event, MCM London, to share a slate of several notable releases in theatrical distribution, home video, and music for the year ahead. While not exhaustive of the Glasgow-based company's 2023 calendar by any stretch, these acquisitions demonstrate the thoughtful curation and fan-focused ethos that make Anime Ltd. the UK and Ireland's favourite anime distributor.
Coming to cinemas in the United Kingdom and Ireland later this year are Hideaki Anno's "EVANGELION:3.0+1.01 THRICE UPON A TIME", Shoji Kawamori and Shinichiro Watanabe's "MACROSS PLUS: MOVIE EDITION", as well as the previously announced films "THE FIRST SLAM DUNK" from Takehiko Inoue and "The Tunnel to Summer, The Exit of Goodbyes" from director Tomohisa Taguchi. More details for these releases will be available in the months to come, and those interested in being the first to find out new information can sign up for Anime Ltd.'s theatrical email list at alltheanime.com/coming-soon.
The highly anticipated fourth and final film in Hideaki Anno's REBUILD OF EVANGELION film series that re-imagines his groundbreaking television series, EVANGELION:3.0+1.01 THRICE UPON A TIME combines the visually striking action and emotionally intelligent characters that made the series such a landmark moment in anime history, to bring the saga a breathtakingly epic yet intimate conclusion. Fans of EVANGELION won't want to miss this chance to experience Shinji, Asuka, and Rei's big finale on the largest screen possible.
MACROSS PLUS: MOVIE EDITION (©1995 BIGWEST/MACROSS PLUS PROJECT)
In a landmark moment for fans of the decades-spanning legendary Macross franchise, the beloved classic 1995 film MACROSS PLUS: MOVIE EDITION will grace the big screen across the UK and Ireland for the first time in nearly 30 years. Created by BIGWEST and Studio Nue, with Shoji Kawamori (Aquarion, Escaflowne) serving as a chief director, the film marks the directorial debut of Shinichiro Watanabe (Cowboy Bebop, Samurai Champloo) as a director and the first collaboration with inimitable composer Yoko Kanno (Cowboy Bebop, Escaflowne).
©2022 Mei Hachimoku, Shogakukan/The Tunnel to Summer, the Exit of Goodbyes Film Partners
"The Tunnel to Summer, The Exit of Goodbyes" is a unique and emotionally riveting animated experience that promises to delight audiences based on the Japanese novel of the same name from Mei Hachimoku, which won the 13th Shogakukan Light Novel Award. During the panel at MCM Comic Con London, Anime Ltd. announced the film's theatrical release date will be 14th of July, 2023. For additional information, visit tunneltosummerfilm.co.uk.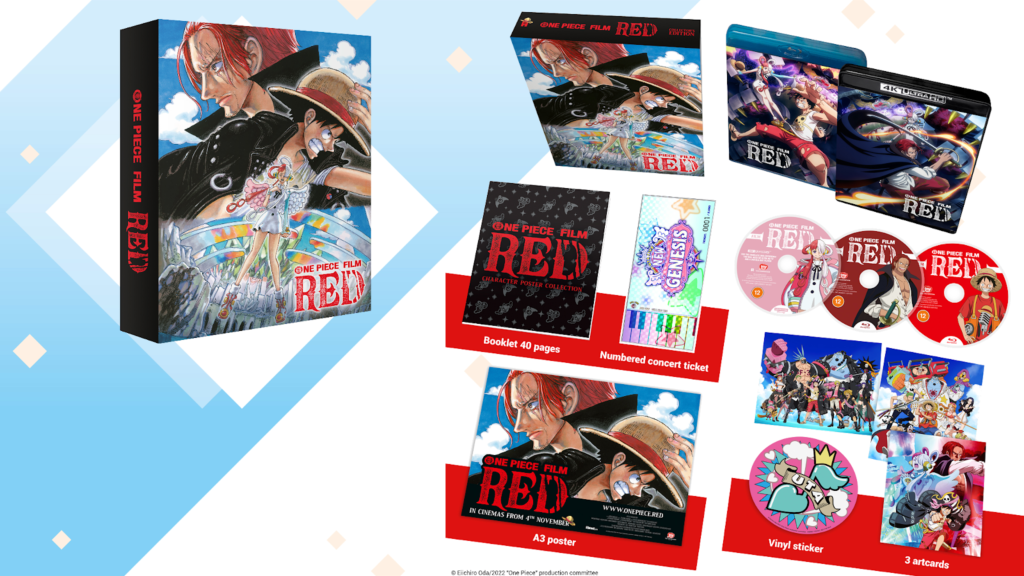 © Eiichiro Oda/2022 "One Piece" production committee
Additionally, at their industry panel, Anime Ltd. staff announced several key titles for home video distribution for the coming year: the celebrated WIT Studio con-man epic "GREAT PRETENDER", the film experience that took a beloved franchise to new heights in the UK & Ireland last summer in "One Piece: Film Red", the genre-defining epic that kicked off Hideaki Anno's directorial debut in "Gunbuster", the the 50th anniversary celebration series of the world's favourite gentleman thief as he travels to the United Kingdom with his friends and enemies in tow in "Lupin the 3rd Part 6", a 4k Blu-Ray release of the storied movie trilogy that started it all in "Mobile Suit Gundam", and the beginning of the saga of three young gunpla builders in "Gundam Build Fighters". Each of these titles will receive the bespoke Collector's Edition treatment that made Anime Ltd. famous with animation enthusiasts the world over.
Lupin the 3rd Part 6 (Original comic books created by Monkey Punch ©Monkey Punch All rights reserved ©TMS/NTV All rights reserved);
Mobile Suit Gundam Film Trilogy (©SOTSU • SUNRISE)
The Anime Ltd. release of GREAT PRETENDER will be available to fans in the United States, Canada, the United Kingdom, and Ireland. One Piece: Film Red, Gunbuster, and Lupin the 3rd will be exclusive to the United Kingdom and Ireland, and Mobile Suit Gundam Trilogy 4k and Gundam Build Fighters will be released in the United Kingdom, Ireland, France, and Belgium. Additional details and release dates will be available on the Anime Ltd. website, alltheanime.com, as well as on social media.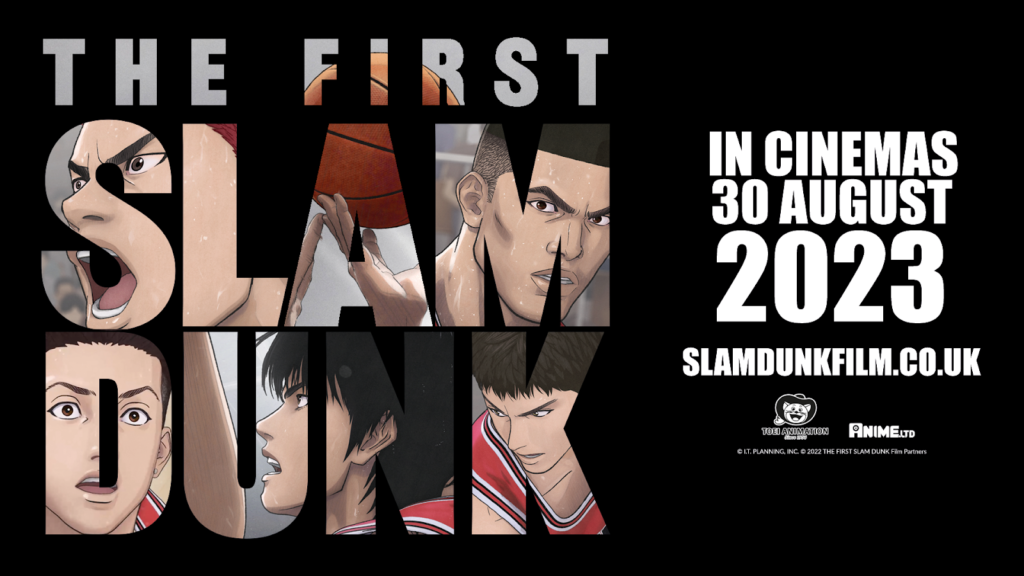 In addition to new announcements, much was said by Anime Ltd. about the much-anticipated theatrical release of THE FIRST SLAM DUNK, a heartfelt and intense basketball drama from first-time director Takehiko Inoue that has broken box office records around the world in addition to being the Japanese Academy's pick for 2022's best animated feature. The company took the opportunity to announce its theatrical release date for the UK and Ireland: the 30th of August.
The release date for Tomohisa Taguchi's sci-fi romance "The Tunnel to Summer, The Exit of Goodbyes"
Besides their packed cinematic lineup for 2023, the Anime Ltd. team shared updates to their equally full lineup of music releases for the year, including upcoming vinyl and CDs for the soundtracks of "Suzume", "Little Witch Academia", "Spy x Family", and "Godzilla Singular Point".
For additional information on any of these announcements, please reach out to Lisa DeBell at Fetch Publicity (lisa@fetch.fm).
EVANGELION:3.0+1.01 THRICE UPON A TIME Synopsis:
The 4th and final installment of Rebuild of Evangelion. Misato and her anti-NERV group Wille arrive at Paris, a city now red from core-ization. Crew from the flagship Wunder land on a containment tower. They only have 720 seconds to restore the city. When a horde of NERV Evas appear, Mari's improved Eva Unit 8 must intercept. Meanwhile, Shinji, Asuka, and Rei (provisional name) wander about Japan.
MACROSS PLUS: MOVIE EDITION Synopsis:
The year is 2040 and the galaxy is flourishing with several colonies and advanced technology. AI is near perfection and the current top idol is the near-completed Virturoid Idol Sharon Apple. All that is missing are her actual feelings, which instead are supplied by Myung Fang Lone. Sharon's debut concert is on planet Eden, where at the same time, fighter pilots Isamu Dyson and Guld Bowman battle over air superiority for the "Supernova Project." Isamu, Guld and Myung were once childhood friends, but after an accident seven years ago, they went their own separate ways.
With Myung back in the picture, the old disputes are once again awakened. And when an unstable and illegal AI technique is installed in Sharon, the situation is worsened.
GREAT PRETENDER Synopsis:
Self-styled "Japan's greatest swindler" Makoto Edamura is mainly targeting elder people and occasional foreign travellers. But when he tries to scam an apparently clueless French tourist in Tokyo, he can't possibly imagine that what looked like just another ordinary job is going to take him all the way to Los Angeles, tied upside-down on the famous Hollywood sign… And he is yet to find out what fate awaits him!
Hiro Kaburagi x Yoshiyuki Sadamoto x Ryota Kosawa x WIT Studio – A high-end animated entertainment created by the best team of the century -!
Gunbuster Synopsis:
​​When the space aliens killed Noriko Takaya's father, she swore she'd go into space to have her revenge. Yet being accepted into the prestigious Okinawa Girls' Space Pilot High School doesn't solve every problem. Looked down upon as the daughter of the admiral who lost, and having a stark lack of talent that prevents her from piloting a machine, Noriko's hopes for the future don't seem bright. But then, when the two candidates going into space are announced, Noriko's surprised to find her name right next to the star of the school (and Noriko's own idol), Kazumi Amano. Has Noriko's hard work paid off? Or is there more to Coach Ohta's reasons for selecting her? Most of all, is Noriko really ready for the horrors of space? Find out in Aim for the Top!: Gunbuster, a true masterpiece of anime history, and Hideaki Anno's directorial debut!
One Piece Film: Red Synopsis:
Uta — the most beloved singer in the world. Renowned for concealing her own identity when performing, her voice has come to be described as "otherworldly." Now, for the first time ever, Uta will reveal herself to the world at a live concert. As the venue fills with all kinds of Uta fans — excited pirates, the Navy watching closely, and the Straw Hats led by Luffy who simply came to enjoy her sonorous performance — the voice that the whole world has been waiting for is about to resound. The story begins with the shocking fact that she is Shanks' daughter.
Lupin the 3rd Part 6 Synopsis:
Gentleman thief Lupin III is back and ready for his next caper— unless legendary sleuth, Sherlock Holmes, has anything to say about it! When Holmes' longtime partner, Dr. Watson, is murdered, none other than Lupin tops the suspects list. With Holmes fast closing in, Lupin must prove his innocence and bring a shadowy organisation called The Raven to heel if he wants to live to steal another day.
Mobile Suit Gundam – Movie Trilogy Synopsis:
Universal Century 0079. Amuro Ray finds himself caught up in the war between the Earth Federation and the Principality of Zeon. He unwillingly becomes the pilot of a prototype Mobile Suit called the Gundam. Now he and the crew of the White Base will have to fight for their very lives as the enemy attempts to destroy this new weapon at all costs.
Combatants will face triumph and turmoil as they battle their way through space to get to their final destination on Earth.
The outcome of the war lies in the hands of the Newtype in the anime series that started it all.
"Gundam Build Fighters" Synopsis:
The time is the near future.
Years have passed since the 1980s, when ""Gunpla""–plastic models based on the ""Mobile Suit Gundam"" animation–created a huge boom.
Now, a new wave is sweeping the world, in what could be called a second Gunpla boom. Its popularity is driven by ""Gunpla Battle,"" in which assembled Gunpla can be controlled and made to fight. With the introduction of this revolutionary Battle System, its popularity has expanded to the point that a Gunpla Battle World Championship is held each year.
The main character of the story, Sei Iori, is a young Gunpla builder who loves Gunpla and dreams of entering the Gunpla Battle World Tournament. As the only heir to a hobby shop, he has high Gunpla building abilities, but he doesn't know how to control them in battle and is continually defeated in the opening rounds of tournaments. When he meets Reiji, a mysterious boy with superb Gunpla control skills, they team up to take on the World Championship.
Sei, the Gunpla builder.
Reiji, the Gunpla fighter.
Sei builds, and Reiji battles.
They're the Build Fighters everyone is talking about!
Their goal is to enter the Gunpla Battle World Tournament–and win!
"The Tunnel to Summer, The Exit of Goodbyes" Synopsis:
Directed by Tomohisa Taguchi (BLEACH: Thousand-Year Blood War) and inspired by the award-winning novel of the same name, this whirlwind time-travelling tale of summer love tells the story of Kaoru and Anzu, two misfit teenagers who come together to investigate a mysterious tunnel that is said to grant the wishes of whoever ventures through it – at a precious cost. Together, they must realise what it is they truly wish for, and whether it's worth the price.
About Anime Ltd.:
Based out of Glasgow, Anime Ltd. is Europe's premiere distributor for Japanese animation, renowned for bespoke collector's editions of fan-favourite anime and soundtracks, connecting Western audiences with creators across languages and oceans, and helping to bring anime front and centre in cinemas. Anime Ltd. proudly produces releases from the biggest franchises in anime including Cowboy Bebop, Attack on Titan, NEON GENESIS EVANGELION, Mobile Suit Gundam, Tokyo Ghoul, Your Name, Weathering With You, Mirai, BELLE and JUJUTSU KAISEN.
For further information, please contact Fetch Publicity | Lisa DeBell | lisa@fetch.fm
For bookings, please reach out to Anna Francis | anna@alltheanime.com
Follow Anime Ltd. on Twitter | Facebook | Instagram | YouTube | www.alltheanime.com
Tagged with: