Anime Limited to screen 'Eureka Seven: Hi-Evolution' movies in cinemas
April 5, 2017 · 0 comments
We know many of you out there have a lot of love for the classic series and were delighted when we announced we would be bringing that classic series to Blu-ray in the future. Our plan to release the series is still very much in the works behind-the-scenes here at AllTheAnime HQ, we still can't share detail on what you can expect yet as we're still signing off on what we have planned.
But, today we can tell you some other brand new news relating to Eureka Seven and it being in the UK. For those of you not aware, this past week at the Anime Boston in event in North America, Studio Bones announced a new 3-part movie project called Eureka Seven: Hi-Evolution is in the works, with the first film due in Japan later this year.
Today we are delighted to announce that we will be bringing each of those films to cinemas in the United Kingdom and Ireland. Though were still working to finalise details, there will a screening in the UK as close to the Japanese release as possible and then there will be screenings held across UK & Ireland during the first quarter in 2018.
UPDATE 13/02/2018: After much consideration, the decision has been made to focus on a home video release for the first instalment of Eureka Seven: Hi-Evolution, in lieu of a broader theatrical release for the film.
We know a lot of you will want to know more details about this, however there are literally no more details to share at this time. But please know these films are coming to cinemas!
You can watch a Japanese promotional video for the Eureka Seven: Hi-Evolution project, and read the official press release from Bandai Visual below.

Signing Out~!
Jeremy
---
THE NEW PROJECT OF EUREKA SEVEN IS NOW ON THE HORIZON!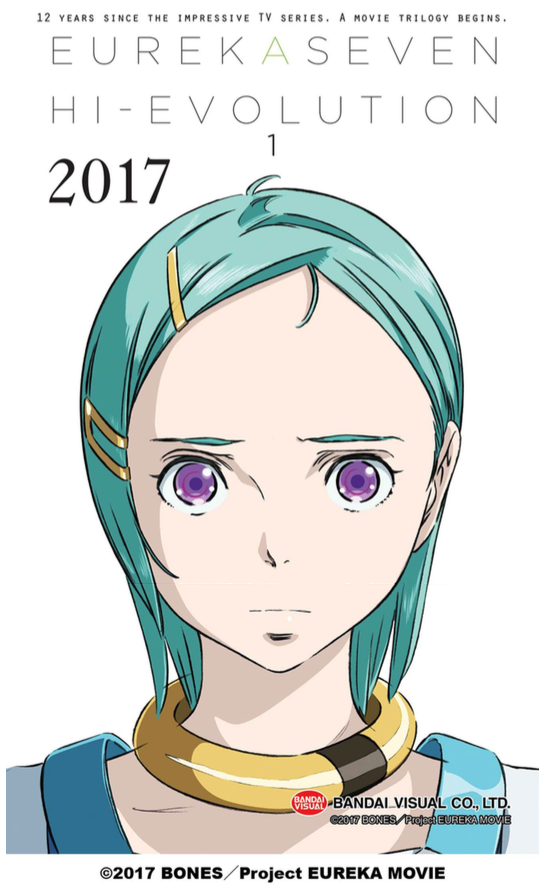 Tokyo, Japan, April 1, 2017 – Bandai Visual Co., Ltd., a leader in the development and production of Japanese animation, announced today at Anime Boston, the largest anime convention in the Northeast United States, that the newest project of the Eureka Seven franchise is now under production. This new project, in conjunction with animation studio BONES, is the 3-part movie entitled "Eureka Seven: Hi-Evolution"
It has been almost 12 years since the original TV series came out. The new movie will capture the story of Eureka and Renton. At Anime Boston, Chief Producer Masahiko Minami of the project (also the President of animation studio BONES), announced that Part 1 of the trilogy will be released in theaters this coming fall 2017 in Japan. Part 2 and Part 3 will be released in 2018 and 2019, respectively. Overseas releases in territories such as US, Australia, UK, France, Singapore, Malaysia, Indonesia and Thailand are also planned. Also during the panel, Minami showed new setting and character art featuring Hammer Head, Devil Fish, Eureka, Adrock, and Nirvash. Further details regarding "Eureka Seven: Hi Evolution" will be announced shortly.
Ten years ago, the major earth-shaking "First Summer of Love" event occurred. Renton, who lost his father during the event, now attends the army school of the United Federation of Predgio Towers located in the border town of Bellforest. Because his late father is still praised, Renton feels something is lacking as he continues with his ordinary, boring days. Then one day, Nirvash, the world's oldest LFO, appears in front of him and a girl named Eureka emerges from the cockpit. This was the beginning of the future of humans and Scub Coral, another intelligent lifeform.
Masahiko Minami at Anime Boston Was this encounter all just a coincidence? Or was it fate? Where will Renton and Eureka's journey end?
About Bandai Visual Co., Ltd.
Bandai Visual Co., Ltd., founded in August 1983, is a Japanese company that develops, produces and distributes film, TV and home entertainment media. As a pioneer of the Japanese animation scene Bandai Visual has consistently held the top-class market share in the genre and continues to lead the market. Bandai Visual has also proven its expertise in creating and delivering quality home entertainment media packaging in Japan. Using such key strategies, Bandai Visual hopes to expand and emulate its success in North American and other international markets. Bandai Visual Co., Ltd. is a wholly-owned subsidiary of Namco Bandai Holdings.