Barakamon
July 30, 2017 · 0 comments
By Andy Hanley.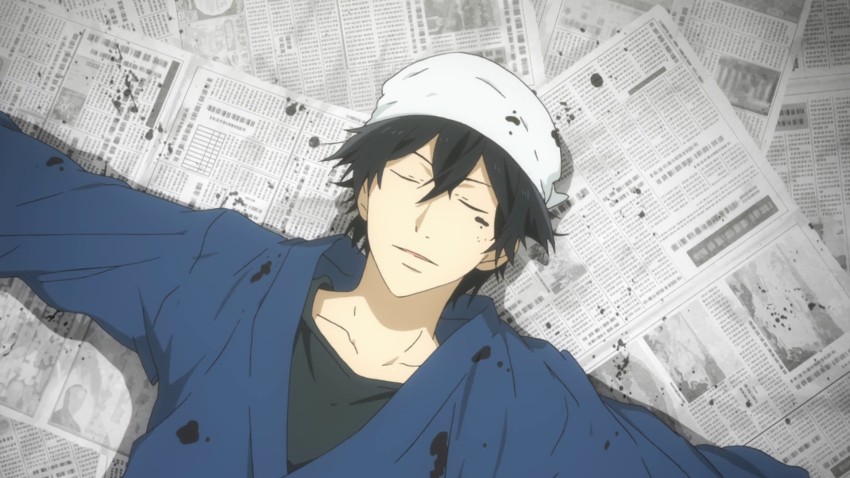 We all need to get away from the bustle of our everyday lives sometimes – maybe it's simply to recharge batteries and creative energy…  or maybe we've just punched an old man whose been critical of our work.
It's this latter case which sees young professional calligrapher Seishuu Handa exiled to the sticks. When an elderly curator calls his work unoriginal, it causes his temper to flare to such a degree that the poor old man is sent crashing to the ground, walking stick and all. With his entire career on the line following this outrageous outburst, Handa is shipped out to one of the remote Goto Islands off the coast of Kyushu, to give him an opportunity to reflect on his current state of mind.
His self-belief wavering, Handa seeks to use his isolation to channel his mind into producing some true masterpieces. The trouble is, Handa is completely unprepared for the kind of tight-knit community such a rural location provides, and he finds himself dragged forcibly into the everyday lives of its residents.
It's these interactions that are the heart of Barakamon, particularly as they revolve around the relationship between Handa and a precocious young child named Naru. Naru's tomboyish and energetic nature initially seems likely to disrupt any chance Handa has of practicing his art, but in fact it's her inquisitive nature that sees him expand his circle of friends on the island and ultimately face the issues that have plagued his work.
The result is a coming of age story of sorts, albeit one not set in a Japanese high school as we so often see. Handa's new surroundings teach him a lot about the perspectives of others, and also there is more to his art than technical skill. This thread which runs deep through the series is overlaid with plenty of relaxed, low-key comedy – Naru's behaviour and the way it adds to the series often bears some comparison to Kiyohiko Azuma's Yotsuba&! manga, while its broader setting could be viewed alongside other recent rural comedy series such as Non Non Biyori and Flying Witch.
Barakamon's unique atmosphere, born from its location at the very edge of Japan, is a refreshing backdrop to its humorous story of self-discovery. There's real joy to be found in watching the rough edges knocked off Handa as the series progresses, and in turn he also (often unwittingly) gives something back to those around him. The resulting story may not teach you anything about the art of calligraphy, but is nonetheless as uplifting as it is entertaining, while prequel series Handa-kun is also streaming on FunimationNow, offering some insight into the high school life of its protagonist.
Ultimately, Barakamon is a great showcase for how a series can leverage its setting to create a particular mood and atmosphere, while also proving masterful and finding comedy in everyday events.
Barakamon is released on UK Blu-ray & DVD by Funimation.