BELLE comes to UK home video on June 27th
April 12, 2022 · 5 comments
Ever since so many of you came flocking to cinemas to watch Mamoru Hosoda's incredible latest film BELLE, we've been flooded by people asking and speculating over when we'll be bringing the film to DVD and Blu-ray for you to enjoy in your own homes. Well, today, we can reveal all…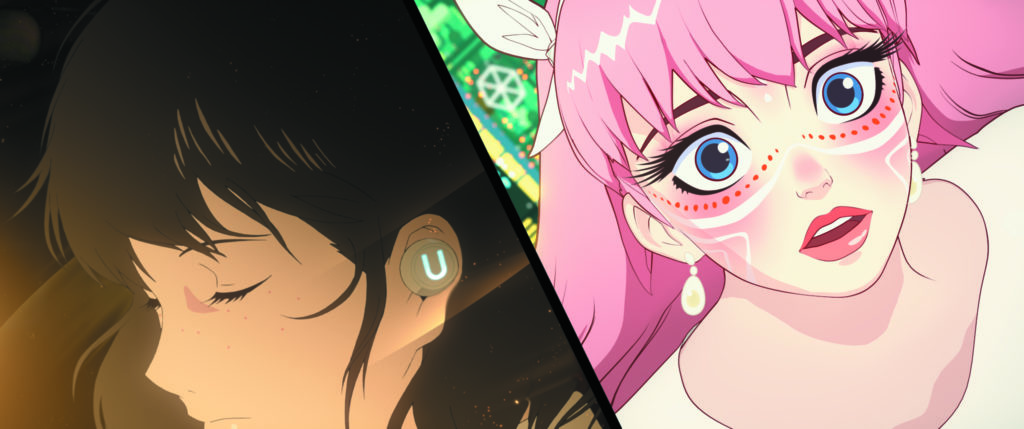 Let's start with the core information – BELLE will be coming to the UK on home video on June 27th, with pre-orders opening on Thursday April 28th at 5PM. Yes, that's right, at the end of this month you'll be able to place your pre-order to secure a copy of BELLE for yourself!
Now, I'm sure you're wondering just what our release will look like – let's get into the details after the jump.
---
Let's start out with the basics – you will of course be able to own BELLE on Standard Edition DVD or Blu-ray, with both editions also hitting retail on June 27th. You can see what these will look like on retail shelves below.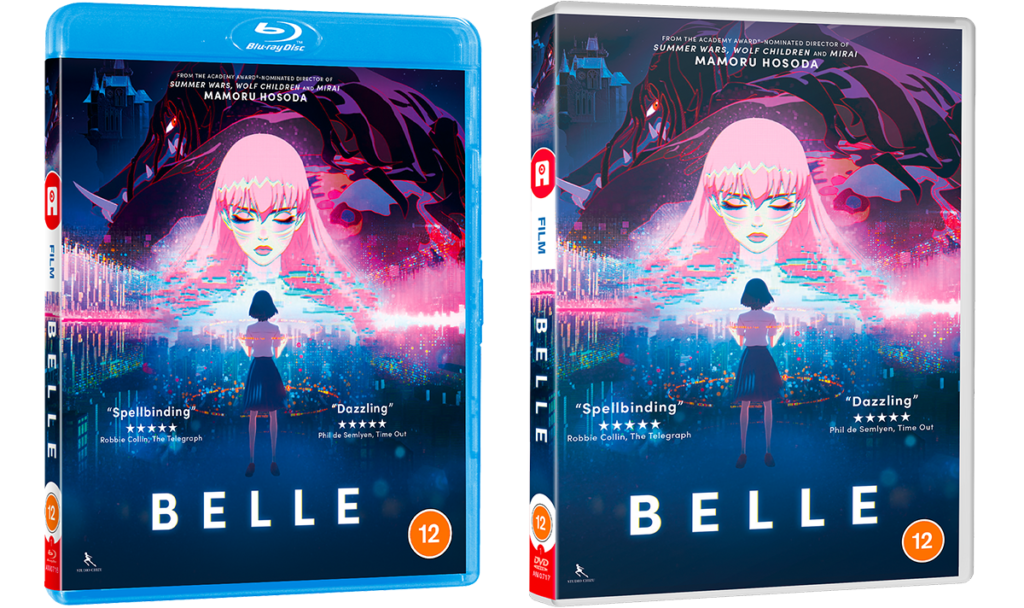 Now, on to the real focal point of our efforts however, as we're very excited to present the BELLE 4K UHD + Blu-ray Deluxe Edition!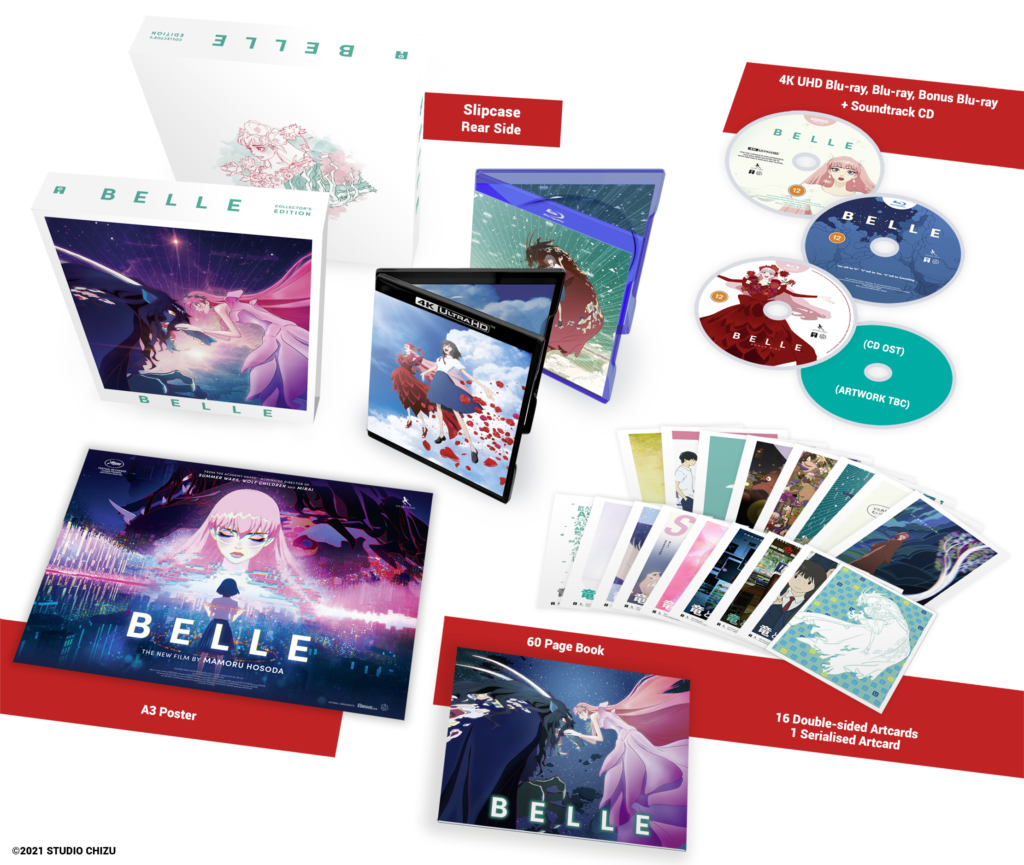 Beautiful, isn't it? Let's drill down to go through the contents of this release piece-by-piece:
Collector's packaging – As per our usual quality, the BELLE Deluxe Edition features Collector's packaging – a rigid slipcase featuring recognisable artwork on the front and a beautiful image of BELLE on its rear.
BELLE on 4K UHD Blu-ray – Yes, that's right, you can recreate that cinema experience in your own home and enjoy the movie in 4K HDR quality on UHD Blu-ray! Within the first of two Amaray cases, our release will sport a Dolby Vision HDR treatment, alongside a Dolby Atmos Japanese audio track (with English subtitles), with the film also available with an 5.1 English audio presentation.
BELLE on Blu-ray – Not ready for the world of 4K yet? We still have you covered, with the second Amaray case in this set housing the film on standard Blu-ray with English and Japanese 5.1 audio with English subtitles.
Bonus feature Blu-ray – Our Deluxe Edition also includes an additional Blu-ray disc exclusive to this edition and packed to the rafters with extras – interviews with the production staff and cast, Making of features and much, much more, all too much to fit alongside the film hence the requirement for an additional disc.
Original Soundtrack CD – Of all of the incredible things about the film, the soundtrack is undoubtedly a highlight, so there's no way we could create a definitive release without it. As a result, we're bundling the film's original soundtrack containing the Japanese version on CD for you to enjoy and keep.
A3 Poster – You can still find our theatrical promotional posters around London and elsewhere at the time of writing, and now you can have a replica on your own wall with a bundled A3 version of that great poster artwork!
60-page book – It wouldn't be an Anime Limited release without a quality booklet included, and our Deluxe Edition will include this 60-page tome crammed with interviews, information, lyrics and artwork from the film.
16 Double-sided art cards – With so many incredible pieces of striking art work, we simply didn't want to leave anything out, which has led to us creating a series of sixteen double-sided art cards to provide it all for your admiration. Additional, one of these cards is individually numbered and serialised to make your copy of the Deluxe Edition completely unique!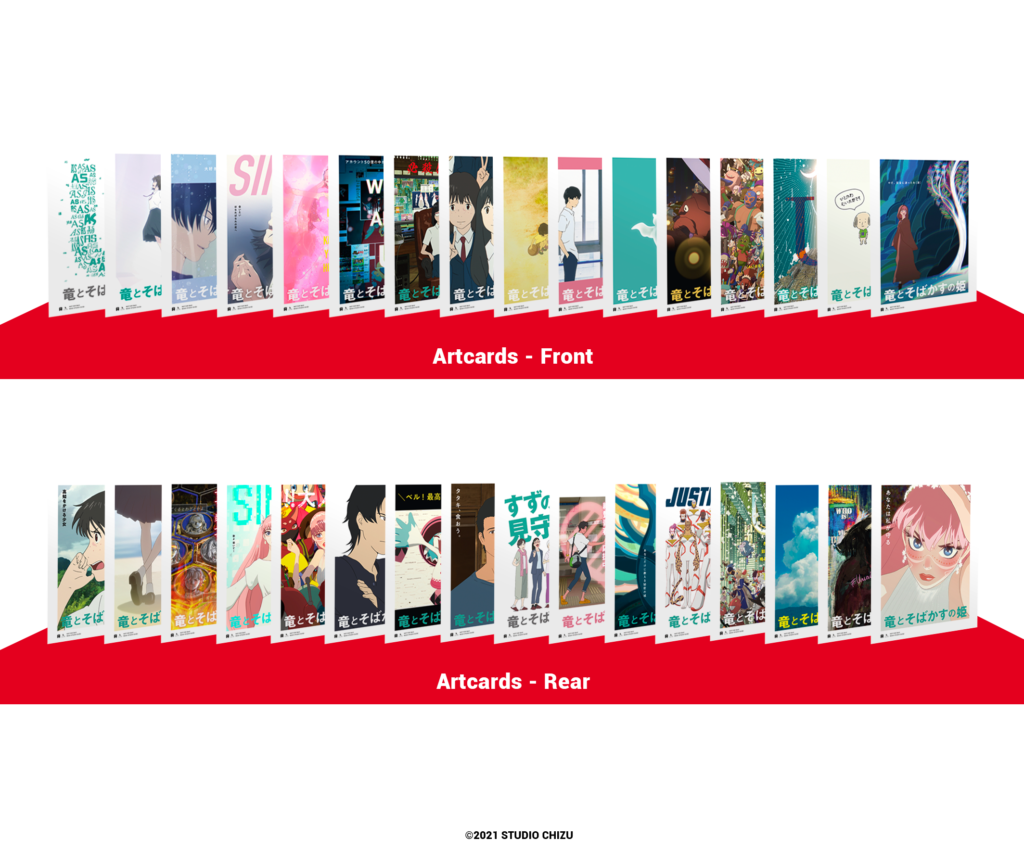 And there you have it, everything you need to know about our home video release of BELLE. Are you ready to pre-order? Be sure to swing by our AllTheAnime.com store on Thursday April 28th at 5PM. We'll see you then!
If you don't want to miss any information about this release, or any of our other releases in the future, then why not sign up to our newsletter to ensure you always get the latest news straight to your mailbox?
Tagged with:

5 comments
Darius Washington

April 12, 2022 12:43 pm

What are the prices?

Andy Hanley

April 12, 2022 12:44 pm

Provisional prices are noted in all the linked product listings in the article for these editions.

Alex

April 25, 2022 10:10 am

Will it be available to pre Oder on Amazon and iTunes on the April 28th

Jon D

April 21, 2022 1:52 pm

You absolute wonderous legends! Yes! Yes!! Yes!!! Oh, I am so ****ing happy at this decision! It'll be worth every single penny to get the 4K version of this film later this year! Wow!! I cannote wait!! Woohoo!!!!

gramont

April 22, 2022 12:36 pm

Bonjour pouvez vous me dire si le blu ray sera en VF SVP merci