Blue Giant
November 1, 2023 · 0 comments
By Shelley Pallis.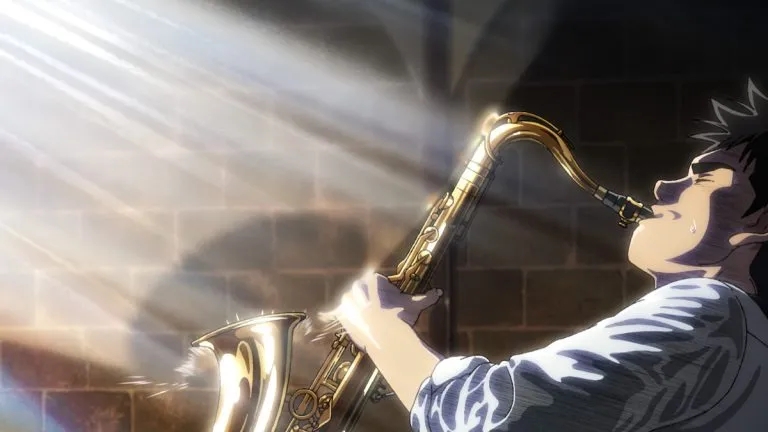 Country boy Dai Miyamoto (voiced by Yuki Tamada) moves to the big city of Tokyo in the hope of making it big as a jazz saxophonist. The end. But this is jazz – it's not where you're going, it's how you get there…
Blue Giant, in its anime form, is merely a fragment of the long-running manga series by Shinji Ishizuka, which began over a decade ago in the pages of Big Comic magazine. The early pages of the manga focussed on Dai's discovery of music as a small-town boy in Sendai, and his tribulations as he scrimped and saved to be able to afford a saxophone in the first place. It takes many chapters before he graduates from his hometown and sets off to find his fortune in Tokyo, although the manga continues beyond the events of this film, catapulting Dai out of Japan and off to the United States, where he finds a whole new set of adventures at the prestigious real-world Berklee College of Music.
The anime version, in the meantime, focusses on a liminal moment that the manga left behind many years ago – the day when Dai made the first big leap into a jazz career, and was stuck sofa-surfing around Tokyo while he hustled for a big break that actually paid money. It's this that throws him into the company of Yukinori (Shotaro Mamiya) a former piano prodigy old before his time, prickly with those less talented or privileged than himself, and almost ready to give up the jazz game entirely. In search of a drummer to make them a viable trio, the pair enlist Dai's buddy Shunji (Amane Okayama), a failed footballer with zero musical experience. Each of them has a different philosophical approach to their music – Shunji just wants to be with his friends, Yukinori wants to be the best, but Dai wants to learn on the job and become a better musician.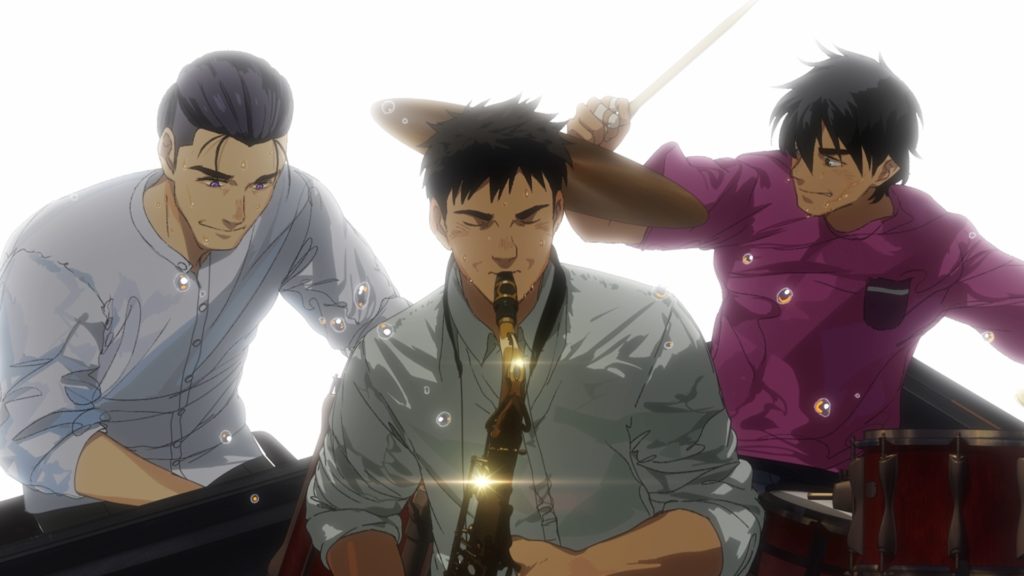 "The most important thing about this project is a response to one of the protagonist's lines," said director Yuzuru Tachikawa in an Annecy interview with Crunchyroll's Mohamed Mir, "which states very strongly that the best musicians… are those who manage to convey their emotions through music. I wanted to succeed in expressing the emotions of the characters through sound, music and animation. Jazz has the particularity of not having words, so I could not rely on the dimension of language."
Blue Giant has become something of a jazz emissary in Japan, with its manga releases coming tied to music lesson promotions, a compilation CD of jazz greats picked out by the artist Ishizuka, and even a tie-up with Brooks Brothers, based on one of Dai's most famous quotes: "A white shirt is proof you're a jazz man!" The anime keeps up this ambassadorial role, stopping the drama repeatedly in order to capture concert performances and jam sessions by its leads. It also feeds into a rich media mix, with screenwriter Eito Namba ("Number 8") penning an entire novel, Piano Man, which focusses solely on the character of Yukinori.
"The main character, Dai, is always strong and straightforward," Namba told Ryo Takayama in Tokion magazine. "On the other hand, Yukinori, a pianist, appears to be strong, but inside, he has a lot of pain that he does not show to others. But we all have such problems and distress, don't we? Yukinori has the kind of instability of body and mind that young people his age face. He wants to be kind but can't, tries to make himself look cool, and sometimes acts diffident, which is all part of the charm of Yukie. We all go through that phase, right? As for me, there are many experiences I don't even want to remember. When I first moved to Tokyo, I tried to overextend myself, thinking: 'I mustn't lose to the people from Tokyo!'"
In his animation style, director Tachikawa also appears to make the controversial decision to replicate jazz in a different form, by mixing and matching his materials and methods. There are scenes in Blue Giant where the animation leaps from scrappy, impressionistic hand-drawn 2D, to ToonShaded computer animation, to full-on 3DCG and back again.
"The main reason that led us to use 3D for concert scenes is the camerawork," explains Tachikawa. "I wanted to be able to reconstruct the most dynamic visual language and camera movements possible. It is more difficult to represent scenes of musical performance with traditional drawing, it requires a lot of time and a particular effort. It's really very long and delicate, so it also allowed us to keep control over the quality of the image."
For some viewers, it might be seen as an artful, visual evocation of the way that jazz itself disrupts and transforms its medium; your mileage may vary. Jazz musicians, however, seem unanimous, even down to the use of performance capture from well-known players – the saxophone pieces in the film were all based off recordings from professional musician Tomoaki Baba, who claimed the hardest part for him was investing his music with the character of Dai, as he knew him from the manga, rather than his own musical personality.
Blue Giant is screening in competition at Scotland Loves Anime.