Books: Chinese Movie Mags
September 11, 2020 · 0 comments
By Jasper Sharp.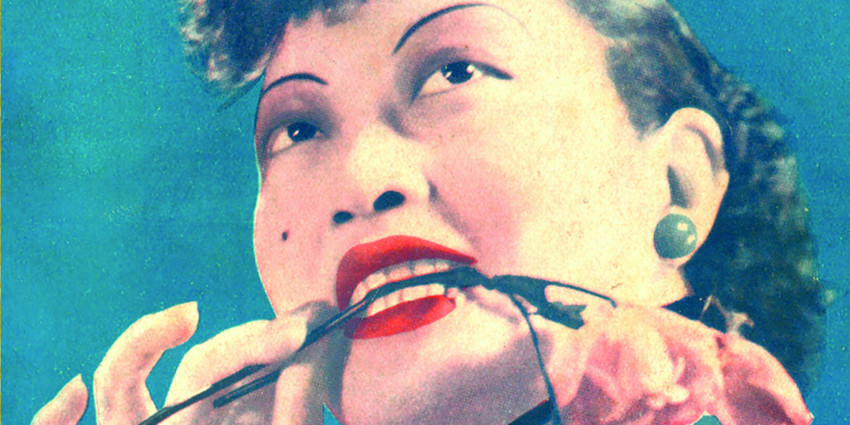 In these days of cosplay conventions and K-drama and Chinese sci-fi blockbusters on Netflix, it is easy to forget how little access to – and, let's face it, interest in – Asian popular culture the West had for the vast bulk of the twentieth century. Not so in the other direction, however, as is suggested by the title of Chinese Movie Magazines: From Charlie Chaplin to Chairman Mao, 1921-1951, a glorious 288-page all-colour compendium of early movie magazine covers collected and curated by the Hong Kong-based Paul Fonoroff, which vividly evokes three decades of seismic cultural change in China.
With the movies providing the main window into American culture around the world, it was Hollywood that provided the main model for the industry's genesis and rapid expansion. Following the country's first feature-length productions in 1921 came the inevitable development of a print culture that forged its own pantheon of stars in the local firmament while also deifying the top talents of Tinseltown. Sadly, precious few traces of the Eastern product ever made it to the West, and very little primary evidence from China's earliest decades of filmmaking survives today, which makes the visual material gathered here all the more valuable and redolent of a bygone age.
The earliest illustration in the book comes from the third and final issue of The Motion Picture Review (or Yingxi Zazhi). Established in Shanghai in April 1921, this short-lived publication was China's first dedicated to the movies, and its final two issues were published by China's first genuine film studio, Star Motion Picture Producing Company (Mingxing). The illustration of the chortling top-hat-and-tailed figure with a moustache standing against a Chinese backdrop that adorned this May 1922 issue served not only to announce the local release of Charlie Chaplin's Pay Day, but also of Star's first production, A Visit to China (1922), starring a British Chaplin impersonator named Ritchie Bell.
Chaplin's popularity endured with Chinese audiences at least until his visit to the country in 1936, which is more than one can say of some of his contemporaries. Harold Lloyd was also a favourite for a while, until the release of Welcome Danger (1929), when its depiction of San Francisco's Chinatown, riddled with crime, sparked off riots upon its Shanghai opening in February 1931 and led to Movie Weekly (Yingxi Chunqiu) running a mocking cover image daring the silent comic to visit China.
Shanghai was quite the magnet for visiting Hollywood stars of the era. By this time, Douglas Fairbanks had already made two trips with his wife Mary Pickford, who herself graced the cover of the December 1930 issue of Silverland Sports World (Xin Yinxing Yu Tiyu).
Indeed, Hollywood stars dominated in this first decade. Clara Bow scored a big hit when her 'It' was phonetically approximated as 'Yit'  in spoken Cantonese, meaning 'hot', and Flapperdom briefly found a new haven in the East. Lillian Gish managed to retain her appeal even after the furore surrounding D.W. Griffith's depiction of the Chinese in Broken Blossoms (1919): hers was the cover portrait on the June 1925 issue of Motion Picture World.
Not so Anna May Wong, whose role in Von Sternberg's Shanghai Express provoked harsh criticism in the June 1932 issue of Movie & Modern News (Yinmu Yu Modeng), among many other places. The film was quickly banned, and its producer Paramount's license to show films in China temporarily suspended.
Ironically, the woman often described as the most famous Chinese actress in the world, along with virtually everyone else involved in this film shot on an LA backlot, had yet to even visit China, as Sternberg himself admitted in his 1965 autobiography Fun in a Chinese Laundry (a notable exception being the cinematographer James Wong Howe, who provided footage shot during a much earlier visit in 1928). Despite the controversy, Chinese Movie Magazines provides evidence of ample coverage in publications like Variety Weekly (Yule Zahoubou) and Movietone (Diansheng) of Anna May Wong's return "to the homeland she had never before visited" in February 1936, the same year as Chaplin.
By this point, however, the spotlight had moved towards more local talent. Presumably, the introduction of the talkies had some bearing on this, as much as the 1930 merging of a number of regional companies into the nationwide giant United Photoplay Service (UPS). In 1929, Al Jolson's The Singing Fool premiered in Hong Kong, which had established itself as a major regional hub for foreign film sales and distribution at an early stage in Chinese film history, while the first talkie to screen in Macao came later in 1931. However, in these early days, the English dialogue was usually un-subtitled, thus requiring lavish souvenir pamphlets relaying the plot and details, such as song lyrics for foreign musicals such as Ernst Lubitsch's The Love Parade (1929), which made a star out of Maurice Chevalier upon its Chinese release.
Fonoroff's book goes way beyond merely painting a portrait of China's more cosmopolitan regional centres as sites of reception for Western cultural products. It is also provides a vivid guide to the evolution of China's homegrown industry. Movie Weekly (Yingxi Shenghuo) celebrated the release in March 1931 of the first Chinese sound-on-disk film, The Singing Peony, with a full cover portrait of its star, Butterfly Wu. A few months later, came the first more technically advanced sound-on-film production, Peace After Storm (1931), ironically filmed in Japan due to the lack of the required technology in China.
It is with the Chinese star portraits and Fonoroff's expository text that book is at its most beguiling, revealing a local film culture as colourful, hedonistic and downright scandalous as anything in Kenneth Anger's Hollywood Babylon books. One of the first stars launched by the Star company, Zhang Zhiyun, was reduced to begging on the streets after her career peaked with the 1927 film For Her Father's Sake. Xu Su'e, among the first movie magazine cover stars, died just aged twenty-six in Japan's 1932 invasion of Shanghai. The "scandalous love life" of Cantonese opera star Sit Kok-sen saw him temporarily changing his name and fleeing to Shanghai, before later founding the Ideal Motion Picture Company (Feifei).
Zhu Fei, the male lead of China's second "second on disc" talkie The Singing Beauty (1931) promoted in Movie Weekly as "The Chinese It Boy!", "The Oriental Adonis" and "The Far Eastern Valentino",  succumbed to opium, aged just 32, within four years of the film's release, while other drug casualties include Yan Yuexian, as life imitated art after playing the lead role of "a good-time girl who ditches her husband and child for a life of ruinous decadence" in Flower of Spring (1932), and Yang Naimei, for whom The Romance of the Opera (1932) represented "an upward swing in a seesawing career hampered by addictions to opium and gambling" and who would, two decades later, also be reported begging on the streets.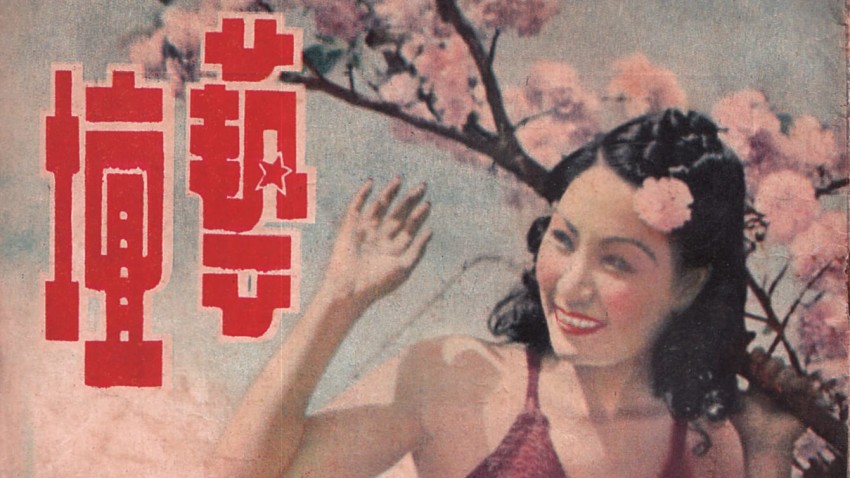 Even playing a drug addict led to tragedy in the case of Zhao Huishen. Her sole film appearance, in Street Angel (1937), saw her play one of two refugee sisters, fleeing Japanese invasion and forced into a life of Shanghai prostitution. Her career was so marred by these associations that she was persecuted during the Cultural Revolution thirty years later, which led to her suicide.
There are other intriguing examples of performers whose careers followed a less turbulent trajectories. It was fascinating to learn of the Missouri-born Olive Young (Yang Aili), for example, who headed to China where she appeared in a number of features such as The Flapper's Downfall (1927) for a studio, Great Wall (Changcheng), funded by an enterprise of Chinese based in Brooklyn. She returned to America to seek fame and fortune in Hollywood during the 1930s, where she appeared in a few small roles.
There was Chin Tsi-ang, an actress who rose to fame playing swordswomen in early wuxia fantasy action serials before the banning of this popular genre in 1931 for promoting superstition, subversion against authority and individual heroism. Chin did at least return to the screen as a bit player, eventually chalking up several hundred credits and perpetuating a martial arts lineage that came to include her grandson, Sammo Hung.
Meanwhile Li Dandan soared onwards up and upwards. After playing the titular character of Mulan Joins the Army (1928), at the age of just sixteen, she found a new vocation as the first licensed Chinese aviatrix, in which capacity she made it to Hollywood to appear under her real-life name of Lee Ya-Ching in Frank Borzage's Dark Passage (1939). Whether this would have been seen back home is a matter of debate, due to the banning of Hollywood films in Japanese-occupied China in the wake of the commencement of the Sino-Japanese War in 1937.
Also covered is the output of the Japanese-run Man'ei studios and its star Li Xianglan/Ri Koran/Yoshiko Yamaguchi and the tantalising early output of the studio Hsin Hwa (Xinhua), or the New China Film Company. Frustratingly, due to so few of these pre-war Chinese offerings being widely circulated overseas at the time of their release, little has survived the upheavals of war and the Cultural Revolution. Song at Midnight (1937), Hsin Hwa's riff on The Phantom of the Opera, described as China's first-ever horror film, is fortunately one of the few titles that have survived, as has The Stormy Night (1925), among the earliest extant Chinese films, a print of which was discovered in Tokyo, and The Spider Cave (1927), adapted from the celebrated tale Journey to the West (Xiyou ji) and a rare surviving example of the shenguai genre of silent films featuring demons and other fantastical beings. For some reason, this screened in Oslo in 1929, where the print was discovered.
I have covered but a fraction of the fascinating history in this book, but one cannot go without mentioning the book's most obvious selling point, which is the rich, evocative and remarkably varied graphic design of these magazines, and to this end it only seems fair to return to the beginning from where I ended with the mention of Journey to the West – because the design editor of the 1922 Motion Picture Review featuring Charlie Chaplin was the 21-year-old Zhang Guangyu, who would be responsible for the art design on one of China's most historically important and influential contributions to the field of animation, Uproar in Heaven (1961), based on the same literary source.
Chinese Movie Magazines: From Charlie Chaplin to Chairman Mao, 1921-1951, by Paul Fonoroff, is published by Thames and Hudson.