by Chris Perkins.
Dagashi Kashi starts, as these things so often do, when a mysterious and beautiful stranger walks into our hero's life. In this case, our hero is Kokonotsu, (affectionately known as Coconut by his friends and family) an aspiring manga creator in a country town. His gregarious father, meanwhile, wants Coconut to take over the family business, which is a Dagashiya – a traditional Japanese sweet shop. The beautiful newcomer, Hotaru Shidare, is the heir to a major confectionery firm. It's not Coconut she has come to see, it turns out, but his Dad – in fact, she has come to offer him a job. But pops turns her down, saying that until Kokonotsu, agrees to take on the business, he doesn't dare leave. So a deal is struck – he will take the job if Hotaru can somehow convince Kokonotsu to take over the store full time.
Hotaru promptly takes up residence in the village, visiting Kokonotsu, every day to try and sell him on the delights of dagashi. From such unconventional beginnings, Hotaru and Coconut begin to strike up a friendship – and maybe something more.
Dagashi Kashi is a slice-of-life comedy that made its debut in the 2016 winter anime season.  It was adapted from the (as yet untranslated) manga by Kotoyama, which was serialised in Weekly Shonen Sunday from June 2014 to March 2018.
The anime was directed by Blood Blockade Battlefront & Beyond's Shigehito Takayanagi, with character designs by Kanetoshi Kamimoto. Animation production was by feel. A second season followed in 2018, with Tezuka Productions taking over and a new creative team at the head.
The series has a laid-back, summery vibe that suits the rural feel of the series. A summer setting might also help explain why none of the teen protagonists seem to be inconvenienced by having to attend school at any time during the series.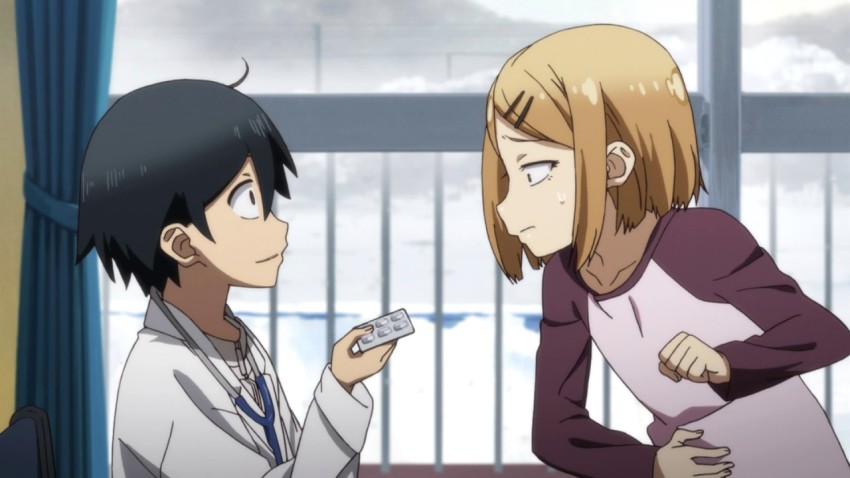 Much of the appeal of the series lies in the character of Hotaru. She is very visually distinctive, with an eccentric dress-sense. Her trademark outfit, with its red bow tie, red nails, frilly blouse and black-flower headband could possibly be described as "business goth." Her purple hair also makes her stand out amongst the more naturalistic colouring of the village folk.  Yet, despite her fan-service-friendly figure, her most distinctive physical features are probably her eyes, with the spirals in her pupils giving her a distinctive wild eyed look. She has become a firm fan favourite, featuring on a wide range of merchandise and inspiring legions of fan-artists and cosplayers the world over.
Her appearance suits her personality, too.  Eccentric and impulsive, whenever she's around you can't be sure what she's going to do next. She is also incredibly passionate (to the point of obsession) about dagashi. She is incredibly knowledgeable too, coming across almost as a walking encyclopaedia at times. While frequent sequences of Hotaru lecturing Coconut (and the audience) about the virtues and histories of various sweet treats could easily feel more infomercial than show, it never quite crosses that line.
For the Japanese audience, the series has an in built sense of nostalgia. The kind of sweet shop seen in the series are a real tradition. Although they date back all the way to the Edo era, dagashiya really took off in the post-war boom era. In modern times, dagishiya establishments are becoming increasingly rare, pushed out by convenience stores and supermarkets. However, they can still be found dotted around the country – and today there are around 50 in the Tokyo area alone. One of these, named Kami-kawaguchiya, has been trading since 1781, and inspired the dagishiya seen in Isao Takahata's film Only Yesterday.
Dagashi, in the show and in reality alike, are cheap sweets and snacks that kids can afford with their pocket money. They often come with bright and colourful packaging featuring mascots and are sometimes packed in with free gifts or prizes. They include sweets and chocolates, but also drinks, cakes, doughnuts and even ramen. Some are even made from dried fish!
Over the course of the series we see numerous different kinds of dagashi inspired by their real-life counterparts. These include such delightful items as 'poop candy' and bomb ice-cream (or is that boob ice-cream?).
While the sense of nostalgia may be lost somewhat on non-Japanese audiences, it's easy enough for British audiences who spent their youths visiting sweet-shops to identify with. And with Japanese snacks available via some online retailers, interested viewers can even get to sample the real thing for themselves.
Each episode of the twelve-episode first season is divided into two named segments. This mimics the short-form nature of the manga, and suits the fast-moving nature of the show. The second season fully embraces the short format, consisting of twelve eleven minute episodes.
Even If you couldn't care less about the dagashi themselves, Dagashi Kashi remains an enjoyable concoction. With eye-catching animation, lots of comedy and a hint of romance Dagashi Kashi is an irresistible sweet treat you can eat between meals without ruining your appetite!
Dagashi Kashi is streaming in the UK on FunimationNow.