Free! Eternal Summer
June 5, 2016 · 0 comments
By Andy Hanley.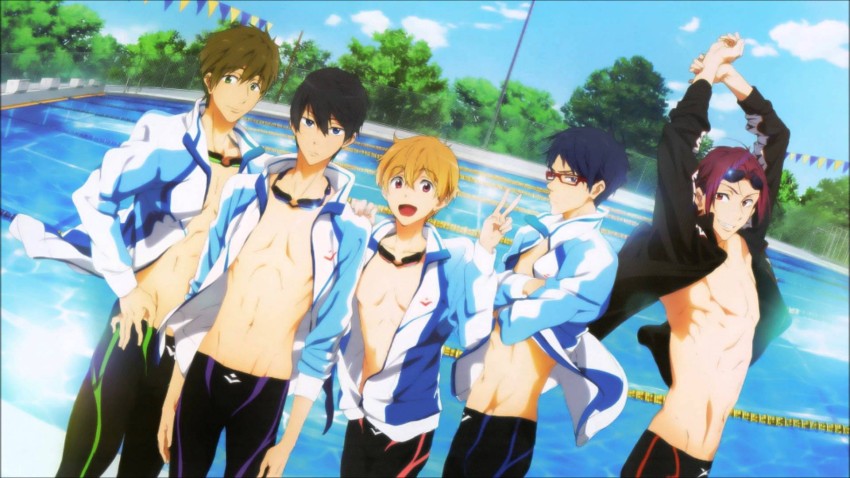 If ever you want an example of how to build hype around an anime series, you could do worse than to take a leaf from the playbook of Kyoto Animation. In March 2013 a short, 30-second promotional video produced by off-shoot Animation Do appeared on television and online. Social media was ablaze with discussion and speculation (not to mention ill-considered outrage from some quarters at the possibility of this beloved studio making an anime that wasn't squarely targeted at them), and petitions were quickly posted urging the studio to take this simple video of four musclebound young boys by a swimming pool and expand it out into a full anime series. One suspects that to do just that was the plan all along; later that year Free! – Iwatobi Swim Club arrived on the scene.
At its core, Free thrives on the kind of story which KyoAni has proved so adept at handling in recent years – friendship as it revolves around the members of an after-school club. In this case, it's the defunct swimming club, resurrected by a trio of elementary school friends finally reunited at Iwatobi High. Unsurprisingly, a hunt for the mandatory fourth member ensues – school clubs have a minimum membership requirement – as well as the search for a manager, all while the group rekindle their old friendships and solidify new ones.
Beyond this after-school club setting, Free also has all of the trappings of a traditional sports anime, with the friendship-cum-rivalry between protagonist Haruka Nanase and Samezuka Academy's Rin Matsuoka. Once friends and teammates at elementary school, much has changed in the intervening period – while Haru simply swims for fun (or "free" as the anime would have it), Rin is hungry for victory whenever he sets foot in the pool, hell-bent on a professional career as a competitive swimmer.
It's the relationship between Rin and Haru that underpins the series – an understanding that seems more likely to come from actions rather than words given Haru's taciturn nature and Rin's belligerence.
There's no shortage of visual beauty to be found in Free – not just in the chiselled bodies and perfectly toned muscles of the show's cast (itself the fascination of the swimming club's female manager Gou), but also in the attention to detail afforded the act of swimming itself. The movement of both man and water is truly a sight to behold, as the former glides through the rippling, undulating surfaces of pristine pools. Kyoto Animation's powerhouse reputation is well-deserved, and Free is a great example of the studio in its prime.
The success of Free brought with it a second season. While the drama of its first series was often rooted in its cast's past, Eternal Summer frequently finds them looking to the future. Impending graduation leaves questions hanging over many of the characters and adds a different element of personal drama into its mix, while a new transfer student at Samezuka Academy reignites old friendships and rivalries in equal measure. Everything that made Free so enjoyable is still here in equal measure (and the quality of its animation has arguably even improved), yet there's enough of a new flavour to. There's more to come, too, with prequel film High Speed enjoying a Japanese theatrical release late in 2015, adapting the original light novel upon which the entire franchise is based.
It would be easy to be reductive about Free and dismiss it as a "fan service show" or "just for girls", but, as self-aware as the series is about its target audience, that would ignore its universal appeal, that speaks to anime fans of any gender. From sporting endeavour through to the power of friendship, its recognisable themes are treated smartly (if sometimes idealistically) throughout and never cease to be entertaining, and no amount of bare male torsos and glistening six-packs can detract from that.
Andy Hanley is the editor in chief of UK-Anime.Net. Free! Eternal Summer is released in the UK by Anime Limited.