by Jeremy Clarke.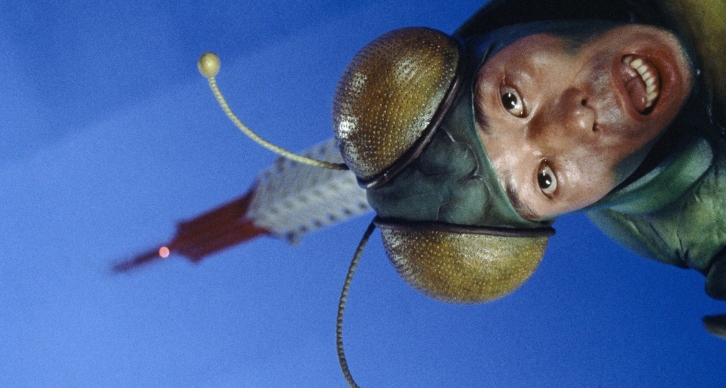 Getting Any? (1995) is Takeshi Kitano's sex comedy, made around the time he was being feted in the UK as the maker of hardboiled yakuza and more lyrical arthouse movies. It didn't fit the perception of him at the time and never got a UK theatrical release. However, it remains a fascinating piece of work.
Back in 1993, ICA Projects released yakuza thriller Sonatine by then largely unknown director and star Takeshi Kitano. He was already well known in Japan originally as one half of the comedy duo Two Beat, and subsequently as the host of popular physical endurance TV game show Takeshi's Castle. After Sonatine proved something of an international breakthrough, ICA Projects continued to promote the director via theatrical releases of his debut Violent Cop (1990) and his stand-up comedian tale Kids Return (1996). Such a champining encouraged larger UK cinema distributors to release such subsequent films as Hana-Bi (1997), Kikujiro (1999) and Dolls (2002) while earlier works Boiling Point (1990) and A Scene At The Sea (1991) appeared on video.
Thus Kitano was established in the UK as the director both of yakuza films and more poignant, lyrical fare. Indeed, the ICA originally touted Sonatine as combining the genre sensibilities of Violent Cop with the more lyrical feel of A Scene at the Sea, a moving story of a deaf mute who takes up surfing in which Kitano himself doesn't appear. It was also the first Kitano-directed film to feature a score by regular Miyazaki composer Joe Hisaishi with whom the director collaborated on almost every film up to Dolls. That one exception was also the film which belligerently refused to fit the ICA's branding. Their distribution arm steered well clear of his comedy Getting Any? (1994) which had very bad word-of-mouth in the UK distribution industry. Not even a screening at the London Film Festival, which had first exposed Kitano as a director to the UK, could help it.
Getting Any?'s starting point of a man desperate to get laid becomes the springboard for a series of sketches about cars, bank robbery, in-flight airline entertainment, samurai movies, yakuza, invisible men and giant monsters. It lacks the coherence of music business satire Love and Peace (2015), which likewise plunders the kaiju genre. Getting Any? nevertheless hangs together as a reasonably satisfying viewing experience.
Based around hapless loner Asao, it's an odd mixture of quick-fire sight gags and longer, more involved sketches. The gags are typified by the bank robber who orders a lady cashier to lower the shutter to cover the windows between him and the street only to find a partition dropping in between him on one side of the counter and her on the other. The longer, more involved sketches are epitomized by our hero's investigating passenger flights in search of salacious in-flight entertainment, subsequent involvement with yakuza outside the airfield to be mistaken for Branded to Kill's Joe Shishido and becoming embroiled in a turf war between two rival gangs.
Unlike the films that made his name in this period, Kitano himself doesn't appear in the lead role, although he does have a bit-part in the penultimate sketch. Asao is played by "Danken", who had a small part in Boiling Point and would go on to appear in such further low-budget auteurist fare as Kiyoshi Kurosawa's Eyes of the Spider (1998), Takashi Shimizu's Ju-on: The Curse 2 (2000) and Takashi Miike's Dead Or Alive (2002). He's also in a gem he co-wrote called Suicide Bus/Ikinai (1998) about a coachload of failing businessmen attempting suicide.
Women in Asao's imagination exist for little more than willing acquiesence to sex on car back-seats or removing clothes to expose their breasts. Outside Asao's head, women quite reasonably wander nude around female bath houses where invisibility allows him rather less reasonably to ogle them at will. Perhaps more tellingly, a woman cashier foils one of our hero's attempted bank robberies via the humiliation of insisting he take a ticket and wait like everybody else. Much of the film however takes place among male characters, including a yakuza boss who dresses like a starlet and a male pilot who improvises an in-flight girlie show with himself as the main and indeed sole attraction. The film doesn't deal so much with women as with a limited and juvenile male view of them.
As Sean Redmond, the author of The Cinema of Takeshi Kitano: Flowering Blood, notes on his sometimes fascinating commentary, Danken's deliberately blank performance invests Asao with an ongoing demeanour of sadness. His various daydream-inspired attempts at sexual gratification ultimately end via a pastiche of the fusion sequence in Cronenberg's The Fly (1986) as the gargantuan Flyman lured atop a massive pile of dung then beaten by a giant fly swatter. Or in the form of Grasshopperman who impales himself atop the phallic Tokyo Tower if you prefer the alternative, post-credits ending which references the seminal moon silhouette image from Spielberg's E.T. (1982).
En route, there are sideswipes at Akira Kurosawa, samurai movies and Zatoichi the blind swordsman, a character Kitano would later play himself when he made his own Zatoichi film in 2003. Towards the end there's also a sequence where two scientists' enlist Asao as an experimental subject to turn him into an invisible man. Kitano himself plays Prof. Tachibana, the senior of two scientists, sporting a haircut stolen from Moe of the Three Stooges and dreaming of himself winning the Nobel Prize for his work. The director has referred to Getting Any? as one of his personal favourites among his own films. While reaction to it was muted both at home and abroad on release, it remains fascinating viewing for the Kitano completist.
Getting Any? is out now on Blu-ray from Third Window.