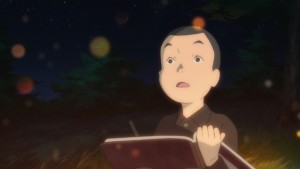 Hot off the heels of a great year for the film, Giovanni's Island continues to rack up award after award – as well as praise – for this incredibly touching film.
This award from the Future Film Festival marks the 15th prize Giovanni's Island has received so far, making it the most awarded film in Production I.G's history! The FFF jury had this to say about the film:
"For the scriptwriting quality, the twist between private emotions and greater historical events, the elegance, the poetic touch and the epic scale. Animation visuals are perfectly functional to the story, and have the strength to convey great emotions to adults and children alike."
We are thrilled to hear that Giovanni's Island continues to rack up the awards from its various premieres and festival showings. We here at Anime Limited HQ extend our warmest congratulations to director Mizuho Nishikubo and Production I.G!
In case you missed it, here is a list of awards won by Giovanni's Island:
Jury Distinction, 38th Annecy Animation Film Festival (2014)
Satoshi Kon Award, 18th Fantasia Film Festival (2014)
Audience Award, 18th Fantasia Film Festival (2014)
Jury Special Mention, 13th Nueva Mirada (2014)
Jury Award, 5th Scotland Loves Animation (2014)
Children's Jury Prize, 31st Chicago Int'l Children's Film Festival (2014)
Adult Jury Prize, 31st Chicago Int'l Children's Film Festival (2014)
Excellence Prize, 18th Japan Media Arts Festival (2014)
Excellence Prize, 38th Japan Academy Prizes (2015)
Best Animated Film, 69th Mainichi Film Awards (2015)
Public Award for Best Animated Feature Film, 9th Navarra Anime Festival (2015)
BeTV Award for Best Animated Film, 34th Anima Film Festival (2015)
Jury Honorable Mention, 15th Monstra – Lisbon Animated Film Festival (2015)
Adult Jury Best Picture Award, 18th Reel 2 Real Film Festival for Youth (2015)
Platinum Grand Prize for Best Feature Film,17th Future Film Festival (2015)
Here's what people had to say about Giovanni's Island
"In a manner relatively uncommon for animation, Giovanni's Island deals in historical events including occupations, deportations and concentration camps (…). It's a brave choice that works much as The Book Thief or The Diary of Anne Frank have done, offering young viewers a window of understanding into incomprehensible events." (Variety)
"A timeless drama." (NYICFF)
"A touching work of wisdom and poetry. Superb." (Le Figaro Magazine)
"Charming." (The Times)
"Affecting." (The Guardian)
"Enchanting." (Première)
"Blends different styles with poetic charm." (Studio Ciné Live)
"This historical melodrama is a superior work of animation." (Fantasia Film Festival)
"Powerful, humane and unexpectedly magical." (Melbourne IFF)
"An example of the finest in contemporary Japanese anime." (Discovery Film Festival)
"An incredibly affecting story, incredibly well told – this is surely a future classic that will be spoken of for decades to come." (UK Anime Network)
"To call it stunning would be an understatement." (Playback)
About Giovanni's Island
In the aftermath of the most devastating conflict mankind had ever experienced, the tiny island of Shikotan became part of the Sakhalin Oblast… and on this forgotten border in a remote corner of the world, friendship among children from two different countries timidly blossomed, striving to overcome language barriers and the waves of history. Based on true events.
Giovanni's Island is available now on Amazon UK and our on our shop!