Gundam: The Origin
April 16, 2015 · 1 comment
By Andrew Osmond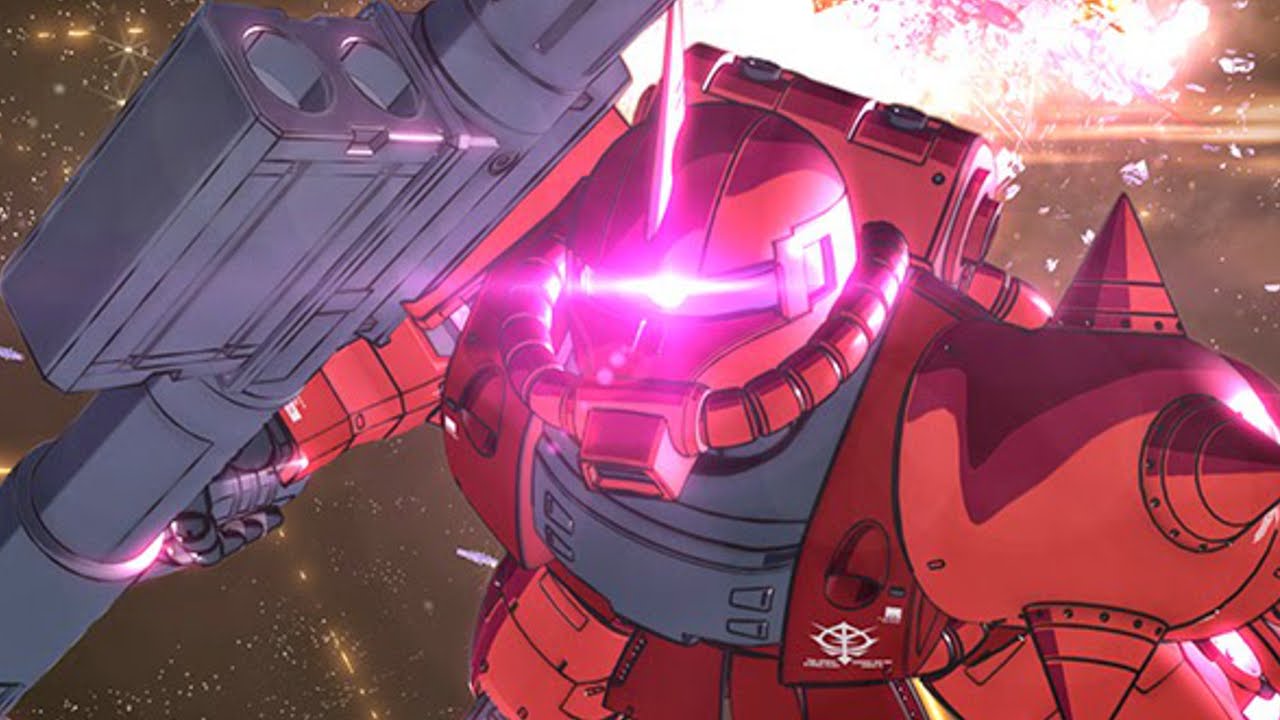 Gundam is the greatest anime franchise, 36 years of warriors duelling in giant metal suits of armour, finding death or glory across several different histories and universes. Gundam: The Origin rewinds to the first Gundam in 1979, which envisaged a space war without aliens, fought between Earthlings and off-world humans, where both sides have heroes and monsters in their ranks. The Origin starts with a spectacular 21st century re-envisioning of that conflict, as a huge spaceship armada is attacked by a few robot-suited fighters, led by a mad genius in a blood-red mecha…
… And then we rewind further still, a decade earlier, for the backstory of that genius. We meet him as a child aged eleven, growing up on an artificial space habitat ("Side 3"). His name at this point is Casval, the son of a firebrand, wild-eyed politician who dies at a podium minutes into the story, plainly murdered. From this point, Casval, his mother and little sister find themselves in the middle of a violent power-struggle between rival families. "The political situation is about to turn into a bloodbath!" snaps a clan tyrant, before he's obliterated Godfather-style by a car bomb. Yet even with such dangers, young Casval isn't prepared to be a meek follower of the grown-ups. In him beats the heart of an avenger, an Alexander, and the people who underestimate him will regret it…
For fans who know the original 1979 Gundam series (or, more likely, the film trilogy based on it in the early 1980s), Gundam: The Origin brings back many old friends – or rather, it introduces those characters' younger selves. Foremost is Casval, better known in Gundam by his adult name Char Aznable, who's one of the most famous characters in SF anime. Typically for Japanese animation, Char was technically the adversary in the 1979 series, the anti-hero, but his genius and dashing charisma made him a hero for the fans. In 2000, there was a massive poll to find Japanese people's anime favourites. Char was ranked the fourth greatest character, above Astro Boy or Nausicaa (Gundam itself was ranked the greatest ever anime).
In Gundam: The Origin, the boy Char-to-be is voiced by the 60-year old actress Mayumi Tanaka, taking time out from voicing Luffy in One Piece. Fans of the old Gundam will recognise several other characters. Like Casval, his cute kid sister Artesia is destined to change her name; you may remember her as Sayla Mass. Caval also has dealings with two striking women: Crowley Hamon, who becomes his protector (well, in theory – Casval's not big on being protected); and the red-haired Kycilia Zabi, who'll be one of Char's bitterest enemies. Naturally, Origin shows the start of that hate, and their first confrontation at a time when Kycilia can lift Casval off his feet.
We also see Casval earn his spurs as a warrior; naturally it's when he's riding a mecha, not a power suit yet, but rather a massive, car-crushing robot tank (this set-piece may have been influenced by a Bond film, 1995's Goldeneye with Pierce Brosnan.) Other big Gundam players in the cast include the honourable soldier Ramba Ral (who amusingly meets his match with an angry pet cat); his ranty family patriarch Jimba; and a brief appearance by the child Garma Zabi, little brother to the lethal Kycilia.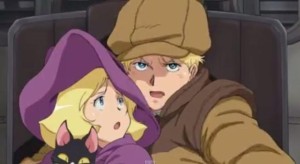 In going the prequel route, Gundam follows many other franchises, from Star Wars to the young-Batman show Gotham. But this Gundam didn't begin as a prequel; it started as an epic manga rework of the 1979 series. The strip in question was also called Gundam: The Origin, written and drawn by Yoshikazu Yasuhiko in 23 volumes between 2001 and 2011. Yasuhiko is a mecha anime legend; he cut his teeth on 1970s shows like Brave Reideen and Zambot 3, before becoming character designer on the classic 1979 Gundam. Later he directed the 1989 cinema film Venus Wars, one of the first 'manga movie' exports to Britain.
Yasuhiko's Gundam manga went places the old TV show couldn't go, including flashbacks plunging into the story of Char as Casval and the characters around him. It's these flashbacks which inspired this lavish new anime, which is planned to run four episodes; this debut hour-long film played in Japanese cinemas just a few weeks ago. Yasuhiko is credited as the anime Origin's chief director; under him is director Takashi Imanishi, whose own link with Gundam goes back to storyboarding Gundam ZZ in the mid-1980s.
They're now in production on the second part, trailered here. As well as continuing the story of siblings Casval and Artesia as they grow up, the sequel also promises something for the mecha-heads; the secret history of the development of mobile suits…
Andrew Osmond is the author of 100 Animated Feature Films. Gundam the Origin: Blue-Eyed Casval has been released on Blu-ray by Anime Limited as part of the Gundam The Origin I-IV Film Collection.
1 comments
Matthew

April 16, 2015 6:36 pm

Any plans to release this show physically? I would buy each episode separately if you did a limited edition set or something.