By Paul Browne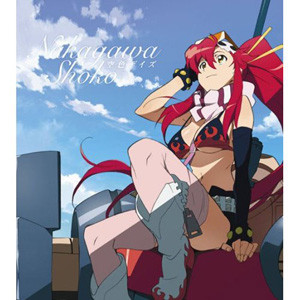 The critically acclaimed 2007 anime series Gurren Lagann won praise for its combination of traditional mecha anime with comedy and drama elements. The series was also well-equipped musically with the blistering opening theme 'Sorario Days' performed by Shoko Nakagawa.
Hailing from Tokyo, Shoko Nakagawa has worn many hats in the creative arts business: voice actress, illustrator, presenter and singer. Known by her nickname of 'Shokotan', the young Nakagawa already had creative blood care of her mother, actor and musician Katsuhiko Nakagawa.
Nakagawa has carved out a varied career in the entertainment industry, from her debut in 2001 winning the Grand Prix award at the Popolo Girl Audition, being chosen as Miss Shonen Magazine in 2002 and even displayed her illustration skills on the 2004 Fuji TV show Kangaeru Hito.
Nakagawa's musical career kicked into gear in 2006 with the release of her debut single, the euphoric J-Pop brilliance of 'Brilliant Dream'. The single, which served as the opening theme for the anime Yoshimune, sold over 6,000 copies and landed the No. 29 spot in the Oricon charts.
For 2007's Tengen Toppa Gurren Lagann (Pierce the Heavens, Gurren Lagann), Nakagawa changed gears to deliver a gritty, rock opener with catchy hooklines, over which Nakagawa's powerful vocals dominate.
The theme is a perfect fit for Gurren Lagann's dystopian vision of the future. The story takes place on an Earth dominated by Lordgenome (aka the Spiral King) in which humanity is forced to live in isolated subterranean villages. Simon and Kamina, two teenagers, utilise a mecha known as Lagann to reach the surface where they join other humans fighting back against Lordgenome.
'Sorairo Days' was released as a single in 2007 and clocked over 67,000 sales (30,000 in its first week alone). Nakagawa's association with Gurren Lagann continued with theme songs for two film versions: Gurren Lagann The Movie: Childhood's End and Gurren Lagann The Movie: The Lights in the Sky are Stars. 'Namida no Tane, Egao no Hana', which closes Childhood's End, presents both contemplative and dramatic qualities, again showcasing the diversity of Nakagawa's vocal talents.
Her debut album Big Bang!!! Arrived in 2008 and gathered together many of her anime songs, from 'Brilliant Dream' through to 'Sorairo Days'. It managed an impressive first week of sales clearing over 30,000 copies.
In 2009 Nakagawa added a lighter touch with wistful vocals for the synth melodies of 'Kokoro no Antenna' for the anime film Pokémon: Arceus and the Jewel of Life. The song has something of a technopop flavour to it, not surprising as it was composed by Haruomi 'Harry' Hosono, better known as a founding member of classic Japanese synth outfit Yellow Magic Orchestra.
Meanwhile, Nakagawa kept up her association with high profile anime titles with the intense melodic touches of 'Ray Of Light', which featured in Fullmetal Alchemist: Brotherhood (the follow-up to the popular Fullmetal Alchemist series).
Clearly a lover of anime themes generally, she also put out a series of Shokotan Cover albums, providing renditions of popular anime theme songs. Concert performances also feature live covers of classic tunes, such as K-On!'s 'Don't Say "Lazy"'.
Other anime work included a percussive theme for the series Beelzebub and in 2012 she teamed up as a guest vocalist with hard rock outfit Make-Up for the theme to Saint Seiya Omega.
Demonstrating her live action acting chops, Nakagawa also delivered a fine performance for the bonkers live adaptation of Gothic Lolita Battle Bear (click on the link, no, really, we dare you), including a hard rock edge for the vocals on theme tune 'Nuigulumar Z'.
Shoko Nakagawa has proved to be a versatile talent who has packed in a considerable output in the relatively few years she's been involved in the business. Certainly with Gurren Lagann's 'Sorairo Days' she's managed to make a lasting impression that looks like it will be delivering quality tunes for many years yet.
Paul Browne is the owner of Japanese music website J-Pop Go. Gurren Lagann is available in the UK from Anime Limited.

Order the Zavvi.com exclusive Gurren Lagann Limited Collector's Edition Blu-ray, out 13th February 2017, HERE.