by Jeremy Clarke.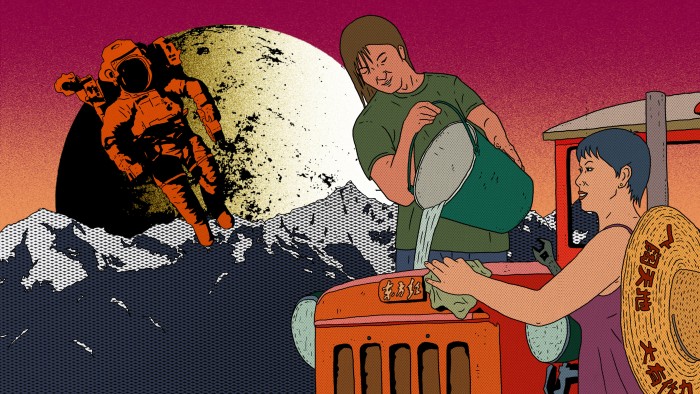 Set in an unnamed provincial town in South China, director Liu Jian's Have a Nice Day is a bleak vision of a brutal society fuelled by naked self-interest. It's hard to think of anything in animation or the wider world of cinema quite like it. The plot suggests a gangster film, but given a cast of characters which also includes ordinary people on the make, the label doesn't really do it justice. It reminded me of Quentin Tarantino's debut Reservoir Dogs, which the label most definitely fits. Like Have a Nice Day, that film seemingly came out of nowhere – Have a Nice Day was actually preceded by Liu's not dissimilar Piercing 1 which never received UK distribution. It's understandably being touted as another Pulp Fiction by its publicity people, and has a surprise factor that recalls many people's first time watching a Tarantino movie, even down to the extraordinary dialogue that peppers the exchanges between the characters. The other obvious comparison is the bleak world of the Coen Brothers' No Country for Old Men.
Have a Nice Day kicks off with a stolen bag of money, which all the characters are soon chasing. The money in the bag holds Have a Nice Day together even as it underpins the characters' thoughts, desires and actions. But Chinese banknotes also come stamped with the image of Chairman Mao – a State-sanctioned icon appearing multiple times on the object of the characters' greed.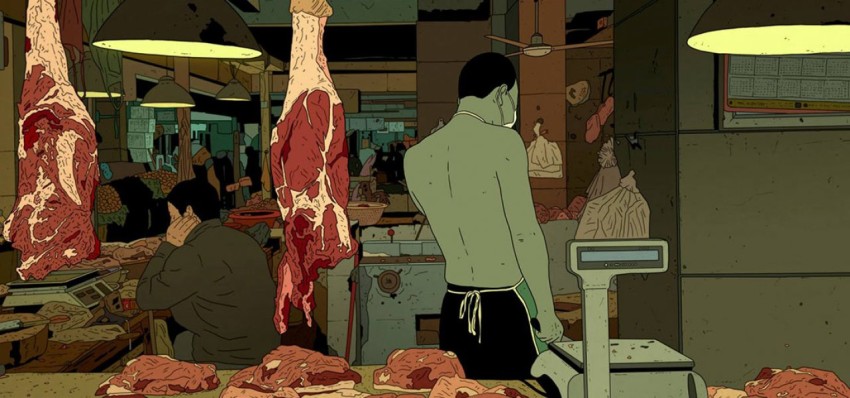 Everything happens in a drab, urban landscape, much of it at night with muted colours punctuated by crass neon outbursts. It feels like a town in decline which has never had the investment necessary to make it a pleasant place to live. Montages of static shots with no movement but occasional rapidly moving cars create a pervasive sense of desolation. As if to compound the brutality, the first theft of the bag of money takes place in a car outside a building site. Other locations include an internet cafe, a hotel room and an area of road near a speed camera. A couple, fearing that the camera has caught sight of the banknotes in their car's rear window, try to vandalise it and get an electric shock for their troubles.
Neon aside, the palette for the most part excludes any colour that might be bright or cheerful. Mob boss and director's namesake Uncle Liu has his assistant torture a painter (voiced by the director) in his studio with canvasses stacked against the walls. Behind Uncle Liu leers a painting depicting a crowd of olive green tinged men and women sporting hideous smiles and grins recalling Yue Minjun. Whatever the artist was expressing, it's not particularly sympathetic and adds to the overall malaise. The wittily named Integrity Internet Cafe is bare and functional – a reception desk and a room with basic tables and computers presided over by an attendant whose main mode of communication with users seems to be demanding payment from them. Hotel room 301 is sparser – a door, walls, a light switch and a bed. All this animation is interrupted by a still more mundane, live-action sequence of a rolling ocean surface changing from muddy sepia to sea blue.
A rare exception to the muted colour is the bright and gaudy section illustrating a couple's dream of making videos loosely based on garish Chinese propaganda. Rather than injecting any sort of relief into the proceedings, this merely serves to underscore their general vulgarity. Perhaps it's significant that, before he made animated features, Liu Jian was part of China's mid-nineties Gaudy Art movement, which appropriated images of consumerism to reflect on the disintegration of social ideals.
There's a stark, matter-of-factness to the way the characters move. Something I've long admired about Japanese animation is the way its exponents know how to cut corners without losing what's important. True, they don't always get it right and scenes of people talking when nothing more than the mouths move can be irritating. East Asia gets exposed to a lot of that material on the small screen and it seems to have worked its way into Liu Jian's head to combine with the language of live-action Hollywood. Each shot and camera placement is so carefully considered that when Liu creates a conversation between two characters, even where nothing moves but their mouths, the effect is electrifying.
It helps that he gives his characters compelling things to say. So, when Uncle Liu is talking to the bloodied artist, he insists on telling his victim a story about how when the pair of them grew up together the other wet the bed. Elsewhere, the director even incorporates both Brexit and Trump, the former in a conversation that indubitably demonstrates that ordinary people in China think Brexit an incredibly bad idea, the latter on a car radio playing a soundbite of Trump's voice shortly after defeating Clinton. Although this is China, such moments highlights the sort of economically depressed areas that make people the world over believe the government doesn't give a damn about them.
The Chinese government clearly disliked Have a Nice Day, which was pulled at the last minute from premiering at France's Annecy Festival. The French were ready to tough it out in the face of a Chinese ban, only for the producer to request the film's removal himself, to avoid reprisals against the film-makers at home. It's not hard to see the reason behind China's official displeasure. Have a Nice Day doesn't make you want to visit the area it depicts. However as an artistic vision, albeit an extremely bleak one, it's absolutely worth seeking out.
Have a Nice Day is released in UK and Irish cinemas on 23rd March 2018.