By Andrew Osmond.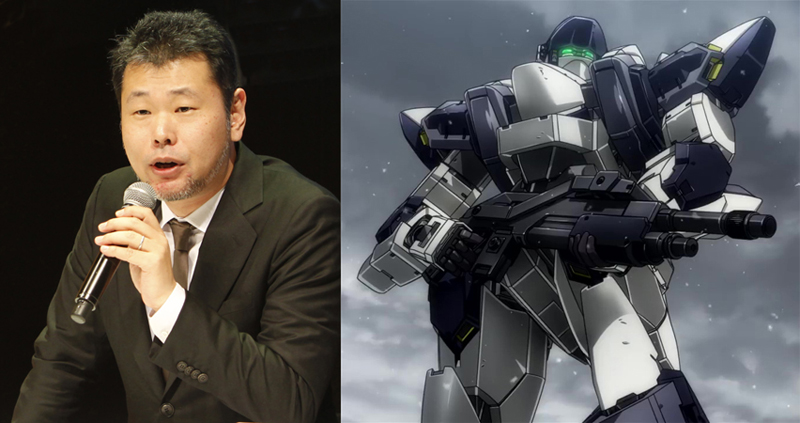 Hands up if Full Metal Panic! was among the first anime you saw. The first 24-part FMP series, introducing the tempestuously strong-willed schoolgirl Kaname and her schoolboy/soldier guardian Sosuke, was made back in 2002. It was followed a year later by the far lighter-hearted Fumoffu, while the action-orientated The Second Raid came in 2005. A gap of thirteen years followed before the anime resumed with Invisible Victory – another very action-focused series – in spring 2018.
Full Metal Panic! is based on a series of books, and AllTheAnime jumped at the chance to interview its author Shouji Gatou on his first trip to England. In contrast to the adventures of Sosuke and Kaname, Gatou says his early years were extremely average. "I was just a normal kid, so I played football, baseball, watched anime, read books… just really normal," he says. His favourite robot anime was Sunrise's Armoured Trooper Votoms, which began as a TV show in 1983.
Gatou enjoyed reading – it's no surprise he's a Tolkien fan, given the benign secret organisation in FMP is called Mithril, after the Middle-earth metal. He's also into adventure novels, citing the earlier books of Tom Clancy, Alistair Maclean (author of Where Eagles Dare) and Jack Higgins (author of The Eagle Has Landed). "Thinking about it, I seem to like British adventure novels the best!" Gatou laughs. His favourite film is that great Christmas heart-warmer, Die Hard.
Early on, Gatou worked at a board-game company, and one of its projects involved a publisher called Fujimi Fantasia Bunko, which would publish Full Metal Panic! In an early draft of the story, Gatou envisaged FMP very differently, not based around high school. "It was a version in which Sosuke was in his mid-twenties and the heroine was the class teacher, Miss Kagurazaka [who's a supporting character in the final version.] She was still a teacher in this version; the idea was they had been classmates previously."
We ask if it was Gatou's editor at Fantasia who guided the story to its final form. "The high-school element was more the direction that the publisher wanted to take, rather than the individual editor. Robot-based light novels don't really sell, so the publisher thought FMP needed the high-school element or they couldn't publish it," Gatou laughs.
The first FMP books were published twenty years ago, when there were far fewer light novels around than now. "As a rule, light novels have a target audience from junior high through to readers in their twenties," Gatou says. "With Fantasia in particular, their target audience is largely young men who aren't used to reading. The concept is this is a way into reading for them. So it follows that the protagonists are often high school students."
Gatou had no inkling that FMP might become an anime when he started writing it. "I had no idea. If FMP hadn't taken off, the first volume would have been the last volume!" he says. However, the early anime series helped Gatou as he continued writing the books.
"When I was writing dialogue, I would be imagining the voices of the actors," he says. FMP's main cast has stayed the same through the years, both in Japanese and English. Gatou only encountered the English dub when he saw part one of Invisible Victory at London's Comic Con. "A lot of it sounds cooler in English, like 'Roger!'" he enthused.
Of course, some of FMP's story elements resemble those in earlier anime. We wonder if the idea of the "Whispered" in FMP – people who have huge mental skills, sometimes unknowingly – owed anything to Gundam's Newtypes. Gatou says no; he also denies the hot-tempered Kaname was influenced by Asuka in Evangelion. "Ah, no! This strong female character type is one you often get in anime and manga, so Asuka's just another example."
Asked what other anime examples he'd cite, Gatou goes for comedies. He mentions Naru from Love Hina, Lum from Urusei Yatsura and the female half of Ranma Saotome. "There are lots of them!"
Of course, FMP veers between Die Hard action and high school silliness. The latter side dominated completely in the 2003 anime Full Metal Panic! Fumoffu, based on Gatou's comedic short stories. Notably, Gatou considers Fumoffu not as some fluffy spinoff, but as an important part of the franchise.
"Fumoffu was based on stories in Dragon Magazine, published by Fujimi Fantasia Bunko, where I had a limited number of pages. I had to keep the stories tight, get the comedy right in a small space. But I really like it. It was my first experience of working with Kyoto Animation, everyone trying to do something new together, and everything worked. Fumoffu was very close to my heart, and I think Kyoto Animation did a very good job of coming through on that for me."
The new Invisible Victory, animated by the Xebec studio, is at the other end of the dial. By the time it was made, much time had passed since Gatou had written the source books. Did he need to revise the story for the animation? "There was a lot of pulling the story together, where it had been a bit rambling in the novels. And also, because it's anime, you can't have psychological depictions that are as detailed, so that's simplified as well."
Given Invisible Victory's intense drama and action, we wonder if it's closer to Gatou's early concepts for FMP, which didn't have the high-school comedy. Gatou allows that it's an interesting question but says no – Invisible Victory is still rooted in the action-comedy storyline that fans know and have followed for the last two decades.
In a Q&A, Gatou adds that switching between action and comedy comes naturally to him; he gets bored if he stays too long on one side or the other. Fans who miss the funny Gatou of Fumoffu might try Amagi Brilliant Park, his comedy-fantasy about a run-down theme park, staffed by magic creatures. Another light novel series by Gatou, Amagi was adapted into a TV series by Kyoto Animation.
He also wrote individual episodes of two of the studio's most famous shows, Lucky Star and The Melancholy of Haruhi Suzumiya. Gatou was also lead writer through Kyoto Animation's exquisite slice-of-life/mystery series Hyouka!, available from Anime Limited and covered elsewhere on this blog. In this case, Gatou was adapting light novels by author Honobu Yonezawa. "It was challenging, because it was something that I wasn't used to, but I did enjoy it."
Hyouka! is steeped in the history and rules of mystery fiction, including the British classics by Doyle and Christie. We ask about Gatou's interest in the genre. "To be honest, I didn't really have a clue about it!" he answers astonishingly. "I had to do some hurried research." When we suggest he'd need to have a researched a lot, Gatou laughs he could just ask Yonezawa: "He was very generous." The light novel author to the rescue!
The first three seasons of Full Metal Panic! are released in the UK by Anime Limited.
Full Metal Panic! Invisble Victory is coming to Blu-ray from Anime Limited.