NEWSWIRE: July 2022 Pre-Orders
July 5, 2022 · 1 comment
…here we go again. We're now comfortably into the beginning of another month, and we've seen you all shifting in your seats waiting for us to announce our latest batch of pre-orders to see what we have in store. Well, shuffle no longer, because we have what you need, and we hope to give you some great Memories as well as adding to your anime collection.
Oh, and while we're being unsubtle about it: Yes, more Gundam.
Before that though, a reminder that we have another major theatrical release this month, as the incredible film The Deer King comes to cinemas in the UK and Ireland on July 27th. You won't want to miss this directorial debut of Spirited Away's animation director on the big screen
Right, now you've booked your tickets for that cinematic experience… onwards to the pre-orders!
---
June 2022 releases
Let's start with a refresher of what's coming in terms of new releases over the month of June, as we have some releases you're not going to want to miss!
7th July
BELLE – 4K UHD + Blu-ray + CD Deluxe Edition
18th July
Hello World – Collector's Edition Blu-ray

25th July
Cardcaptor Sakura – Collector's Edition Blu-ray
Future Boy Conan Part 2 – 4K UHD + Blu-ray Collector's Edition
---
New July pre-orders
Starting this Thursday, we have lots exciting and, frankly, fascinating pre-orders coming your way over the course of the month. So let's dig in and see which of these lodge in your hippocampus.
Memories Collector's Edition
All we need to do to sell you on this one is invoke a couple of names – Katsuhiro Otomo (AKIRA) and Satoshi Kon (Perfect Blue, Millennium Actress). I mean, who wouldn't want to own an anthology with the involvement of these anime powerhouses? Well now you can, as this trilogy of stunning short features comes to the UK on Blu-ray in Collector's Edition form.
Our Collector's Edition release contains the new HD transfer of this collection of stories on Blu-ray (utilising the same master seen recently in the US), housed within an Amaray case which itself sits snugly within a rigid slipcase using the iconic artwork associated with this title.
Alongside all of this you'll find a poster together with a 36-page booklet on the production of these short features. If you're a fan of the eclectic range and depth that anime can offer at its best, Memories is not to be missed!
Product: Memories Collector's Edition
Release date: 12th September 2022
SRP: £39.99
Pre-orders open: Thursday July 7th 2022, 5PM
Pre-order price: £24.99
---
My Hero Academia: World Heroes Mission vinyl soundtrack
Time for some shounen hype now, as we return to the world of My Hero Academia and another of its incredible soundtracks courtesy of Milan Records!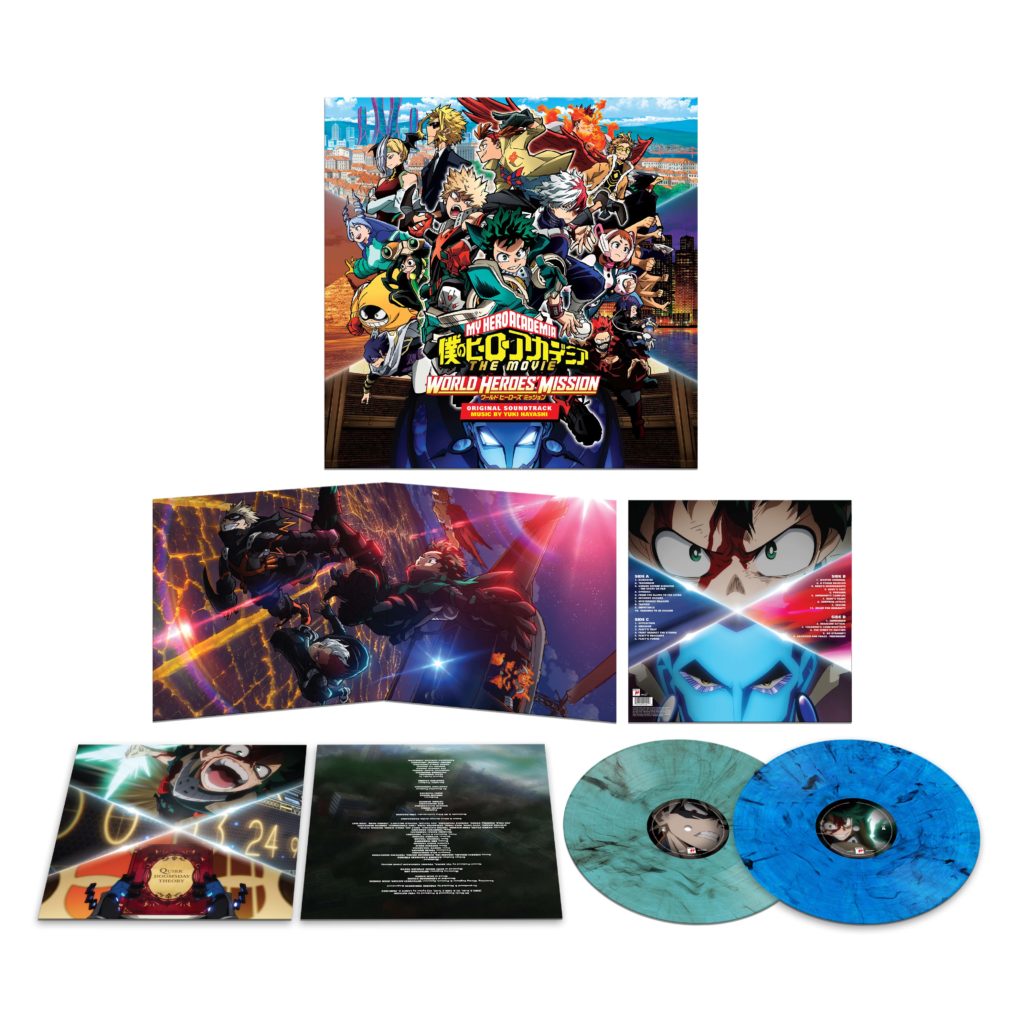 This latest addition to the range is the full Original Soundtrack to the film My Hero Academia: World Heroes Mission, split across 2x LPs in Gatefold packaging.
Only limited stock of this item is available, so don't miss this Plus Ultra opportunity!
Product: My Hero Academia: World Heroes Mission vinyl soundtrack
Release date: 15th July
SRP: £34.99
Pre-orders opens: Friday 15th July, 5PM
---
Future Boy Conan – Complete Series Blu-ray
We know plenty of you have already been enjoying the first half of Future Boy Conan via our glorious 4K UHD Collector's Edition (and are looking forward to its second half landing soon), but for anyone who wants to own this seminal Hayao Miyazaki series purely on Blu-ray, this month we'll be launching a Complete Series Standard Edition Blu-ray to fit your needs.
This release contains the entire series across a set of four standard Blu-ray discs – it's that simple!
Product: Future Boy Conan Standard Edition Blu-ray
Release date: 25th July 2022
SRP: £39.99
Pre-orders opens: Thursday 21st July, 5PM
Pre-order price: £24.99
---
Mobile Suit Gundam SEED Destiny Ultimate Edition
Yes, we saved it until last. One or two (hundred) of you have been asking us constantly for more Gundam titles over the course of this year, and now we're finally ready to deliver another major Gundam title to you! And yes, it's another Gundam Ultimate Edition.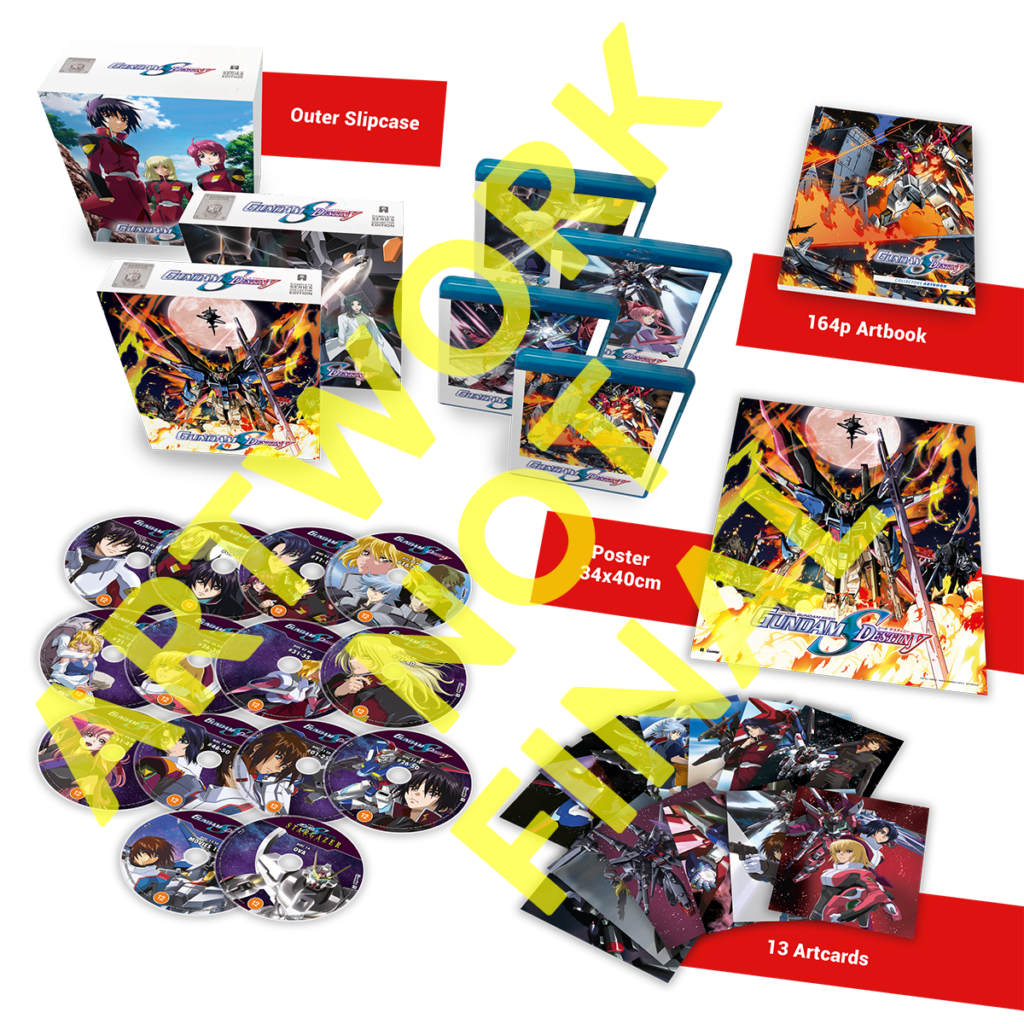 If you're the proud owner of our Gundam SEED Ultimate Edition, then you probably know what to expect here, as our Gundam SEED Destiny is also an absolute unit of a release.
For starters, we have fourteen discs containing the full 50-episode series on Blu-ray and SD-BD, together with the C.E. 73 Stargazer OVA, all of which lives across a set of four Amaray cases, which are themselves split across two rigid cases, which in turn sit inside an outer slipcase to make full use of the show's resplendent art.
Alongside all of this we have a series of 13 art cards, a poster which sports both a Gundam and lots of fire (really, we spoil you…), and a humongous 164-page artbook exploring a wealth of art and design work from the show.
In short then, another definitive Gundam release, and boy is it a lot of Gundam. We can't wait for you to get your hands on it!
Product: Mobile Suit Gundam SEED Destiny Ultimate Edition
Release date: 19th September 2022
SRP: £199.99
Pre-orders opens: Thursday 28th July, 5PM
Pre-order price: £119.99
---
So there you have it – our July in a nutshell. How are you feeling about it? Let us know your thoughts in the comments!
Looking forward to August, as always there's still plenty in the pipeline, including Tiger Lab Vinyl's release of Death Note that we're chomping at the bit to let you see and plenty more besides. Until next time, take care!
Tagged with:

1 comments
Jose Basilio

July 5, 2022 6:58 pm

I hope you guys brings both CardCaptor Sakura movies on dvd/bluray to the UK 🇬🇧🤞 only then the classic series will be truly complete ⭐