KONOSUBA Season 1 Coming To Blu-ray!
March 12, 2020 · 2 comments
We've got some explosive news to celebrate! We're delighted to announce that we will be bringing the very popular series KONOSUBA – God's blessing on this wonderful world! to Blu-ray starting later this year! Konosuba is part of a range of titles we release in the UK & Ireland in collaboration with our friends at Crunchyroll! Previous titles in this range of home video releases include the first season of Sound! Euphonium, Re:ZERO and Rokka: Braves of the Six Flowers.
If you're not familiar with the series, we've got a little introduction for you below.
---
ABOUT KONOSUBA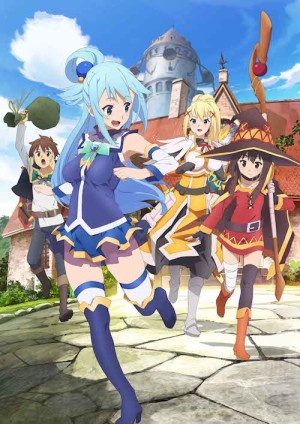 Synopsis: Kazuma Sato decides that today is the day to get out of the house for a bit. Since he dies, pointlessly, it's clearly a bad choice.
The goddess who greets him in the afterlife, however, offers him a chance to be reborn in a world not unlike that of a video game, and as a bonus she'll even throw in a cool item or power! Can't possibly be a bad choice, right? Except he arrives with no money at all, dead average skills, and his "bonus" isn't useful at all–since he picked the goddess, Aqua, herself.
How are the two of them supposed to defeat the evil Devil King and live happily ever after? Well, for them, it probably starts with day laboring rather than adventuring. And it's only going to get more disappointing from there!
Studio: Studio DEEN (Higurashi, Is This a Zombie?, Log Horizon)
Director: Takaomi Kanasaki (Is This a Zombie?, School Rumble: 2nd Semester)
You can watch some clips from the show, published by Crunchyroll below –

---
WHAT CAN YOU TELL US ABOUT THE RELEASES?
To be clear from the outset, we will be bringing both the first and second seasons to Blu-ray, with the first season (at time of writing) tentatively scheduled for an early Q3 release, pending final sign-off and approvals. Season 2 will follow, but we have no details to share on that at this time.
For the Season 1 release, it will include all 10 episodes plus the OVA episode with both English and Japanese with English subtitles viewing options.
We also want to add that pending approvals and final sign off, we are hoping to be able to release a Collector's Edition set! We are working on finalising plans as I write this and we look forward to sharing more details with you in the coming months.
If you're familiar with our Collector's Edition style releases, you can likely gauge what sort of packaging style to expect. We can't confirm any additional items/materials that may be included at this time, but as I mentioned once everything has been signed off we'll be sure to let you guys know quicker than Megumin setting off an explosion.
---
F.A.Q. (Frequently Asked Questions)
~ When are the two seasons being released?
Season 1 is (tentatively) schedule for an early Q3 release, with Season 2 to follow in the future.
~ Will you be releasing a Collector's Edition set?
We want to and are hoping to, but this will ultimately be dependent on final sign off and approvals.
~ Will you be releasing the film on home video?
Please see the section below for more details, but in short we don't have any announcements to make about that.
~ Will there be a DVD release?
No, it will Blu-ray only?
---
a QUICK update on
KONOSUBA THE MOVIE
Many of you will recall very late last year we worked with our good friends at Crunchyroll to be able to bring the film, KONOSUBA -God's Blessing on This Wonderful World– Legend of Crimson, to various cinemas around the UK. We're happy to say that if you missed the chance to see the film, or simply want to be able to watch it again, the film is now available to stream on Crunchyroll!
You will be able to stream it subtitled on Crunchyroll from 25th March, with the English dubbed version (that wasn't screened in cinemas) to follow in April.
We would also like to be clear that as things stand, we don't have any announcements to make about a possible home video release of the film.
---
And that wraps up this exciting news! We hope you'll be looking forward to adding this to your collection! Stay tuned for updates as we can bring them.
Signing out~!
Jeremy
2 comments
Matthew

March 13, 2020 10:53 am

Thankyou, been waiting forever for someone to do this. Felt like Crunchyroll were hoarding both seasons without letting anyone touch it for years after they picked up. You should consider doing a limited "Ultimate Edition" style release if you can get some decent materials to package with. I bet enough people would support such a release.

Hugh

March 13, 2020 10:09 pm

Yes to an ultimate edition!!