Konosuba Season 1 arrives on Collector's Ed. Blu-ray in October
August 14, 2020 · 3 comments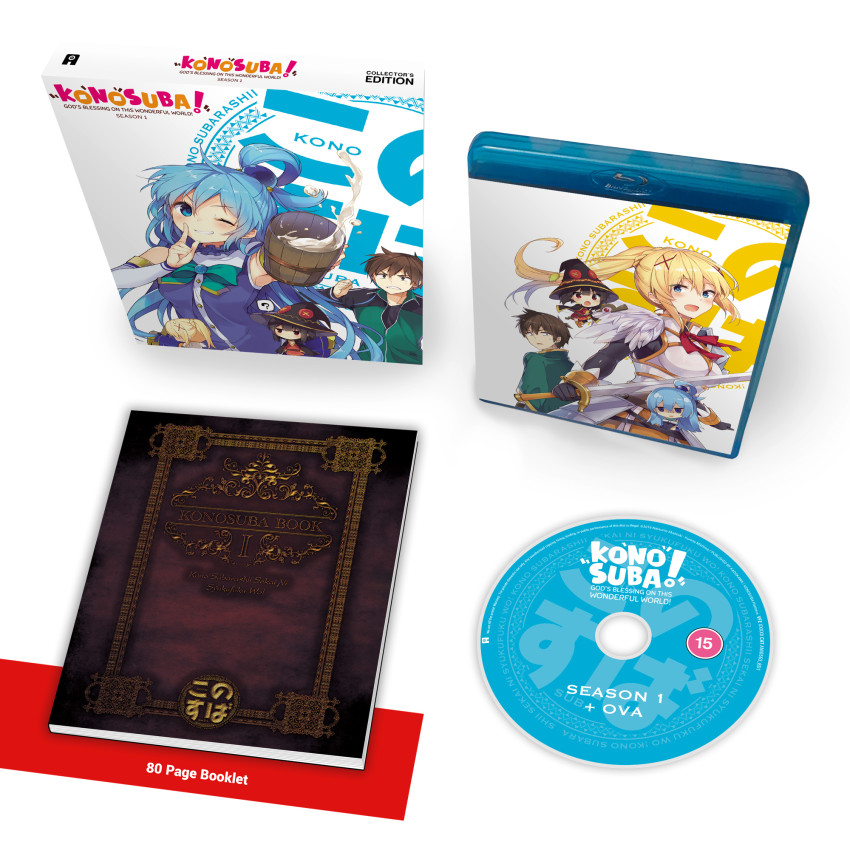 Earlier this year we announced our plans to release season one of Konosuba on Blu-ray, and today is the day we unveil our plans for this fantastically fun show! We're big fans of the series ourselves, so we're very excited to share this news with you – what's more, pre-orders have launched at our AllTheAnime.com online shop right now, and there's a limited time special offer on that too!
If you want to jump straight to pre-ordering and then come back and read up on all the details, click on the link below.
ORDER AT ALL THE ANIME SHOP
Read on for all the details!
---
WHAT IS PLANNED FOR THIS RELEASE?
Our release of Konosuba Season 1 will be on Collector's Edition Blu-ray and has a release date of 12th October 2020.
Pre-orders have launched today (14th August) at our AllTheAnime online shop with a special limited time pre-order offer of just £34.99 active until Thursday 20th August. You can expect product listings with other retailers to follow in the coming weeks.
Read on below for details.
Product: KonoSuba – God's blessing on this wonderful world! (Season 1)
Format: Blu-ray Collector's Edition
Release date: 12th October 2020
Preorders open: 5PM on Friday 14th August @ AllTheAnime.com
Availability: Trade wide. (AllTheAnime.com online shop initially; other retailers will follow in the coming weeks.)
Cat. No. ANI0563
SRP*: £59.99
*Suggested retail price is the maximum price a retailer could charge for the product. However, once retailers factor in their own discounts, the regular price will be cheaper.
—–
This Collector's Edition Blu-ray release comes packed in  rigid case. Inside that you'll find an Amaray case to hold the Blu-ray disc, and in addition to that an 80-page booklet containing lots of content originally included in the Japanese releases, but provided here in English for the first time anywhere in the world!
The booklet will include character and location art and information, storyboards for the beloved Opening and Closing title sequences of the series, and lots of other fun (and occasionally explosive) features. Here's a visual of what the various elements of the set will look like.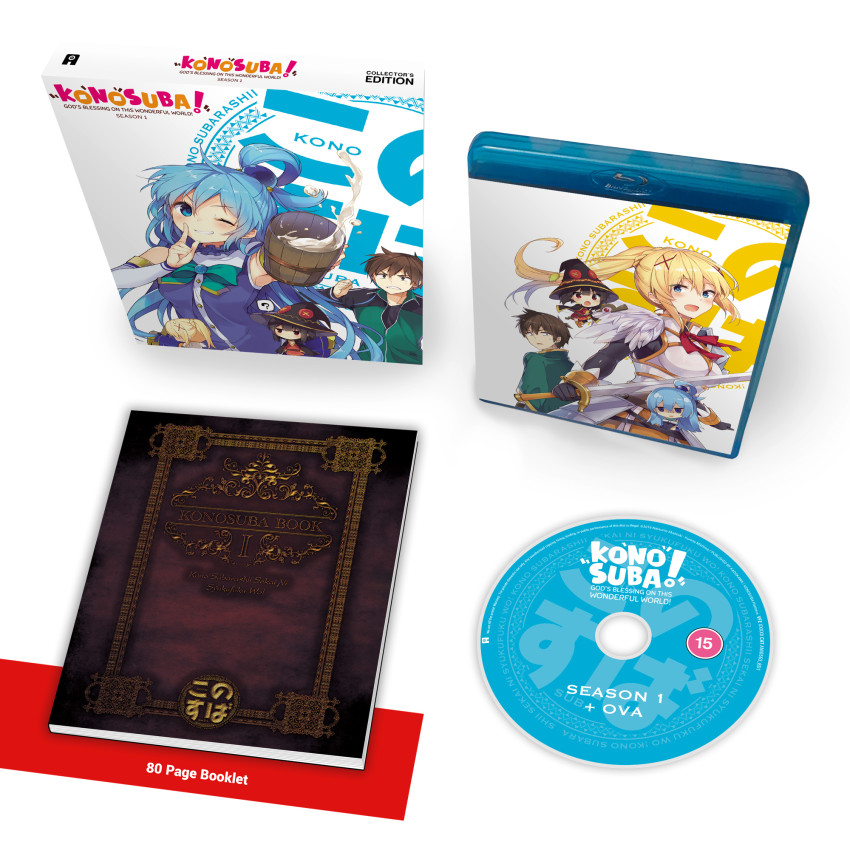 This season one Blu-ray of Konosuba is 11 episodes in total; the 10 episodes originally broadcast along with the an additional bonus OVA episode. All of these episodes are available on this disc, and have viewing options in both English and original Japanese with English subtitles. On-disc extras on the Blu-ray consist of: Textless versions of the Opening and Closing title sequences, Promotional videos and a "Thanks For Watching" message.
Oh, and for those of you wondering (or quite rightly shouting "But where's Megumin?!", here's what both sides of the rigid case will look like:
---
WHERE CAN I ORDER THIS?
As mentioned earlier, this will be available trade wide through the likes of Amazon and Zavvi in the coming weeks. But you can pre-order this right now through our AllTheAnime online shop! We have a special limited time pre-order offer on this as well!
~ AllTheAnime.com Special Pre-order Offer ~
Until Thursday 20th August 2020, pre-order KonoSuba Season 1 Blu-ray Collector's Edition for £34.99
(SRP: £59.99)
---
ABOUT
KONOSUBA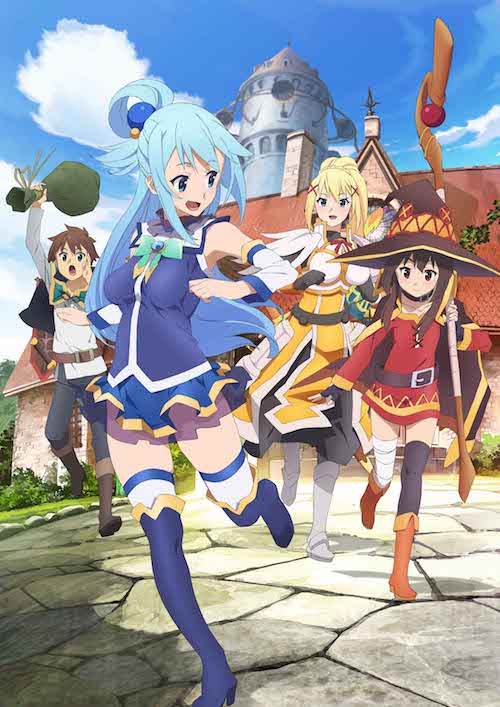 Full title: KonoSuba – God's blessing on this wonderful world!
Synopsis: Kazuma Sato decides that today is the day to get out of the house for a bit. Since he dies, pointlessly, it's clearly a bad choice.
The goddess who greets him in the afterlife, however, offers him a chance to be reborn in a world not unlike that of a video game, and as a bonus she'll even throw in a cool item or power! Can't possibly be a bad choice, right? Except he arrives with no money at all, dead average skills, and his "bonus" isn't useful at all–since he picked the goddess, Aqua, herself. How are the two of them supposed to defeat the evil Devil King and live happily ever after? Well, for them, it probably starts with day labouring rather than adventuring.
And it's only going to get more disappointing from there.
Director: Takaomi Kanasaki (Princess Connect! Re:Dive, KonoSuba season 2 & film, School Rumble)
Studio: Studio Deen (Urusei Yatsura, Log Horizon, Haven't You Heard? I'm Sakamoto)
Broadcast year: 2016
You can watch a trailer for this below –
---
F.A.Q. (FREQUENTLY ASKED QUESTIONS)
Chances are there might be a few questions you have stemming from the details noted above, so hopefully the below will help answer those –
~ What is the release date of this title?
12th October 2020
~ Where will this be available?
It's not exclusive to any one retailer, so it'll be available trade wide. Initially though you'll only the the listing at our AllTheAnime.com online shop.
~ What disc master are you using?
We're using the same single-disc master as that used in North America.
~ Will there be a DVD release?
In short, no. This will be Blu-ray only.
~ Will there be a standard Blu-ray release?
At some point in the future, yes.
~ Are you going to release Season 2?
In short, yes! It's definitely in the works but we don't have any details to announce about that release as things stand.
---
And that's what you need to know about our release of Konosuba Season 1! We hope you're excited to pre-order!
Signing out~!
Jeremy
3 comments
Marco Morelissen

August 14, 2020 5:22 pm

Uhm 1 single disc for 11 episodes? Isnt about 9 episodes the max for nowdays quality on one single disc?

jeremy

August 14, 2020 5:46 pm

It's the same disc master as used in North America, and we're very confident in the quality of the authoring of this.

Marco Morelissen

August 14, 2020 7:28 pm

Ok Jeremy. I trust you guys. I was just worried. I just have bad experience with code geass kaze/manga uk bluray release with 13 ep on one disc. The quality was not great. The re release of mangauk uses funimation masters with 9 ep on a disc.