By Andrew Osmond.
The 2010s have been the decade of dark transformations in anime. There were monstrous metamorphoses in the decade's most iconic manga franchise, Attack on Titan, but such elements have also motored three more horror stories, fables of extreme alienation, which all start the same way. A youth living a normal life in modern Japan is horrified to undergo a terrible transformation. His body turns monstrous, predatory, carnivorous, instantly alienating him from humanity. In all three stories, he can "pass" as an ordinary human, but the authorities are forever hunting him down. And he walks in a second world, a hidden society of beings that are terrifying, nightmarish… and now his kin.
The three stories are Parasyte, Ajin: Demi-Human and Tokyo Ghoul. All three originated as popular manga; they've all spawned TV anime series, made by different studios in contrasting styles; and they've been made into live-action cinema films. The Tokyo Ghoul and Ajin movies opened only a couple of months apart in Japan, enjoying strong reviews and box-office. Now following a one day only release in cinemas earlier this year, Tokyo Ghoul arrives on Blu-ray and DVD from 7th July, courtesy of Anime Limited.

In Ghoul, the unlucky youth is college student Ken Kaneki (Masataka Kubota). Despite being chronically shy even by Japanese standards, Ken manages to connect with a beautiful girl his age, Rize (Yu Aoi). After a blissfully happy date, he escorts her home like a gentleman, which is when she turns into a tentacled monster and tries to eat him. In horror terms, this terrific scene plays like a gender-swapped vampire flick. For anime fans, it feels like female payback for Overfiend (Rize's engorged tentacles throb with blood).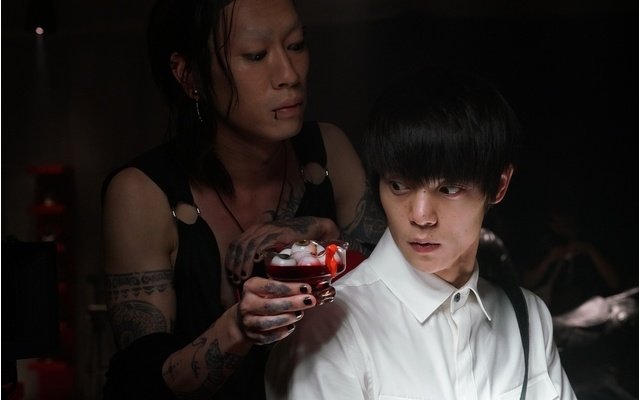 For complex reasons, Ken survives the attack but he soon adopts monstrous traits himself. True to the other versions of Ghoul, turning into a monster is nauseating, as Ken finds normal food makes him retch. What he craves, of course, is human flesh, and soon he's in dark alleys, watching creatures like him raise faces bloodied by unspeakable feasts. This could have been where the story enters the pit, crunching taboos and gnawing infants, like several recent arthouse horrors which made cannibalism chic.
Tokyo Ghoul, though, goes another way. Ken encounters a ghoul community who've found ways to exist that don't involve slaughtering the living. They run what's ostensibly a tea-house – it was actually the venue where Ken had his fateful date with Rize – but it's really a safe house for abject lost souls. Here Ken finds a family of sorts, led by old-fashioned gentleman Yoshimura (Kenio Murai) and perpetually pissed-off teen girl Touka (Fumika Shimizu). But the human authorities see the only good ghoul as a dead ghoul; for all the ghouls' "monster" attributes, they have nothing on old-fashioned cruelty.
The live-action Tokyo Ghoul is more a supernatural (or possibly SF) drama than a horror film. Interviewed by Anime News Network, director Kentaro Hagiwara stressed he came to the material new, not as a fan – he was offered the project, probably by the distributor Shochiku (the film's production was by the marginal-seeming Geek Sight studio). Hagiwara deliberately did not watch Studio Pierrot's TV anime version, though he adapted some of the manga panels in the manner of Fumihiko Sori's live-action Ping Pong.
Hagiwara saw his Ghoul in non-horror, and indeed non-Japanese, terms. "I feel that I made something like a Hollywood movie where Caucasian people go into native land (sic), assimilate into their society, try to understand them, and learn to coexist. Something like The Last Samurai."
Hagiwara's film does indeed highlight the part of the manga in which Ken is trying to come to terms with his new world, with the reality of ghoul society. Widening the analogy, Tokyo Ghoul is a "going native" film like Dances with Wolves or Avatar. It's most structurally satisfying that way, with Ken initially seeing the ghouls as just terrifying monsters, before he – with the audience – sees humans commit far worse atrocities, and has his sympathies swung. Ken becomes less central as the film goes on, despite a dramatic masked makeover; you could criticise this as clumsy, but his de-centring makes moral sense as he wakes to a new world.
Fans of the manga and anime Ghouls may mourn the loss of numerous strands and characters, including the most maniacal figures. But the inclusion of these madmen would probably have overwhelmed the film, tipping it into tonal sludge that only hardcore fans could swim through. Without them, Tokyo Ghoul feels like a "small" drama with enough widenings of scale to hint at its epic source without alienating viewers who don't know it. At the same time, it doesn't have any ostentatiously huge story changes to shock fans, like the live-action Titan films.
Ken is played with rabbit-eyed bishonen panic by Masataka Kubota, who was Light in a 2015 TV Death Note and the junior warrior Shojiro in Takashi Miike's 13 Assassins. Touka is played by Fumika Shimizu, who was in the knicker-masked Hentai Kamen, a live-action relative of Shimoneta. Teenager Hiroyi Sakurada, who plays the girl Hinami, a ghoul "innocent" like Ken himself, was previously in Poison Berry in My Brain, a fantasy anticipating Pixar's Inside Out.
However, the really notable players are in Ghoul's support cast. The coldblooded ghoul hunter Mado is Yo Oizumi, who's the Japanese voice of Professor Layton in the Nintendo games and the simian Tatara in The Boy and the Beast. Ken's fatal crush Rize is played by Yu Aoi, who you may know as White in Tekkon Kinkreet, and Megumi in the live-action Rurouni Kenshin films. Aoi was also Shunji Iwai's oddball heroine Alice in his original live-action Hana and Alice and his rotoscoped prequel The Case of Hana and Alice.
In a very odd footnote, Alice's mother in both films was played by Shoko Aida, who takes on more maternal duties as Hinami's ghoul parent here. It highlights how much this Tokyo Ghoul is about family, in individual and species terms. As in past Japanese fantasies like The Wolf Children, family surpasses humanity itself.
Andrew Osmond is the author of 100 Animated Feature Films.
Tokyo Ghoul will be haunting British Blu-ray and DVD collections from 9th July 2018.