"Maquia: When the Promised Flower Blooms" receives international premiere at the 2018 Glasgow Film Festival
January 24, 2018 · 1 comment
After a huge year packed with theatrical anime over the course of 2017, we've been hard at work here at Anime Limited to provide you with even more fantastic films and unique experiences in 2018, and today we're very proud to announce a perfect confluence of these two goals.
With today seeing the launch of the programme for the 2018 Glasgow Film Festival, we can confirm that the festival line-up will include an international premiere screening – the first outside of Japan – for a major new anime film, directed by one of the industry's most exciting female talents.
As a result, we can now announce that just one week after it opens in Japanese theatres, you'll be able to catch the premiere of Maquia: When the Promised Flower Blooms at the Glasgow Film Theatre, with the screening taking place on Sunday 4th March at 1:30PM.
You can book tickets for the screening – which features Japanese audio with English subtitles – to GFF members from noon on Thursday, 25th January from the Glasgow Film Festival web site. Tickets go on general sale on Monday, 29th January at 10AM.
The film marks the directorial debut of Mari Okada, previously best known as a notable anime screenwriter with credits including Anthem of the Heart, Kiznaiver and Nagi no Asukara: A Lull in the Sea. The film's animation is handled by P.A. Works, themselves making their first foray into an original theatrical film production after making a name from their stunning works in television anime via titles such as Angel Beats, Charlotte and SHIROBAKO. Meanwhile, the film's soundtrack is provided by Kenji Kawai, the composer on a number of well-known anime including Ghost in the Shell.
Following this international premiere, Anime Limited will also be releasing the film theatrically across the UK and Ireland this March – more details will follow on our full release plans as soon as possible.
---
ABOUT "Maquia: When the Promised Flower Blooms"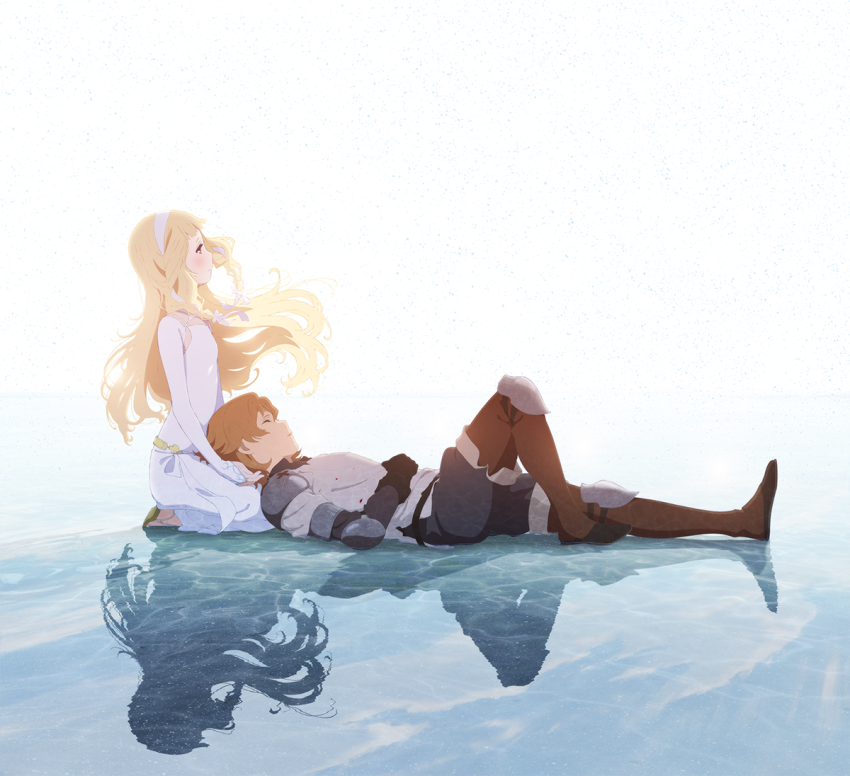 Japanese title: Sayonara no Asa ni Yakusoku no Hana o Kazarou (Let's Decorate the Promised Flowers in the Farewell Morning)
Synopsis: "Acclaimed screenwriter Mari Okada makes her directorial debut in this animated fantasy feature.
The people of Iolph have a lifespan of hundreds of years and maintain their teenage appearances for life, but when the peace of this town is shattered by those who want the secret to their longevity for themselves, a young girl named Maquia is forced to escape. Wandering the land alone, upon finding an orphaned baby she chooses to raise him, but as this boy grows up so the difference in their lifespans is thrown into ever-sharper relief."
Official English subtitled trailer:

Staff:
Director/Script: Mari Okada
Chief Director: Toshiya Shinohara
Art Director: Kazuki Higashiji
Art Design: Tomoaki Okada
Music: Kenji Kawai
Character Designer: Akihiko Yoshida, Yuriko Ishii
Voice Cast: 
Maquia: Manaka Iwami
Arial: Miyu Irino
Leilia: Ai Kayano
Krim: Yuuki Kaji
Racine: Miyuki Sawashiro
Lang: Yoshimasa Hosoya
Mido: Rina Satou
Tita: Yōko Hikasa
Medmel: Misaki Kuno
Izor: Tomokazu Sugita
Barrow: Hiroaki Hirata
---
We'll have plenty more information, imagery and trailers to share about the film over the coming weeks in the build-up to this premiere and subsequent UK theatrical release, but for now make sure you don't miss out and book a ticket to be amongst the first people outside of Japan to see this exciting new anime feature film!
It's also worth noting that this isn't the only exciting screening we're hosting during the Glasgow Film Festival, so check back over the coming days for full details of another thrilling event, and another addition to our UK theatrical line-up for 2018.
Until then, take care and get to booking!
~Andy Hanley
1 comments
UniversalX1

June 25, 2018 10:05 am

I wanted to watch this but it looks like it isn't showing in English.. :(