MCM London Comic Con May 2018 Newswire #1 – Friday news round-up
May 25, 2018 · 19 comments
Hi folks! As you might be aware, this afternoon we took to the stage at the MCM London Comic Con to bring you fun, frolics and – most importantly of all – a lot of important news! Of course, we know that not all of you are able to make it to the event, so for those of you who couldn't attend here's a quick run-down of what we had to talk about during our Friday panel at the show.
Don't forget, we have a second panel on Sunday, so keep your eyes peeled for further news a couple of days from now, and in the meantime, here's a reminder of all of our activities across London Comic Con weekend for anyone visiting over the course of the event.
Now, on to the news!
---
KIZNAIVER HOME VIDEO RELEASE DETAILS
In case you missed it, yesterday we posted a first look at our home video release plans for Mari Okada and Studio Trigger's fantastic series Kiznaiver. Head on over to our blog post on the subject to see the full low-down, including details on our stunning AllTheAnime.com shop exclusive art book!
---
LU OVER THE WALL HOME VIDEO RELEASE DETAILS
In a similar vein, at today's panel we also revealed our precise plans for Masaaki Yuasa's family film Lu Over the Wall on home video! We'll be revealing this in full to all and sundry in the form of a full blog post on our site tomorrow, so keep your eyes peeled for that on Saturday morning!
---
NEW TITLE: AMANCHU! SEASON 1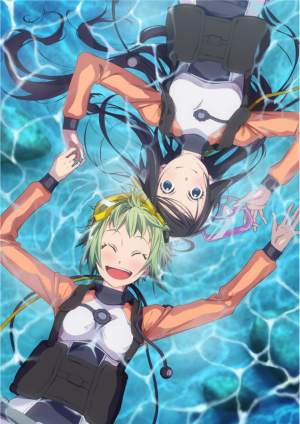 As well as existing titles, we also had a few brand-new titles to announce at our panel. First up, we're excited to announce that we'll be bringing Season 1 of JC Staff's beautiful, charming healing title Amanchu! to the UK on home video.
We don't have any exact plans to reveal at this particular point in time, but we can confirm that Amanchu! Season 1 will be arriving as a Limited Collector's Edition Blu-ray set later in 2018.
Synopsis: "After moving from Tokyo to a small seaside town, 15 year-old Futaba is captivated by the ocean views and the vast expanse of water which she finds laid out before her. Unbeknownst to her, Futaba's fascination is shared by Hikari, who has lived in the town her entire life, and the two girl's lives intermingle unexpectedly when the introverted Futaba meets the outgoing and exuberant Hikari as one of her new classmates.
Before she knows it, a whole new world is opened up to Futaba – a sparkling, shimmering world that exists under the sea, as her new-found friend helps her confront her fears and anxieties through the form of scuba diving.
As her circle of friends grows, and with her confidence burgeoning, so Futaba finds the strength and self-assuredness to grow and develop with the support of those around her in this quietly touching and charming tale of friendship and finding yourself, lovingly animated by Production I.G."
---
NEW TITLES: MOBILE SUIT GUNDAM
We know that many of you are chomping at the bit for more news on our future plans for Mobile Suit Gundam now that Mobile Suit Gundam: The Origin I-IV is about to hit retail stores, and to satiate your desire for more of these seminal giant robots we've confirmed our plans to bring two more stories from the Gundam universe to the UK in 2018.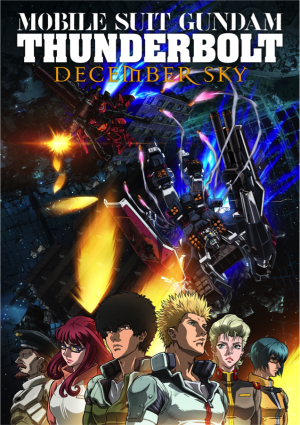 First up we have the jaw-dropping Mobile Suit Gundam Thunderbolt: December Sky, a standalone film which we'll be bringing to the UK on Limited Edition Blu-ray over the coming months. Here's the lowdown on the story:
Synopsis: "Their war has not yet ended… It is Universal Century 0079, at the end of the One Year War between the Earth Federation and the Principality of Zeon. The space colonies of Side 4, or Moore, were previously destroyed by a Zeon attack, and many colonists lost their lives. Side 4 became a shoal zone filled with the wreckage of destroyed colonies and warships, lit by constant flashes of lightning due to collisions between electrified debris. It soon came to be known as the "Thunderbolt Sector."
The Moore Brotherhood, an Earth Federation Forces unit made up of surviving citizens from Moore, set out to exterminate the Zeon forces in the Thunderbolt Sector in order to reclaim their homeland. To halt the Federation advance, the Zeon forces deployed their own Living Dead Division, which was established to collect combat data on soldiers with prosthetic limbs.
Io Fleming, though part of the Moore Brotherhood, hates being tied down by his homeland and family history. Daryl Lorenz, having lost his legs in earlier battles, is now an ace sniper of the Living Dead Division. When they confront each other on the battlefield, they will reach a mutual realization. These two are destined to kill each other."
---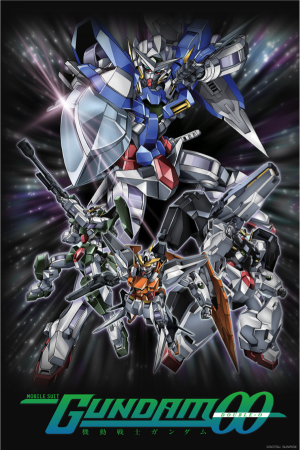 Also on the docket for 2018 is the classic Mobile Suit Gundam 00 – we'll be bringing this part of the Gundam universe to the UK in its entirety (both seasons, film and OVA) in 2018, with more details on our precise release plans to come over the months to follow. If you're new to Gundam 00, here's the plot:
Synopsis: "The year is 2307 A.D. While the Earth's reserves of fossil fuels have been depleted, humanity has obtained a new, nearly infinite source of energy to replace them in the form of large-scale solar-powered generation systems based on three huge orbital elevators. However, the benefits of this system are available only to a handful of major powers and their allies.
These orbital elevators belong to three superpower blocs: the Union, the Human Reform League and the AEU. These confederations continue to play a grand zero-sum game for the sake of their own prestige and prosperity. Thus, even in the 24th Century, humanity has yet to unite as one.
In this world of unceasing conflict, a private armed organization steps forward, declaring their intention to eliminate war through martial force. Using the power of their mobile suits combatively, a series of four high-performance machines each dubbed "Gundam," the paramilitary organization known as Celestial Being takes the world stage, beginning armed interventions within all the world's nations."
---
NEW TITLE: SOUND! EUPHONIUM SEASON 1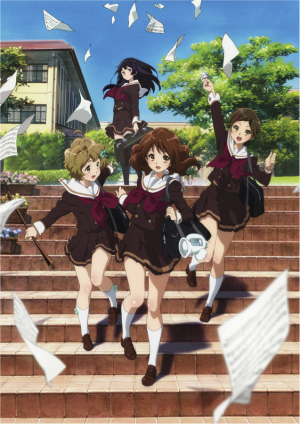 Now, this one may be a little confusing to some of you, who may recall that we had to announce the sad news that we'd no longer be releasing Sound! Euphonium in the UK back at the October 2017 MCM London Comic Con. Such was the outpouring of sadness and frustration at that announcement that we went back to the drawing board to see if there was anything we could do. The good news is that we did manage to rectify the situation, and thus Sound! Euphonium Season 1 (and, we should note, only season one) is now back on the table for a UK Blu-ray Limited Collector's Edition release! What's more, you'll be able to pick up the series to own in 2018 – we'll confirm a precise release date as soon as we have it, but we're currently aiming to release the series sooner rather than later.
In case you're new to the show, here's the synopsis for you.
Synopsis: "After the disappointment of defeat in a major competition during her final year in middle school, brass band music has lost its lustre for Kumiko as she enters high school. Despite vowing to leave music behind and make a fresh start, peer pressure from her new-found friends sees Kumiko once again taking up the Euphonium for Kitauji High School's band club.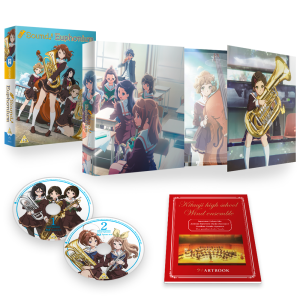 With an ambitious new club advisor at their helm the pressure is on for the club to qualify for the national tournament, but this lofty goal only serves to highlight the fractured relationships between cliques within the group's existing members. As Kumiko struggles to make sense of this unrest, her attention is inexorably drawn towards former classmate and current club mate, the enigmatic Reina.
Love, friendship and rivalry collide against a musical backdrop as Kumiko searches for a passion or purpose to define her, in this stunning series from Kyoto Animation."
---
NEW TITLE: HAYAO MIYAZAKI: NEVER-ENDING MAN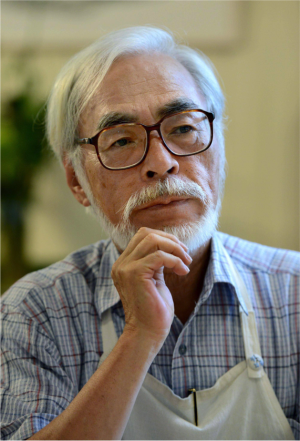 Now for something entirely different… not anime itself, but a documentary about the production of anime. Not just any old production though, but the return of Studio Ghibli's Hayao Miyazaki to the limelight after previously announcing his retirement, as NHK (Japan's national broadcasting company) documents the old master learning new tricks while also returning the craft that has marked him out as a genius of the form across so many decades.
Whether you're a fan of Studio Ghibli's works or simply interested in anime production as whole, Hayao Miyazaki: Never-Ending Man is an astonishingly frank documentary which shouldn't be missed, and we'll be bringing it to home video at an as-yet unspecified future date!
---
That's all of the news from our Friday panel at MCM London Comic Con collected in one easy-to-read place for you – as mentioned, keep an eye out for our first look at Lu Over the Wall tomorrow, and check back on Sunday for a report from our Sunday panel at the event for even more news and announcements!
Until then, take care.
~Andy H
---
EDIT: Read about what else we announced over MCM London Comic Con – May 2018 weekend HERE
19 comments
Matthew

May 25, 2018 2:45 pm

Great news about Sound Euphonium. I've been wanting to own this series for quite some time but the price gouging from Pony Canyon made it difficult. They split the show into three collectors boxsets and are still charging $70 for each.

Marco Morelissen

May 25, 2018 5:26 pm

WIll you able to surprise us even more with a secret dub created for Sound! Euphonium Season 1 ? And what about AMANCHU? Because the Rokka dub came really as a surprise considering Pony Canyon USA released it without a dub. Please make me HAPPY :D.

Marco Morelissen

May 25, 2018 5:28 pm

Also are there any plans to release Gundam Unicorn OVA series ? :O Im debating if i should import it or not :(

Matthew

May 26, 2018 12:19 am

Sound Euphonium doesn't need a dub, the Japanese cast are perfect. And Anime limited don't dub things, they just license and offer the best anime boxsets in the UK.

Matthew

May 26, 2018 12:23 am

Oh and the Rokka dub was a Crunchyroll thing I believe. They've produced a few dubs for anime.

Marco Morelissen

May 26, 2018 5:27 am

Thanks for telling me things i already "kinda" know. And Anime Limited does dub things. Anime Limited produced a dub for a few of their movies, recorded is the US. And what i was saying perhaps like Rokka (which was likely produced by Crunchy yea) there was a dub produced for Sound Euphonium... And as a Fan of KyoAni i rather have my anime dubbed.

Matthew

May 26, 2018 12:43 pm

Well you clearly didn't know about who produced Rokkas dub, or that there was no dub for Sound Euphonium. So you're welcome. Good thing you can't edit comments here so people can see for themselves that you were begging for a dub from a company that doesn't dub anime television shows.

Matthew

May 26, 2018 12:49 pm

On another note, Anime Limited still haven't dispatched the Sword Art Online Ordinal Scale boxset I ordered through their webstore. Which is a little disappointing as had I ordered through Amazon I would have received by now no doubt. I've checked my emails throughout Friday and nothing to date. The last time I ordered through them it looked as if it was MVMs online store(Correct me of Im wrong) had dispatched.

Marco Morelissen

May 26, 2018 5:32 pm

Matthew dude, stop being so full of yourself. And start learning to read. The things you know so well I ALREADY KNOW MYSELF. Honestly you make me tear up of laughter. Internet hero who thinks he knows what other people are thinking...

Matthew

May 26, 2018 6:03 pm

You clearly have issues with criticism, what a laughable little man you are.

Marco Morelissen

May 26, 2018 6:15 pm

"You clearly have issues with criticism, what a laughable little man you are." .... the pot calling the kettle black

Matthew

May 26, 2018 6:19 pm

Perhaps you should stop with the passive aggressive Beta male attitude after I made the effort to respond to you as you were clearly clueless about the subject. It's not my fault that you react badly to criticism as evident above. Word of advice, when someone corrects you its best not to be insulting and take that you were wrong.

Marco Morelissen

May 26, 2018 6:42 pm

Yea and i kindly tried to tell you by saying "thanks but I already known all these things myself" Then you said this "Good thing you can't edit comments here so people can see for themselves that you were begging for a dub from a company that doesn't dub anime television shows." Well that ticked me off. First i wasnt begging Anime Limiited/All the anime for a dub, I just hoped that was one created by crunchy or Ponycan or w.e that wasnt announced or none known off just like Rokka. (wouldve been a very nice surprise.. "WIll you able to surprise us even more with a secret dub created for Sound! Euphonium Season" where is the begging in this.? Honestly mate, there is hardly anything in the world of anime you can teach me. And that was what i kindly tried to tell you but clearly missed its mark.

Matthew

May 26, 2018 6:43 pm

You're an embarrassment mate, jog on.

Andy Hanley

May 26, 2018 6:50 pm

Okay folks, that's quite enough of that - this isn't the place for it so let's leave it right there. Andy Hanley Marketing Manager Anime Limited

Matthew

May 26, 2018 6:53 pm

Feel free to remove our posts, I won't continue. And apologies to yourself and Jeremy. The crux of the problem was clear above.

Um, hate to bother, but J.C. Staff animated Amanchu, NOT Production I.G. Thanks.

Suzu

August 24, 2018 3:08 pm

Will Sound! Euphonium Season 1 be released only as Limited Collector's Edition or will there also be regular blu-ray release as well?

Andy Hanley

August 24, 2018 3:12 pm

At this time we only have a Collector's Edition Blu-ray release scheduled.